First Team News
1
Sterling: "I aim to take things slowly"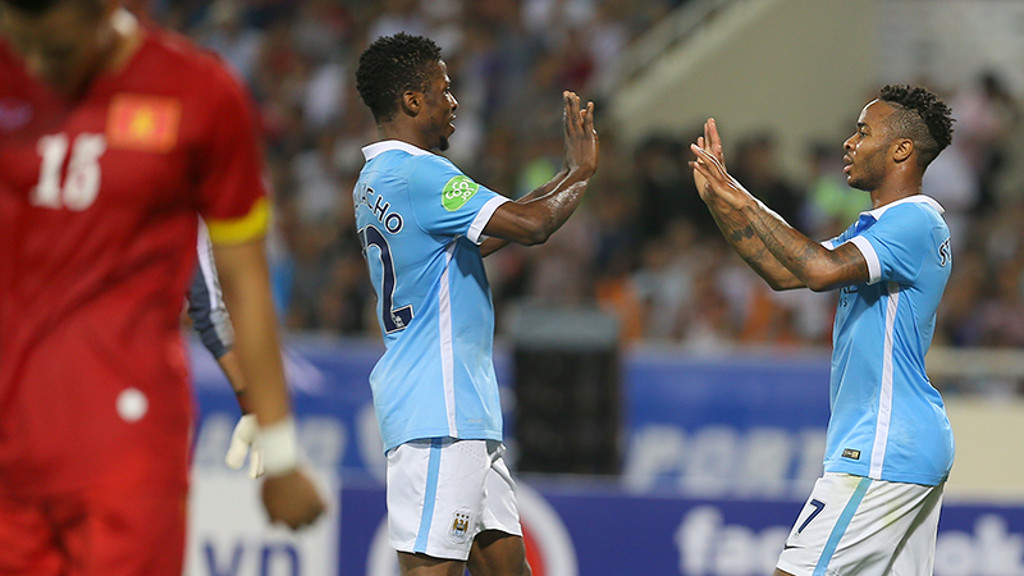 Raheem Sterling celebrates goal against Vietnam
Summer signing Raheem Sterling has lit up City's pre-season tour with three goals in his last three games, but his feet remain firmly on the ground ahead of his debut season at the Etihad Stadium.
The England international scored twice in the 8-1 rout of Vietnam, to add to his debut strike against Roma in Melbourne, but he revealed after the final whistle in Hanoi that he's taking his City career one step at a time.
Said Sterling: "My aim is just to take things slowly, do my best playing for Manchester City Football Club and hopefully that will bring me success."
Aleks Kolarov, David Silva, Marcos Lopes and Jose Angel Pozo were also on the scoresheet as City signed off in style from the pre-season tour with a final stop in Vietnam.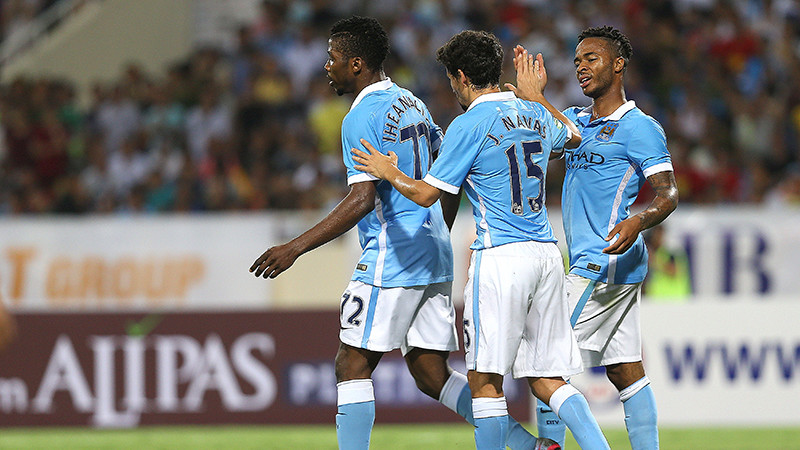 The Blues have enjoyed a fabulous welcome from the locals, and Sterling was quick to point to the people who have made the stay such a pleasant experience for team and staff alike.
He added: "The most impressive thing [about Vietnam] was the people here – they're really welcoming, they love football and to be welcomed in the way we were was really heart-warming.
"I'm really happy to be here and hope I can come back again soon."
Sterling also had plenty of praise for City's opponents, who worked hard for 90 minutes and were rewarded with a consolation goal in stoppage time.
While paying tribute to the Vietnamese side's work ethic, Sterling acknowledged that after scoring early on, City stuck to their task and continued to press for more goals.
He declared: "I thought they put up a good match for us and they fought really hard, but we got a few goals early on and then the goals kept on coming. I thought they were a really good side and they had some good players up front.
"As a team, as a collective they were really good, they passed the ball really well and had some good chances and scored the goal."
Manuel Pellegrini saluted his young star's display following the final whistle and backed the new no.7 to live up to his oft-quoted price tag.
"Raheem is a very good player and that's why we brought him here," said Manuel. "He has a lot of speed and I'm sure that in the future he will demonstrate why we paid so much for him."
The boss also had some words of praise for outgoing striker Stevan Jovetic, currently having a medical ahead of a proposed move to Inter Milan.
Stevan arrived from Fiorentina in the summer of 2013, but his career at the Etihad Stadium was hampered by injuries and he struggled to nail down a starting place.
"Unfortunately Stevan had to go," the Chilean told mcfc.co.co.uk. "He's a very good player - one of the best players I have seen, but for him he had too many injuries and that's why he couldn't play too many games in a row.
"I wish him the best for the future and I'm sure he'll be a very important player for Inter."
After three weeks away on tour, the manager now brings his squad back to Manchester to prepare for the final pre-season engagement away at Stuttgart on Saturday.
While understandably pleased to see his team score eight in the My Dinh stadium, Pellegrini affirmed he is more concerned with performances than results in the lead up to the 2015/16 season, due to kick off in two weeks' time.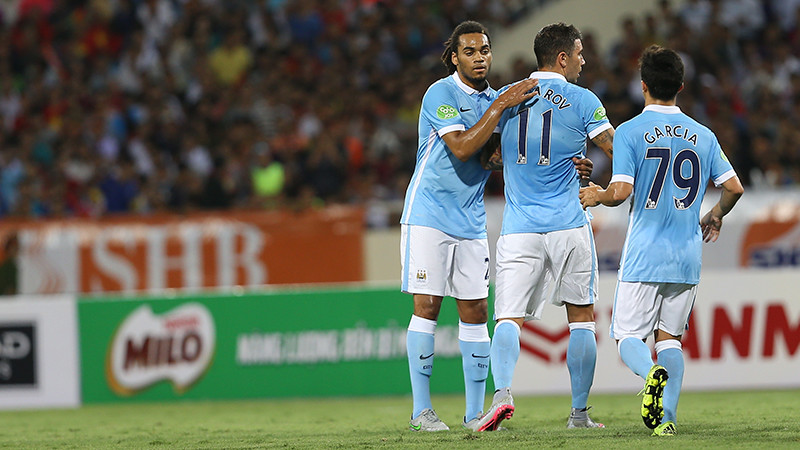 Pellegrini said: "It's not easy to score so many goals. Vietnam are preparing for World Cup qualifiers in the autumn and so are working hard, and they have very good players.
"I don't think the score is the most important thing in friendlies - it's for managers to see their players.
"We have to work hard for the next two weeks as we start our Premier League season on 10 August. I hope we will have a good performance this season and I hope we will win some titles. I am sure we will see City fighting for the title until the end."