City have completed the signing of Wilfried Bony from Swansea City.
The 26-year-old striker has agreed terms on a four and a half year deal which will keep him at the Etihad Stadium until the end of the 2018/19 season.
He will wear the number 14 shirt.
Wilfried said of his move to the champions: "It's a great feeling for me, it's a big honour to be here and it's a great challenge.
"As a player it's always good to be part of one of the biggest clubs in the world and it's a good opportunity for me to be in that situation now – I'm really proud.
"I felt excited to wait for this moment and now it's come, it's fantastic.
"I think it's a great decision for me - Manchester City is in the Champions League. You remember at the end of last season I said that if I want to move it will be to a team in the competition because it's a great tournament that I really want to play in and one that I want to win.
"It's a motivation for me to give my maximum to be in that place. City is a big club with great players with a lot of experience; I believe we can do it."
Bony confirmed that he had spoken extensively with his Ivory Coast and City teammate Yaya Toure ahead of the move. He also warned Premier League defences that his best is still come.
"The Premier League is a tough league – my power is to always be in the box and in the right position. I'm always working hard to be there to score the goals and to improve.
"I speak with Yaya every day on international duty and I think he will help me to become a better player and a more clinical striker. I'll be playing with great players here at City and this is an opportunity for me to work hard and to take my chance."
The Ivory Coast international won't be available to make his City debut until after the Africa Cup of Nations which runs from Saturday through to 8 February, though both he and Yaya Toure could return to the champions slightly earlier if The Elephants are eliminated from the competition before the final.
Bony has impressed for the Swans since signing for the South Wales club from Dutch side Vitesse in 2013.
He has scored 34 goals in 70 matches for the Swans and bagged three in his last two games against City including a brace in the 3-2 New Year's Day victory for the Blues at The Liberty Stadium and his superb effort in City's 2-1 win at the Etihad Stadium in November.
City boss Manuel Pellegrini is a long-standing admirer of the player and his ability.
"He is very difficult to mark because he is so strong," he stated. "He is an intelligent footballer who has skill and power. His goals record has been excellent since he came to England. He adapted very quickly to the game here and I think he will settle in at City quickly.
"He will be a very good addition to our squad. We now have four top class strikers and I am looking forward to seeing them work together."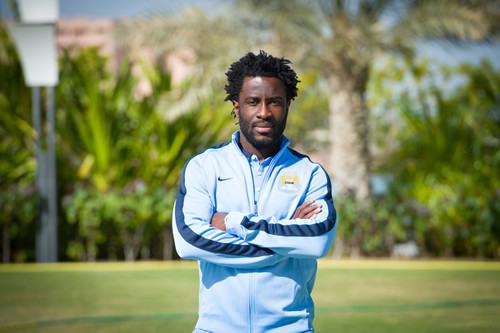 One of the most powerful strikers in Europe, Bony scored the most Premier League goals in 2014 with his total of 20 - higher than Yaya Toure, Wayne Rooney and Edin Dzeko who make up the rest of the Top five.
Born in Bingerville, Wilfried played street football from a young age in the Brazilian style of 'Maracana' before joining the Cyrille Domoraud Academy.
He signed his first professional contract with Issia Wazi in the Côte d'Ivoire's Premier Division and remained at the club until Sparta Prague B signed him on loan in 2007.
Having impressed at 'B level' for his part in securing the Bohemian Football League championship, Bony was rewarded with a full contract with the first-team and went on to net 22 goals in 59 games, prompting Vitesse to snap him up in 2011.
He enjoyed another fruitful period with the Dutch side, ending the 2012-13 season as the Eredivisie's top scorer, clinching the league's Golden Shoe award and consequently attracting Swansea's interest.
At international level, Bony has made 32 appearances for the Ivory Coast since making his senior debut in 2010, scoring 11 times.
Welcome Wilfried to the Club by using the hashtag #WelcomeBony on Twitter.