Men's Team
1
City v Barcelona: Past encounters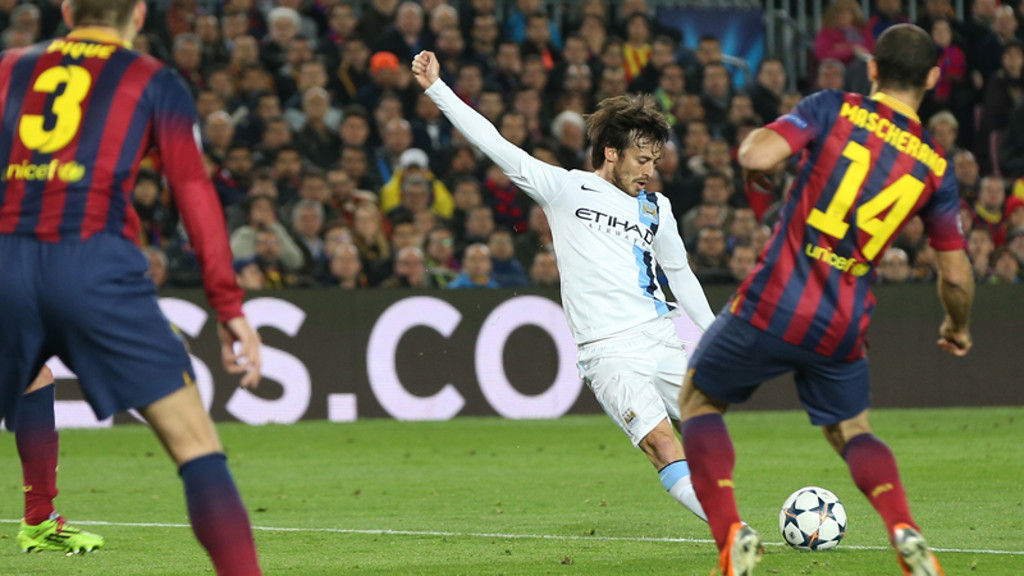 David Goal Strike.jpg
Last season's Champions League first leg clash between City and Barcelona at the Etihad Stadium marked the first occasion the two sides had ever met in a competitive fixture.
Amazingly, the pair have been pitted together once again for the second consecutive year and we've combed through the archives to find out how the eight previous clashes have turned out...
Barcelona 5-1 City, 2 June 1952, Les Corts
City were soundly beaten on a summer tour to Spain in 1952, with Hungarian forward Laszlo Kubala scoring a hat-trick. City had some big names in their side – Trautmann, Paul and Clarke to name three, but coming off the back of a tough Divison One season in 51/52 (they finished 15th) they couldn't match the Catalans.
Barcelona: Velasco, Calvet, Brugué, Segarra, Escudero, Bosch, Torra, Aldecoa, Kubala, Moreno, Gràcia.
City: Trautmann, Branagam, Rigby, Westwood, Paul, McCourt, Meadows, Williamson, Smith, Spurdle, Clarke.
Barcelona 3-2 City, 8 May 1957, Les Corts
City came up against Barca again on tour after finishing 18th in Division One, escaping relegation by six points that year. They got closer to Barcelona but still ended up on the losing side.
Barcelona: Estrems, Seguer, Biosca, Gràcia, Flotats, Segarra, Tejada, Villaverde, Martínez, Evaristo and Camps.
City: Trautmann, Leivers, Ewing, Sear, Phoenix, Paul, McCelland, Kirkman, Johnstone, Hayes and Clarke.
Barcelona 3-2 City, 12 November 1974, Camp Nou
This game celebrated Barcelona's 75th anniversary and produced a thriller for the Camp Nou crowd. Colin Bell was on target for City but in the end the home side took the spoils.
Barcelona: Sadurní, Rifé, Gallego, Marinho, Albaladejo, Migueli, Juan Carlos,Marcial, Heredia, Cruyff and Sotil.
City: MacRae, Barrett, Donachie, Henson, Clarke, Oakes, Summerbee, Bell, Marsh, Keegan, Tueart.
Barcelona 1-1 City (3-4 on penalties), 15 August 1986, Municipal Huelva
City kept their nerve in a penalty shoot-out in the Huelva tournament, with goalkeeper Perry Suckling starring. Clive Wilson scored for City in normal time, equalising Robert's earlier effort, so to spot kicks it went. Former United player and City manager Mark Hughes was in Barcelona colours that night.
Barcelona: Urruti, Gerardo, Migueli, Julio Alberto, Víctor, Fradera, Carrasco, Calderé,Robert, Hughes and Marcos.
City: Suckling, Reid, May, Clements, McCarthy, Redmond, Davies, McNab, Christie, Baker, Wilson.
City 2-1 Barcelona, 10 August 2003, Etihad Stadium
An emotional day in the history of Manchester City saw the Club officially mark the opening of the City of Manchester Stadium with the visit of Barcelona.
Following the move from Maine Road the previous May, the Spanish side which included the likes of Ronalidinho, Overmars and Xavi, travelled to Eastlands to face Kevin Keegan's side.
Goals from Nicolas Anelka and Trevor Sinclair ensured the day was a positive one for the Blues. Who knew what was to come a decade later at that very ground?
City: Seaman, Sun Jihai, Sommeil, Distin, Tiatto, Wright-Phillips, Bosvelt, Sinclair, Ali Benarbia, Anelka, Fowler.
Barcelona: Rustu, Puyol, Andersson, Reiziger, Òscar López, Xavi, Cocu, Quaresma, Ronaldinho, Kluivert, Overmars.
Barcelona 0-1 City, 19 August 2009, Camp Nou
"It might just have been a friendly, but City went to the home of the European champions and not only held their own but celebrated a famous Nou Camp victory thanks to Martin Petrov," read the official match report.
City hadn't expected to collect their first piece of silverware of the 'new era' when they made the trip to Spain for a showcase friendly - but they did and in some style.
The decisive moment in the game arrived on 27 minutes, as Petrov raced onto Stephen Ireland's pass before slotting the ball home to stun the 94,123 crowd. Yaya Toure was playing for the home side that day.
Barcelona: Pinto, Montoya, Fontàs, Puyol, Maxwell, Touré, Sergio Busquets, Gudjohnsen, Pedro, Bojan, Jeffren.
City: Given, Zabaleta, Dunne, K. Touré, Onuoha, Weiss, Wright-Philips, Ireland, Barry, Petrov, Tévez.
City 0-2 Barcelona, 18 February 2014, Etihad Stadium
This game hinged on a controversial incident on 53 minutes, when Martin Demichelis was sent off for hauling down Lionel Messi, with the referee pointing to the spot and sending Demichelis for an early bath.
Messi converted the spot-kick and Dani Alves added a late second.
City: Hart, Zabaleta, Kompany, Demichelis, Clichy, Jesús Navas, Yaya Touré, Fernandinho, Kolarov, David Silva, Negredo.
Barca: Víctor Valdés, Dani Alves, Piqué, Mascherano, Jordi Alba, Xavi, Sergio, Iniesta, Alexis, Messi, Fàbregas.
Barcelona 2-1 City, 12 March 2014, Camp Nou
Barcelona completed the aggregate win despite a spirited performance from City. Lionel Messi again grabbed the first goal of the game, and although City pulled a goal back through Vincent Kompany after Pablo Zabaleta had been sent off, Alves scored his second of the tie.
Barca: Víctor Valdés, Dani Alves, Piqué, Mascherano, Jordi Alba, Xavi, Sergio, Iniesta, Fàbregas, Messi, Neymar.
City: Hart, Zabaleta, Kompany, Lescott, Kolarov, Fernandinho, Milner, David Silva, Yaya Touré, Nasri, Agüero.
To be continued...