First Team News
1
Boss pleased with fighting display
website-Manuel-Pellegrini-
Manuel Pellegrini admitted his team are far from rediscovering their best form, but was encouraged by the battling spirit shown against QPR.
The City boss acknowledged his side are still struggling to find their rhythm, but believes the international break will benefit his squad who are still licking their wounds a little at present.
"I think that despite us being in a bad moment at this time, we proved that we are still fighting and there was no lack of heart or energy in our performance today," said Pellegrini.
"We are not playing very well at present, but we still had enough chances to win this game which is encouraging. It was similar to the defeat at West Ham where we lost the game, but their keeper was the best player on the day.
I think the international break has come at exactly the right time for us and the next fortnight will allow us to return to our normal style of play - but I repeat, we are in a very unlucky moment

...Pellegrini...
Pellegrini says the tight confines of Loftus Road were a real test and that Harry Redknapp's side used the pitch and noisy home crowd to their maximum advantage on this occasion.
"The pitch was so small and fast that it really suited the way QPR play so I think we needed to work very hard and fight right until the end so in that sense I'm very pleased with my team's performance," he said.
"Maybe we deserved a little more than we got, but when things aren't going your way, every shot the opposition makes seems to go in while many of ours do not."
The form of 13-goal Sergio Aguero continues to bring a smile to the Chilean's face as he added: "Sergio is a fantastic player and he played really well again today. Maybe towards the end he needed the support of another striker, but Edin Dzeko picked up an injury very quickly and this is just how things are going for us at the moment.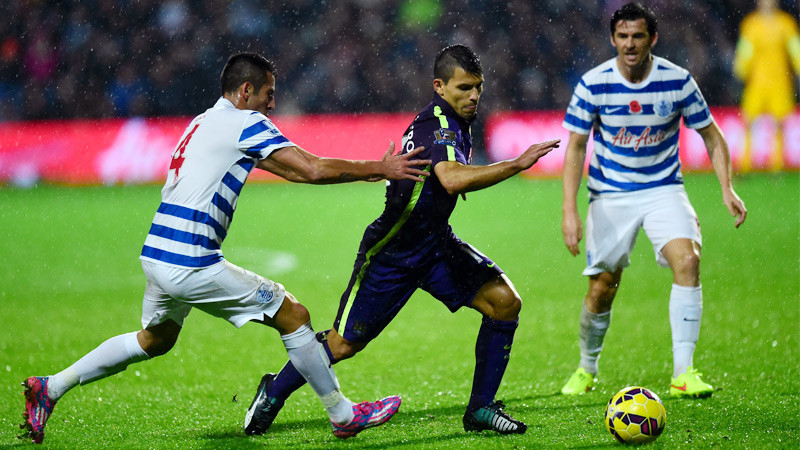 "He scored two goals, might have had two more and he was a handful for the QPR defence every time he had the ball and it was a great performance by him."
When pressed on the fact the Blues now trail leaders Chelsea by eight points, he responded: "I'm not worried about Chelsea at all. They are playing very well but there are a lot of games to go and we will see if they continue to enjoy such a good moment as the weeks go by.
"We are only thinking of ourselves and returning to the way we normally play – that's all that matters right now."