Men's Team
1
Pellegrini: Jovetic will be an important player
Stevan Jovetic two
Manuel Pellegrini has revealed that Stevan Jovetic is ready to begin his injury comeback when City take on West Ham in the second leg of the Capital One Cup semi final at Upton Park.
Although he says the striker is unlikely to play the full match against the Hammers, the Blues' boss is confident Jovetic will become a key member of a City squad still competing for four trophies at home and abroad.
"It's an important chance for him to come back to play but I don't think he'll be able to play from the beginning or play 90 minutes," Pellegrini declared.
"He came here with the illusion of playing in the Premier League but he has been unlucky.
He was a very important player in Italy for Fiorentina and I still believe he will be a very important player for us.

...Manuel Pellegrini on Stevan Jovetic...
"He can really start playing often in the next three months and I think he can be the player we hoped he would be."
Jovetic has endured an injury-hit debut campaign in Manchester and has been restricted to just five appearances in a City shirt, but demonstrated his considerable goalscoring talents when he hit a brace against Wigan earlier in this competition.
The Montenegrin attracted attention across Europe after hitting 40 goals in 134 appearances for Fiorentina, and Pellegrini is confident that the summer signing is ready to put his injury woes behind him to do the same for the Blues.
"It's very difficult to be happy when you're not playing and you have so many injuries but he's conscious that he will be 100 per cent fit and demonstrate why he's here," the Chilean added.
"We are trying every day to give him trust so that his bad luck will finish soon. It's very important that he comes back ambitious and hungry to be an important player here at Manchester City."
The fixture list is hotting up in all competitions, and with games coming thick and fast, everyone will have plenty of chances to impress as Pellegrini aims to keep his squad fresh in the second half of the campaign.
He said: "We have so many games that all the players will play. One of the most important things of this squad is the mentality of trying to win every match in every competition."
Pablo Zabaleta has echoed his manager's words, and warned the Hammers that City won't be taking things easy.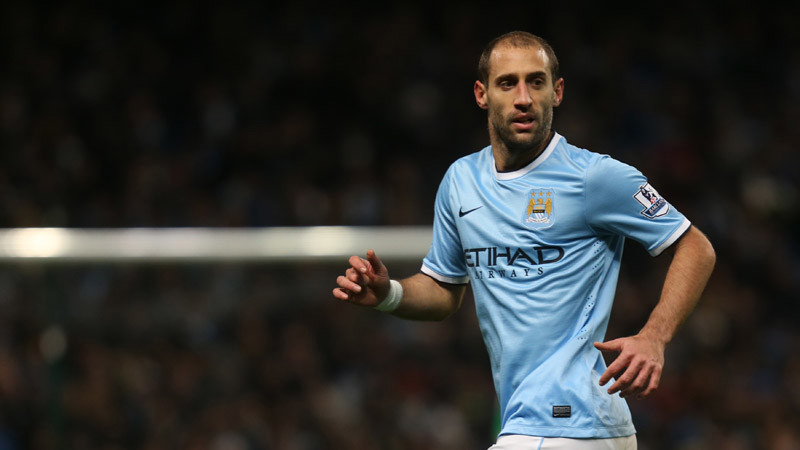 The Blues take a 6-0 lead to East London and remain hot favourites to book a place in the final at Wembley, but the Argentine defender is keen to keep the momentum going with victory at Upton Park.
"It doesn't matter about the first leg," he argued. "We have to go into that game thinking it's a new game - even though we have six goals.
"We need to try and win it - like we are doing in other games at the moment. We are winning games and working hard.

...Pablo Zabaleta..
"West Ham are in a tough moment, they are at home and will want to win it. So we need to take it seriously and we will."
City have already smashed one goalscoring record this season with their stylish brand of slick, attacking football and there has been much talk in the press of an unprecedented quadruple.
But Pablo was keen to make it clear that no one at the club is getting ahead of themselves, and the team are focusing on the game with Sam Allardyce's men.
He said: "We need to calm down. We know how tough it is to win four competitions. We are still alive in all of them which is fantastic for the team at this point in the season.
"We will try to win all of them but we don't need to get confused and think too much about it. We just need to go game by game and see what happens.

...Zaba...
Last term's Etihad Player of the Year hailed the impact of Sergio Aguero's return to fitness, but was quick to point to the outstanding contributions of Edin Dzeko and Alvaro Negredo in his absence.
"We're really happy to see him back. He needs to get back to his best in a physical way because he's been out for a month, but he took 30 seconds to score a goal when he came back against Blackburn and 20 minutes against Cardiff. It's so easy for him," Zaba added.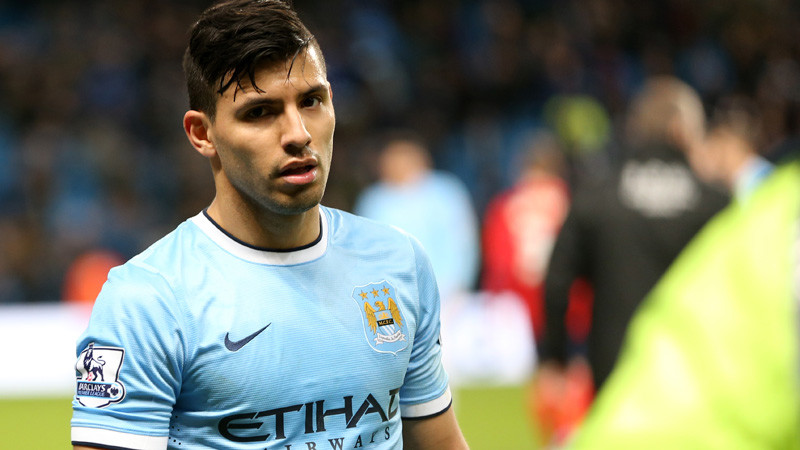 "In football you have to be prepared for when someone important is missing or suspended. It's great to see him back again, but Edin and Negredo have been doing really well without him.
"It doesn't matter who plays, it's all about doing well for the team."
---
CITY v WATFORD: With great family prices for the FA Cup 4th round tie with Watford on 25 January (3pm kick-off), the Blues are expecting another bumper gate for the visit of the Hornets.
Last season, almost 47,000 packed the Etihad Stadium for the FA Cup third round tie with Watford and with kids prices starting at just £1 and adult prices starting at just £15, demand is likely to be high as the Blues look to progress to the last 16 of a competition that has seen City feature in two Wembley finals in the past three seasons.
Don't miss out – details here