First Team News
1
Pellegrini preparing changes for first FA Cup test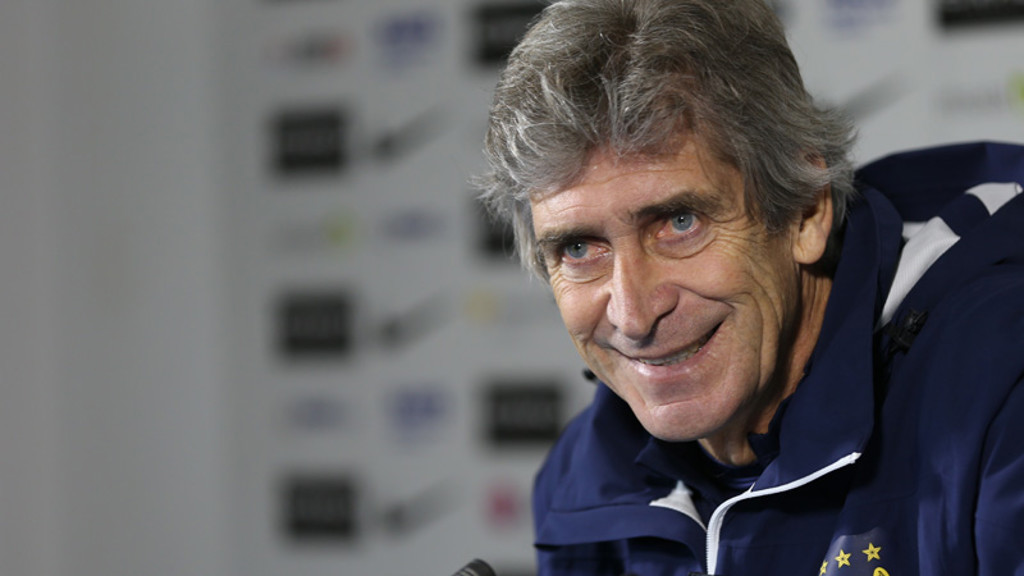 blackburn
Manuel Pellegrini says he will ring the changes as the Blues prepare to get their FA Cup campaign under way against Blackburn Rovers.
The Chilean admitted it has been a tough few weeks and that some players may need a rest as City continue to fight on all four fronts this season.
"We are going to make changes, because we are playing too often in the last weeks," he revealed.
"We are going to try to have a good squad and try to win our first FA Cup game, because for our team it is an important competition."
A number of players have been missing from the squad for the past few games and as we enter 2014, the injury list doesn't seem to be getting any shorter.
"Sergio Aguero, Martin Demichelis, Micah Richards, Stevan Jovetic and Jack Rodwell are all injured," the manager told a pre-match press conference.
"Jack today had some problems with his hamstring. We will see tomorrow how serious it is. Maybe it is a small thing, but for tomorrow he is not fit."
The game at Ewood Park will mark Pellegrini's first FA Cup experience and there was no doubting the Chilean's intentions as his latest campaign kicks off.
"It's an important competition and we want to win," he declared.
"I just talked with the players that it is an important test for us, not only for the team but also for individual performances - maybe for some players that have the chance to play now in the FA Cup.
It is a very important and very traditional cup here in England and I repeat what I said about the Capital One Cup. I know it's not the same cup, but both finish in Wembley and I think to finish in Wembley with a final, it is important for every team.

...Manuel Pellegrini...
You have to go back almost seven years to September 2007 to find Rovers' last win over City, but Pellegrini was adamant he will approach the game in the same manner as any other.
"I repeat from the beginning of the season, we are going to play in every competition with exactly the same importance," he said.
"It will be a difficult game. If we think that because we are in Premier League and they are in the Championship that we are going to win, I think it's an important mistake.
"I think all the teams playing at home are very difficult. Maybe Blackburn is not in the best moment or in the Championship, but I think that playing at home and playing against us, they will be very motivated and try to win.
"We must play with concentration, intensity and with the tempo we need if we want to win."
The first few days of 2014 have brought with it the usual speculation concerning transfers in and out of the club. Despite playing down rumours that Joleon Lescott could be set to go on loan, the manager did reveal that one player could be on the move.
"Joleon Lescott is a very important player for us. I understand the he finishes his contract in June here, but we will see what happens in the future. But for the moment, he is still here and I repeat that he is a very useful player for our team," he stated.
"At this moment we are not considering it. We will see in the future during the transfer window what will happen.
"It's true; I think that John [Guidetti] must go on loan. He's coming back from a long injury for about 18 months. Here we have Dzeko, Negredo, Aguero and Jovetic for the moment so maybe he will not play as often as he needs, so maybe it is the best for him and for the team."
City will have won all but one of their last 13 matches if they pass their first FA Cup test and although no silverware has been won yet, the manager admitted he was satisfied looking back at his first six months in charge.
"I'm very happy because in all the competitions we are playing we are in a good moment," he smiled.
"In the Premier League we are just one point behind Arsenal when a month ago we were six. We didn't start very well the Premier League, especially playing away, but I think we had a good first half of the season.
"In Capital One we are in the semi-final and in the Champions League that was our first target and we have classified already for the round of 16. So for the moment, it is a good first half of the season. Now we must win important things in the second for it to be a successful season."