Men's Team
1
Pellegrini: We will continue fighting.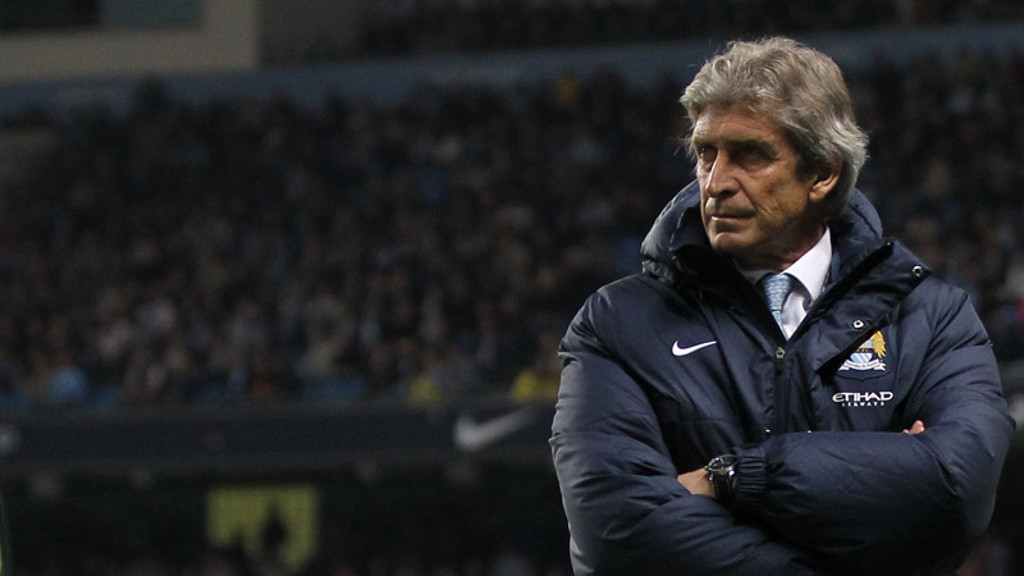 Manuel Pellegrini says his job now is to prepare his players to win the remaining five games as the Blues' title hopes hang by a thread following the draw with Sunderland.
It was a disappointing evening for City who never managed to push on from Fernandinho's early strike and found themselves trailing the relegation threatened Black Cats with five minutes to go. Samir Nasri leveled up with two minutes left, and then missed a golden chance to steal the points for the Blues at the death.
"Of course, our chances are now less. Three points was very important for us tonight, but we will continue fighting," said Pellegrini in his post-match press conference.
"I don't think we played with any less confidence following the game against Liverpool. We have five games more in which to play. Liverpool has a better chance than us (of winning the league) and Chelsea but we will continue fighting until the end.
"Before the match I was worried about this game. Playing against a team fighting relegation is very difficult and we had only four days to get over the Liverpool game.
"At the end of the season we will analyse. We have five games more to play and we will continue to have chances. My duty is now to talk to the players and to win the last five games. This team was six points behind the leaders two years ago and won the title."
Manuel was questioned as to the fitness of some of his star names, in particular the returning Sergio Aguero who was substituted having started his first game in a month since limping off against Barcelona.
Sergio was taken off as he couldn't play more than 60 minutes with fitness. It was a tactical change.

...Manuel Pellegrini
"David Silva has a problem with his ankle which he has had for the past two games. He couldn't play today following the game on Sunday with only four days to recover. We will see how he is for Monday's game.
"I don't think there was any problem with Kompany physically today.
"My players are more mentally tired than physically tired. Playing this game after Liverpool was very difficult.
"I think that we had some low performances in February but we recovered. I think it's normal for a team to have lesser performances at some points of the season."