Men's Team
1
Aguero facing fortnight out confirms Platt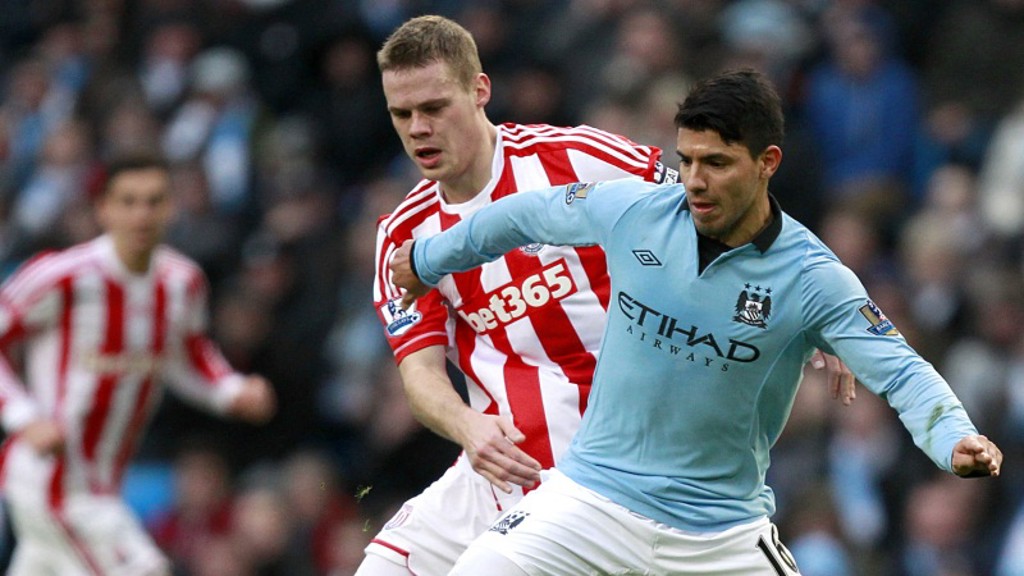 Aguero
David Platt confirmed Sergio Aguero could be facing could be facing up to a fortnight out with an injured hamstring.
The City striker pulled up as he ran towards the Stoke box and was replaced by Carlos Tevez – Platt says he will now probably miss the games against Watford and Arsenal as a result.
"Sergio won't play at the weekend and is probably doubtful for the trip to Arsenal but we'll know more in 48 hours," said Platt.
"It's too early to make an accurate assessment but it's a blow for us because he's been playing so well. There are different degrees of hamstring injuries which is why we need to assess the extent of what has happened until Thursday.
"Mario has been back in training the last few days so he will be an option for us. He was ill before Christmas, then recovered and started training again before falling ill once more. He has three days of training before the Watford game so could be available for the weekend."
Platt was happy with the Blues' display against a Stoke side previously unbeaten in ten games and possessing the meanest defence in the Premier League.
"We've got to continue winning games and scoring goals – we've been creating chances but not been putting them away so seven goals in two games is pleasing," he said.
"We probably created the same amount of chances at Sunderland but came away with nothing so we have to be pleased with a 3-0 win today.
"We should take credit for limiting Stoke to so few opportunities because we know they can cause problems from set-pieces but I can't recall them really creating too much. We didn't give away any silly fouls around the box and were disciplined in our defending.
"We've had a lot of teams that have come here, sat back and defended and we know Stoke have been difficult to score against this season."
Stoke boss Tony Pulis accepted the defeat with grace saying: "No complaints, City were the better team and deserved to win and I don't want to take anything away from them.
"We needed City not be at their best and we have to be at the top of our game to come away with anything and we weren't today – sometimes you just have to hold your hands up an accept that."