Men's Team
1
Quintet missing for Cottagers clash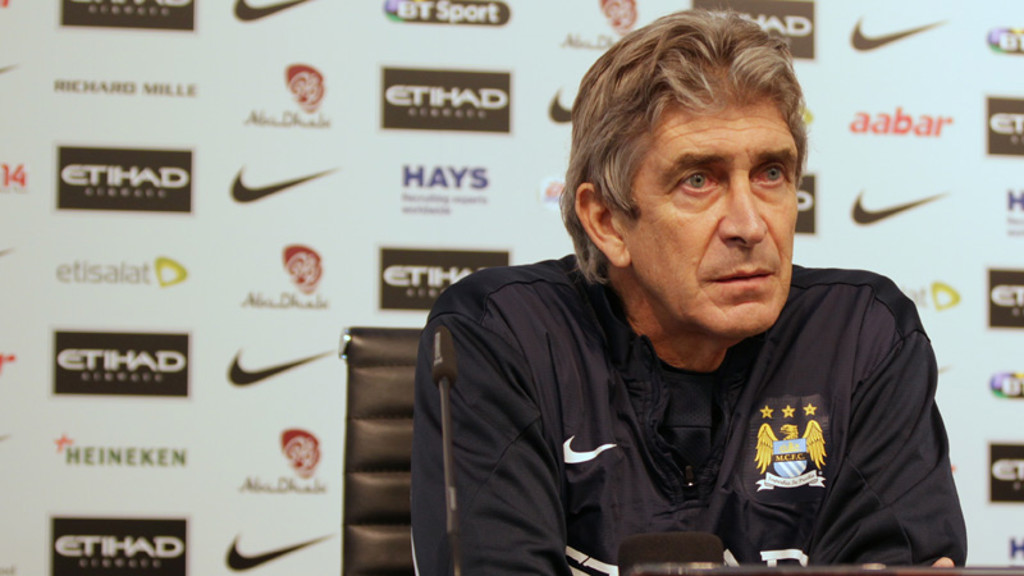 Pellegrini
A total of five players are set to miss the Blues' pre-Christmas fixture away to Fulham as Manuel Pellegrini looks to extend City's five match unbeaten run in the league.
Argentine teammates Sergio Aguero and Pablo Zabaleta are among the injury list with calf and hamstring problems respectively.
"Aguero could be [out for] eight weeks, could be four. We will see the way he is working, but he is improving every day," the manager revealed.
"I am confident that he will come back as soon as he can.
"I think Pablo is not so big an injury. Maybe he will be back soon. Maybe a week or two, but the doctor will decide. I am not a doctor! Micah Richards, Matija Nastasic and Stevan Jovetic are also out."
With Zabaleta and Richards both missing, the Chilean is without a recognised right back among his ranks, but he is confident that he still has plenty of options.
"We don't have a right back, so we will see tomorrow who will play there. We can play Clichy, we can play Kolarov, we can play Boyata or Milner. But we will see tomorrow what is the best option."
Fulham currently sit just one place from the bottom of the table in 19th position and have managed only one win in their last eight outings.
They could however prove tough opposition with their players out to impress new Head Coach Rene Meulensteen.
"For different reasons, it is always very hard to play all teams in the EPL, but the important thing is the way we play the game," asserted Pellegrini.
"Sometimes you play teams at the top of the table, sometimes teams at the bottom. But I'm absolutely sure that our mentality must work thinking that we always have a strong team in front of us.

...Manuel Pellegrini...
"I think the results of the first games playing away was not what we deserved. It's very important for this team to win away.
"We won the three games in the Champions League playing away, that's important. We won the two games playing away in Capital One also and in the Premier League the last two games we drew and we won, so I hope we will continue in the same way."
The Blues have three of their nine December fixtures still to play, including a game on Boxing day against Liverpool before they are in action again two days later against Crystal Palace.
The Chilean admits it is a testing time for his players and says he will rely on squad rotation over the busy festive period.
"We are always changing every match. That is very important for me, the rotation of the squad," he said.
"We will have to play on the 26th and 28th, less than 48 hours; it is incredible that they have the two games so near. We will see after this match what is the best starting eleven for the next one.
"I think that playing two games in less than 72 hours is not a good thing. The players have not recovered normally in less than 72 hours.
"Playing after 40 hours, of course I think that that is a very bad thing. There are a lot of games and I think that in this case we are not in the best situation.

...Manuel Pellegrini...
"All these days are very important in the Premier League, but all the other countries stop always and I think it is better for the players to have a break, a winter break, because they play too many games. But the rules are the rules and the Premier League has always been the same, so we must play!"