Match Report | Season 2018/19
Tranmere Rovers 0
Man City 1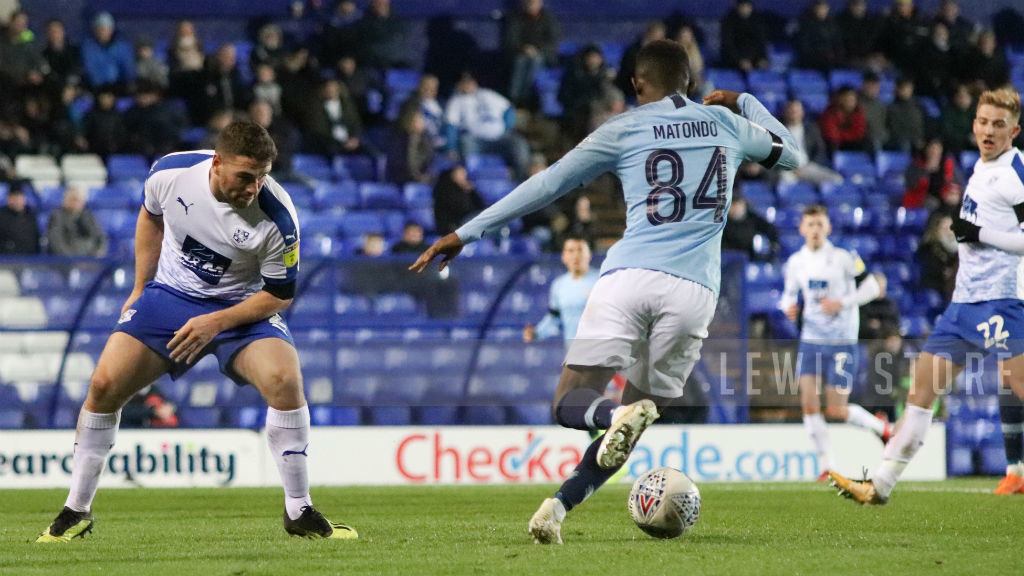 Checkatrade Trophy
Att: Tuesday, October 30, 2018 7:00:00 PM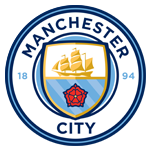 Manchester City
1
Matondo 49'
Tranmere Rovers:
George
Buxton

Caprice 60'

Ellis
Sutton
Bakayogo
Tollitt
Gilmour
Harris (c)
Mottley-Henry
Smith

Williams 60'

Akammadu

Gumbs 80'
Unused subs

Passant, Walker-Rice, Nugent, Devine.
Manchester City:
Grimshaw
Diounkou
Humphreys
Ogbeta
Rosler
Pozo
Bernabe

Richards 84'

F Nmecha

T Dele-Bashiru 74'

Poveda

Garre 90'

Touaizi
Matondo
Unused subs

Scott, Frimpong, Harwood-Bellis, Gomes.
Manchester City's Under-21s progressed to the Round of 32 in the Checkatrade Trophy after securing a 1-0 win away at Prenton Park.
A fine piece of skill from Rabbi Matondo saw the Blues score the only goal of the match and progress through to the next round of the competition for the first time.
What happened
Despite the fact that Tranmere Rovers had already exited the competition after consecutive losses to Shrewsbury and Crewe in our group, there was not let-up for Paul Harsley's young Blues.
City knew a win would be enough to progress into the next round and they achieved their aim with impressive maturity.
The home side flew out of the gates and threw a number of chances at Daniel Grimshaw in the first half, but our 'keeper remained calm and his commanding presence on the pitch was invaluable as he constantly spoke to his backline and ensured that the Blues remained as organised as possible.
Grimshaw made two excellent saves within minutes of each attempt, the first as Franklyn Akammadu drilled in a shot and the second when Johnny Smith charged forward and sent a curling effort from the edge of the box.
Both times, Grimshaw launched into the air and caught the efforts comfortably.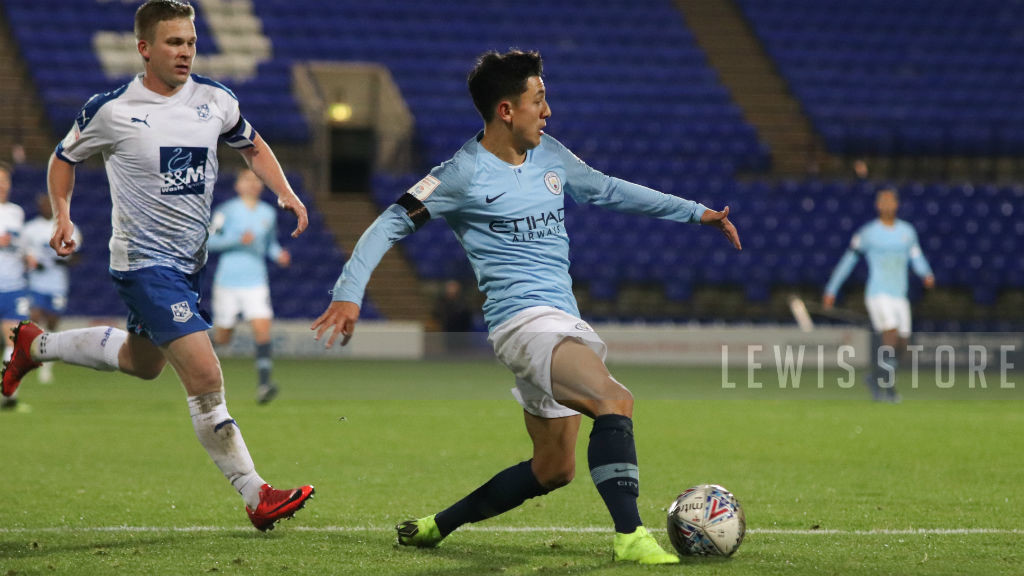 Although the Blues struggled to make use of the gaps in Tranmere's defence, Nabil Touaizi was still able to set 'keeper Shamal George's heart racing with a couple of clever attempts.
City looked certain to take the lead when Touaizi's shot trickled past the Rovers' goalkeeper and towards the bottom corner, but out of nowhere Mark Ellis jumped into action and cleared the shot off the line.
Nabil took on George moments later in a one-v-one battle, but the Tranmere stopper dived to the floor to block the ball and prevent Touaizi scoring.
While Touaizi worked hard in front of goal, the most impressive moments in the opening half came from the wings as Rabbi Matondo and Ian Poveda skilfully slalomed their way down the flanks.
City returned from the half-time break looking far more confident and assured.
Whatever Paul Harsley had said to his team at the break, it worked. Just seconds into the second half Adrian Bernabe sent a thunderous strike towards goal, forcing George to make a split-second save. It was game-on at Prenton Park.
The Blues found the goal we had been so desperately hunting for through Matondo just before the 50th minute as he sprinted with determination towards goal. As George ran towards him, Rabbi cleverly sashayed around him before slotting the ball into the open net.
Harsley's side continued to be creative and Bernabe was unlucky not to double our lead on the hour as he frustratingly struck the near-post with his volley.
And City's youngsters successfully held on to their lead to seal our passage from the group stages.
Paul Harsley's reaction...
"This tournament has been really good for us as we've won two and drawn one," the U21 boss told ManCity.com. "It's the challenge the competition gives to the team – playing on a proper football ground under the lights, the pressure to win a game as well as play well and they did that against Tranmere, but we should've won by much more.
"We thoroughly deserved the clean sheet, it would've been completely unjust if we hadn't won the game. It was a good performance, tough opposition and a great result for us.
"It's a competition that everyone really enjoys. When we came in after the match the lads were all cheering.
"I think we've done relatively well in the league so far, but obviously the Uefa Youth League has been a bit of a problem for us so far so I think this competition and result is a bit of a release for the players.
"We seem to really thrive in this [competition] and we've now got another game in it which gives us something to look forward to as we don't have to worry about relying on anyone else."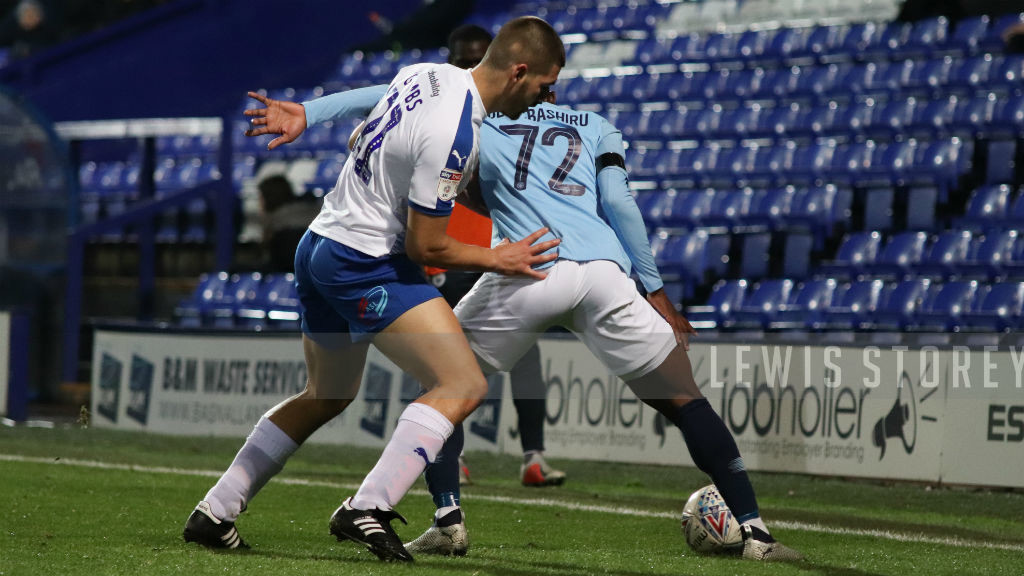 How we lined up
Daniel Grimshaw returned to goal, shielded by a back four of Nathanael Ogbeta, Colin Rosler, skipper Cameron Humphreys and Alpha Diounkou.
Iker Pozo was employed in his defensive midfield role alongside Felix Nmecha and Adrian Bernabe.
Rabbi Matondo and Ian Poveda flanked Nabil Touaizi up front.
Up next
Paul Harsley's EDS take on Blackburn Rovers at the Academy Stadium on Saturday, 3 November (kick-off 12pm) before returning to UEFA Youth League action against Shakhtar Donetsk on Wednesday, 7 November.