EDS News
1
Harsley: Checkatrade clash a chance to bounce back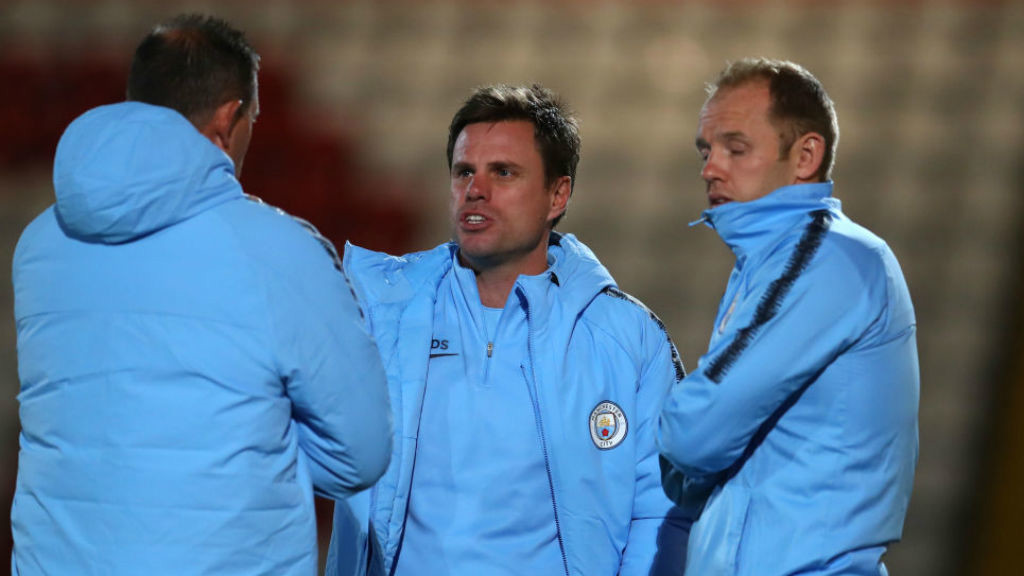 REACTION TIME: Paul Harsley is urging City's Under-21s to react in positive fashion in tonight's Checkatrade Trophy trip to Rochdale
Paul Harsley says Tuesday's Checkatrade Trophy Third Round clash against Rochdale offers the perfect opportunity for Manchester City's Under-21s to bounce back following a heavy defeat to West Ham.
The young Blues suffered a 5-1 loss to the Hammers in their opening game of 2019, but following their success in the group stage and the second round of the competition, manager Paul Harsley is looking forward to the challenge ahead.
City reached round three of the Checkatrade Trophy following a dramatic penalty shoot-out win over League One side Barnsley late last year, and next they travel to Spotland.
"I'd like to think our Checkatrade game is great chance to bounce back (from the West Ham loss)," Harsley told ManCity.com. "We will just need to try and galvanise the players and see who we've got fit and available and put together a team who will try and do what we've done so far in the competition.
"We will try the best we can. Each time it seems to be getting harder, but we are looking forward to it!"
READ: Rabbi Matondo nominated for PL2 player of the month award
WATCH: Eric Garcia | City debut was a dream
Once again, our Under-21s face a League One side when they travel the short distance to Rochdale.
Ahead of the test, the Academy boss said he was preparing his squad for a physical game.
"They've (Rochdale) struggled a bit recently but we will expect a physical challenge, a hard working team and a team who look at it as a chance to get to Wembley," the manager added.
"The competition will probably take it up to another level and it'll be a tough challenge, and it is one we will try and rise to!"