EDS News
1
Grimshaw delighted with spot-kick redemption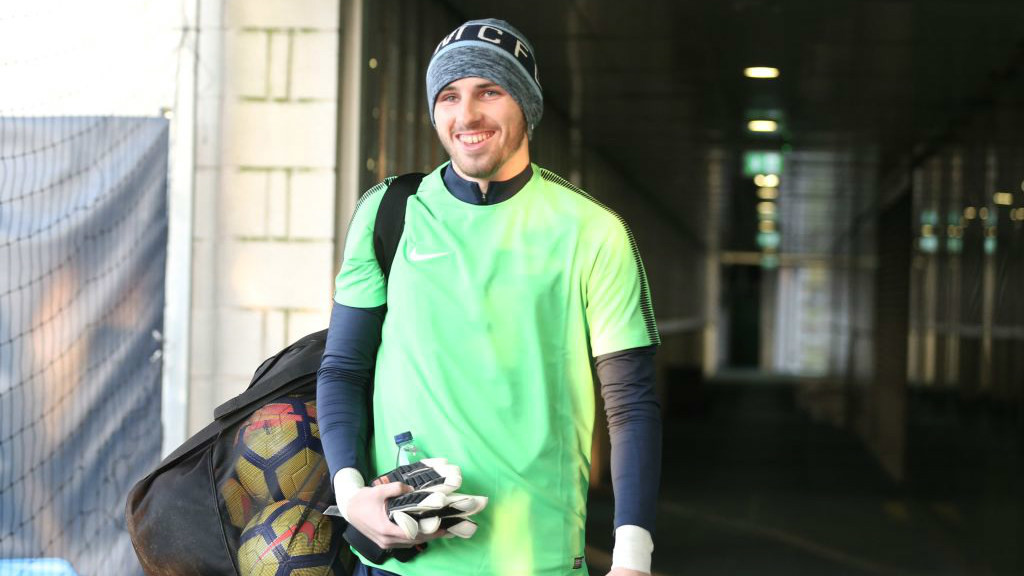 IN TRAINING: Daniel Grimshaw.
Pre-game penalty research allowed Daniel Grimshaw to redeem himself with a match-winning shoot-out performance against Inter Milan in the UEFA Youth League.
The young 'keeper experienced the full range of emotions as Manchester City beat the Italian's 3-2 on penalties to progress to the last eight and was delighted he could atone for an early error.
After being caught in possession to gift Inter their opening goal, Grimshaw's despair turned to joy as he proved to be the hero with four saves in the shoot-out.
It was not by chance, either, with the 20-year-old revealing he had prepared for the game to go beyond 90 minutes and it was just as well, with City missing four times from 12 yards.
"I was thinking the lads need to go and practice their penalties," laughed the youngster after victory was secured.
"But then I knew I had to step up and it was my time to redeem myself and help the team.
"We'd done our research earlier in the week. They came through the last round on penalties, so we had an idea of where they went.
"Some of it was instinct, but I'd checked again which way they went before the shoot-out and luckily it helped us."
Grimshaw, who's trained with Pep Guardiola's first team squad this season, took full responsibility for his mistake, admitting he thought Inter midfielder, Xian Emmers, was further away when he received the ball.
The Academy graduate was therefore relieved to see Lukas Nmecha equalise with a 27th minute penalty and felt his side were unlucky not to snatch the win in normal time.

"We dominated the game," he declared.
"But we spoke beforehand and we knew that playing an Italian team, if we gave them an early goal, they would sit back, defend and try and play on the counter.
"We deserved to win but we know we can play better."
City will have the chance to prove that against familiar opposition in the quarter-final, with Liverpool or Manchester United the potential opponents.
And with big ambitions for this season, the young 'keeper is hoping to channel the positivity of the dramatic last 16 win.
"It's a big confidence boost for us all to get through and now we look forward to the quarter-final," Grimshaw added.
"I'll take either team. We're very confident we'll go through and we're looking to win the competition.
"That's our aim, to get to Switzerland for the first time in the Club's history."