EDS News
1
Wilson frustrated by Feyenoord draw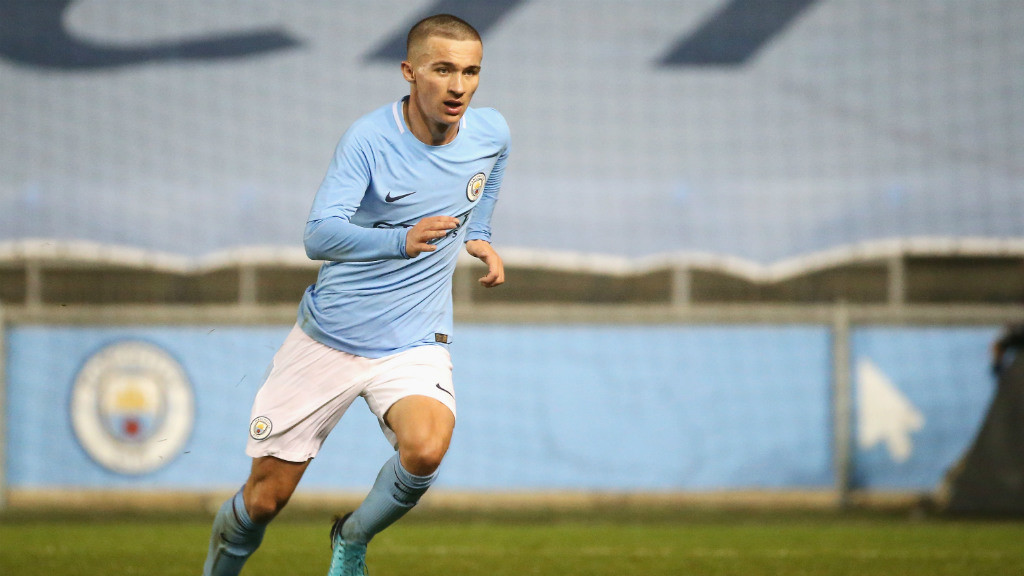 DEFENSIVE DUTIES: Tyreke Wilson in action against Feyenoord.
Tyreke Wilson was left disappointed by Manchester City U19s performance as they drew 0-0 with Feyenoord in the UEFA Youth League.
It was a keenly fought contest at the Academy Stadium and both sides could have won the game, but the Dublin-born defender felt City's failure to reach the levels they have previously attained cost them.
Hitting the post through Dylan Vente and Lutsharel Geertruida, it was the visitors who had the best chances and though Benjamin Garre went close for City, Wilson felt they should have created more.
"I thought we've done a lot better in previous games," he explained.
"We didn't create a lot of chances. They sat deep in the second half and that was hard to break down, but we could have moved the ball a lot quicker.
"We're all a bit disappointed in ourselves because we need to play better than we did tonight.
"We started the game well and we should have kept that going. I thought we took our foot off the pedal a bit and let them back into the game."
Simon Davies side played well in periods, with Taylor Richards also going close and it's a testament to Wilson's high standards that he's frustrated by the team's failure to win.
He did, however, acknowledge Feyenoord, with their willingness to run in behind and attack space, were a different proposition to what they have faced so far in Europe.
"They are probably the best team we've played in the UEFA Youth League," the full-back reflected.
"They have good individuals and some very good technical players and they were dangerous on the counter attack.
"We conceded a few chances from that and I thought our keeper kept us in it at times."
The draw extended City's unbeaten run in the competition to five games and having already qualified for the last 16, they remain top of the group.
That allowed Davies to make several changes and the 17-year-old was impressed with the likes of Ash Kigbu, who came in for his first start of the campaign.
There was also a new role for Wilson, as City moved to a three-man defence in the second half, and he was tasked with playing as one of a trio of centre halves.
"It was my first time playing there and I thought I did alright," he added.
"I had to be aware of their No.9, who was quick and running in behind on the counter, but I thought I coped with that.
"We've got a strong squad – we rotated it a bit today – and I think the lads that came in played very well."