EDS News
1
Ambrose: I want to make most of Arsenal experience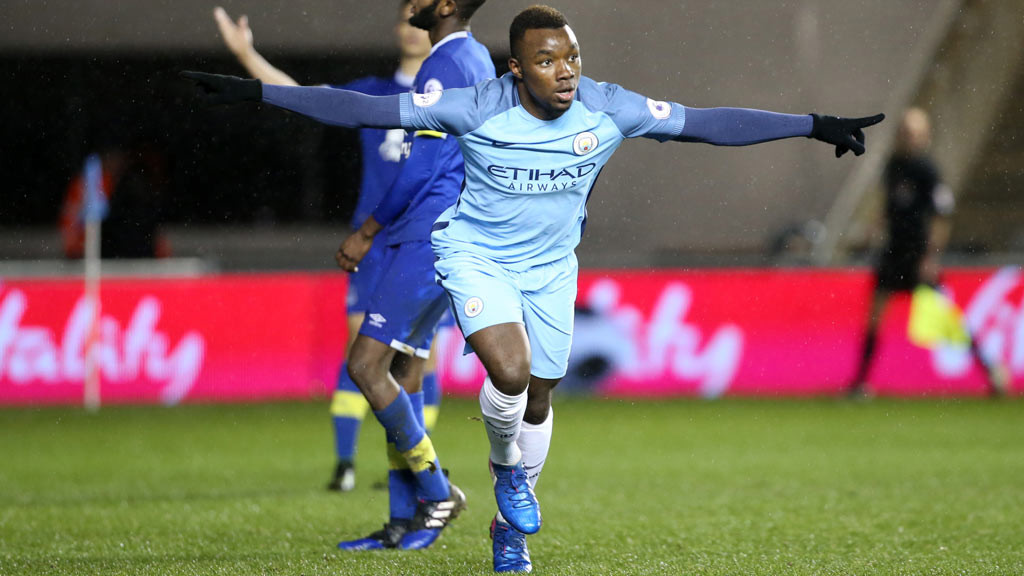 BACK WITH A BANG: Thierry Ambrose celebrates his strike against Everton
Having scored on both of his returns to fitness at the Academy Stadium this season, Thierry Ambrose is hoping to make this one last.
The French striker found the net in City's draw with Chelsea back in November following a lengthy lay-off but before he could get back to full sharpness, he was on the treatment table once more.
On his return this month, Ambrose was called upon to make the difference for City with an hour gone in Friday's top of the table clash with Everton.
It had been a cagey, tactical battle up until that point but the introduction of the 19-year-old opened up the pitch and City were soon 1-0 to the good when Ambrose collected the ball in the box before shifting inside and firing into the corner.
City went on to win 3-0, closing their deficit from Everton to three points, and Ambrose was delighted to have played his part.
He said: "It feels really good after a long time injured again. It wasn't easy for me because you think a lot when you're injured but all my teammates and the staff have helped me a lot to make sure I'm ready. I'm really happy to score this goal because it was important for the team and in the league as well.
"Simon Davies told me to play behind because I'm quite fast so he wanted me to stretch the game a little bit. He told me I was going to score the winner or a crucial goal and that's what I did so I'm happy!
"I want to stay fit until the end of the season, play games and try to score as many goals as I can."
View highlights of City's recent U18 Premier League trophy lift below…
Want to keep up with all the latest EDS and academy news? Follow the official Twitter account, @ManCityAcademy.
With only four matches left to play in the league campaign, City have left it late in their attempts to catch the Toffees. Ambrose insists he and his teammates are capable of winning all four matches and taking the title from under Everton's nose.
"We're going to try to be first and that means winning every point we can. We know we are three points behind and it will not be easy for us but we're going to try to be first," said Ambrose.
"We had to beat Everton to make sure they were still close to us and now we have four matches to do everything we can to catch them."
The first of those four matches comes on Monday when City will travel to Arsenal's Emirates Stadium looking to shoot down the Gunners and it's one that Ambrose can't wait for.
"It's going to be a great experience, especially for me. When you're out and watching your teammates playing well it's frustrating.
"To play in a big stadium like that and get the chance against such a good team, I will be happy to do my best. I'm just delighted to be involved and I want to enjoy every moment I can before the end of the season."
After Arsenal, Ambrose and his Premier League 2 teammates will welcome Derby County to the Academy Stadium on Friday 7 April.