EDS News
1
Davies: City players welcome UYL pressure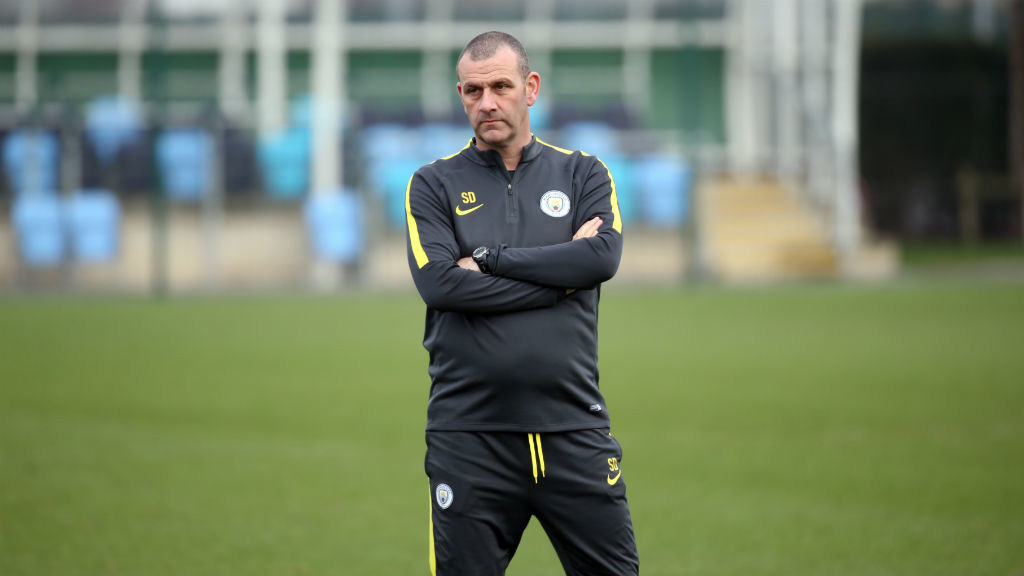 DAVIES: City's Premier League 2 boss is looking forward to the trip to Leicester
Manchester City EDS boss Simon Davies has welcomed the pressure on his UEFA Youth League side ahead of their tie with Salzburg.
City must win the play-off tie, a one-off match at the Red Bull Arena, if they are to progress to the last 16 of the U19s version of the Champions League.
Davies believes the hope of overcoming Salzburg and continuing their European journey is something he and his players are embracing.
He said: "They play for Manchester City and every game has got to be a pressure game for them. They have to go into every game knowing that the club expects them to be successful and to win things and for all of us, staff and players, there's pressure.
"That's what football should be about and we all feel really angry when we lose and delighted when we win. Long may that continue, including this trip to Salzburg."
Although City are competing at the top end of several competitions across the youth football spectrum, Davies has reminded his players they have to balance the need to win with the hunger to develop.
He said: "It's a young EDS team. We'll see as we're still on the development route but some of the boys out there tonight are six months away from the first team, whether it be our first team or a loan, so they have to carry a blend of development and need to win.
"The conveyor belt of talent that we've got at the club is really encouraging and all the support staff are enjoying working with these players. We've got some good talent coming through, we're working the right way so let's see how far we can get them."
Want to keep up with the latest EDS and academy news, including live updates of City's trip to Salzburg? Follow the official Twitter account, @ManCityAcademy.