EDS News
1
Man United v Man City PL2: Key battles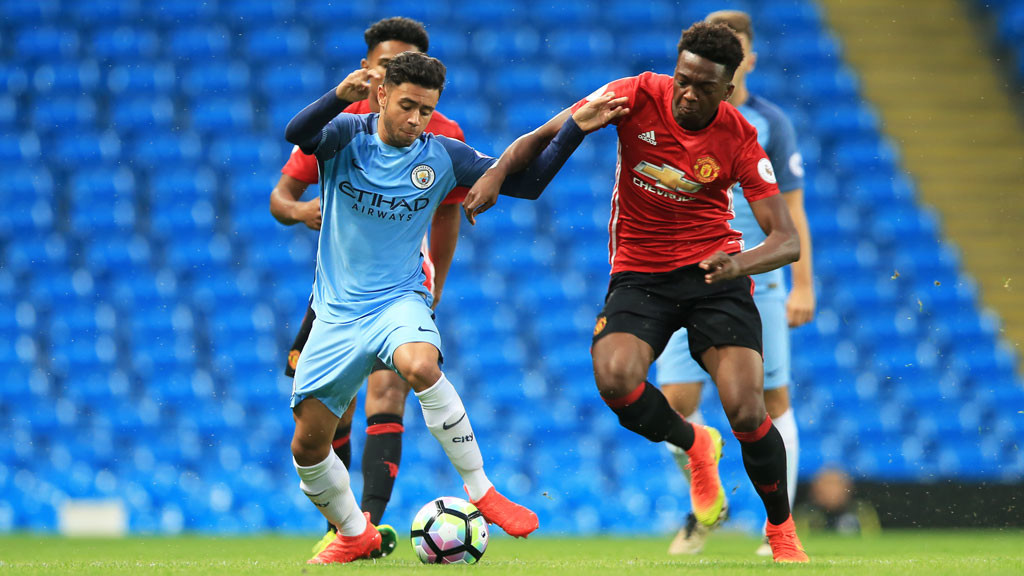 KEEP GOING: Paolo Fernandes continues to work hard despite his early knock
Manchester City get their 2017 in the Premier League 2 under way with a trip to Manchester United on Monday but where will the match be decided?
Simon Davies' side sit second in the table behind Everton whereas their opponents in the 7pm kick-off at Leigh Sports Village will begin in eighth.
Having suffered only two defeats so far this season, City will go into the match full of confidence but who could make the difference?
City's diminutive Spaniard has been shuffled around the pitch a lot this season but it hasn't dampened his influence on the side.
Whether up top on his own, out on the wing or in the centre of midfield, the 17-year-old always finds a way to have a creative impact for Simon Davies' team.
No matter what position he lines up on Monday, he'll almost certainly come in to contact with United defender and captain Axel Tuanzebe.
The athletic and pacey centre-back protects his goal with an uncomplicated style that has seen him earn severall call-ups to United's first team squad this season.
Want to keep up with the latest EDS and academy news? Follow the official Twitter account, @ManCityAcademy.
Two creative midfielders who are often the heartbeat of their side but who will create more on Monday?
Fernandes, October's Player of the Month in the Premier League 2, needs no second invitation to take a shot or drill a cross into the box. Harrop, more noted for his discipline and dynamic running off the ball, can make the difference for United and City are aware of his talents.
Manchester United v Man City in the Premier League 2 is free for fans of both clubs. Head to leighsportsvillage.co.uk for more information or follow the match on mancity.com!