EDS head coach Brian Barry-Murphy says his players will benefit hugely from the 3-2 Papa Johns Trophy loss to Mansfield Town.
In a game packed with chances, near-misses, great saves and five goals, City's youngsters gave as good as they got against Nigel Clough's side.
A flurry of late chances meant -it could easily have ended in victory for the young Blues, but Barry-Murphy believes experiencing the tough, physical aspect of the game is a crucial part of his team's progression.
"At the moment it feels a bit like heartbreak at the end because we had so many chances to score and you want the players to get what they deserve, but I think it will be a steep learning curve for us and we'll take a lot from it – obviously, it is my job to help the players to understand exactly what it is they take from the game," said Barry-Murphy.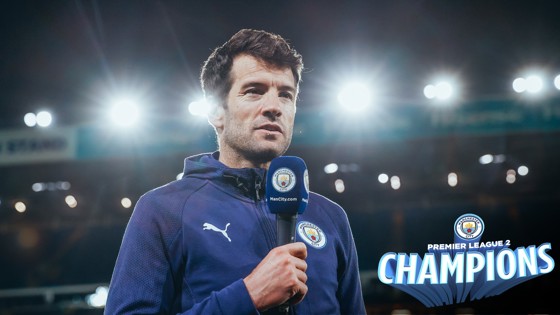 "I do believe this group in particular has a lot of potential and are very exciting to watch, but they are probably not that well known to people outside of the club, so to see them develop and burst onto the scene is very exciting for all of us, but tonight's game is something they won't have experienced before.
"As much as you talk to them and prepare them for what they may face, I think the level of physicality within the game will be a shock to the system, and they will need to adjust to that and learn from it – and they will learn from it – and that is what we will take that from this match.
"It was a totally different test for them, and the ebb and flow of the game was something different, too.
"I think the intensity of the opposition in the second half was key as well – we didn't quite know how to build up with the extra pressure we were under.
"I thought we were a little bit surprised at how aggressive Mansfield were in the second period brought pressure higher up the pitch and I don't think we found a solution to that  - it was a very good learning curve and that's something we will take away from this game.
"You want to help the players as much as you can and play every pass for them, but sometimes you just have to hope that find solutions to the problems in the moment and if they didn't tonight, they definitely will do next time."
Barry-Murphy's side were unbeaten going into the clash with Mansfield and the EDS head coach is looking forward to seeing his players react in Saturday's PL2 clash with West Ham.
"At this club, we don't get many situations where we experience failure very often, so it will be interesting to see how they react at West Ham," he said.
"It's so important to bounce back quickly, as our first team do whenever they have a setback after a long winning run and that's so good to see and is inspirational for us all and we aim to follow that mantra on Saturday in terms of how we react, attitude-wise and behaviour-wise and hopefully the rest will take care of itself."
CITY+ AND RECAST
You can watch exclusive City content on CITY+ and Recast.
Available for just £2.99 per month across all our digital platforms, a CITY+ subscription provides supporters with unrivalled access to new and exclusive City content.
It will allow you to watch full-match replays of all Men's and Women's matches, selected broadcasts of Women's, Elite Development Squad and Academy matches and provides access to the full catalogue of City Studios documentaries.
The official Man City Recast channel offers fans flexible, pay-per-view live fixtures and on demand viewing options including match action from across the years, legend interviews, Best of Series, Man City Esports and City Studios documentaries.