Manchester City's Elite Development Squad were held to a 0-0 away draw against Leicester City in Premier League 2.
Brian Barry-Murphy's side came to the East Midlands on a fine run of form with the Foxes sitting second bottom after a run of seven defeats in nine games. 
But our Under23s couldn't find a breakthrough against a stubborn Leicester defence and had to settle for a point as we extended our lead in the Premier League 2 title race. 
WHAT HAPPENED 
It was a chilly night in Seagrave, but that didn't prevent us from starting with our usual high-pressing intensity.
We had some well-linked passages of play, but City just seemed to struggle to pick out the right pass in the final third, with shots on target few and far between. 
Leicester sat back and looked to hit the EDS quickly on the break from diagonal balls, and it almost produced an opener, with Mikki van Sas forced to pull out a fine save to deny Sammy Braybrooke's swerving effort. 
City's best chance came when Oscar Bobb pulled off a great dummy to allow Dire Mebude to run on goal, dinking onto his left foot, but Chituru Odunze produced a fine block to send us into half-time goalless.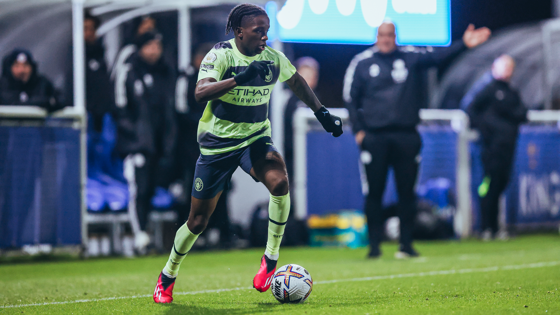 Moving into the second half, all the chances came our way, and we almost took the lead when Alex Robertson stole the ball off the Leicester defence, but with the goal gaping, his cutback to Bobb was cleared by Braybrooke. 
The City number ten then saw another chance go amiss as his shot was saved by Odunze before rebounding wide off defender Paul Appiah. 
Just past the hour mark, Carlos Borges was released through on goal, but Leicester's Joe Wormleighton matched the winger for pace and produced a fine tackle to clear the ball away.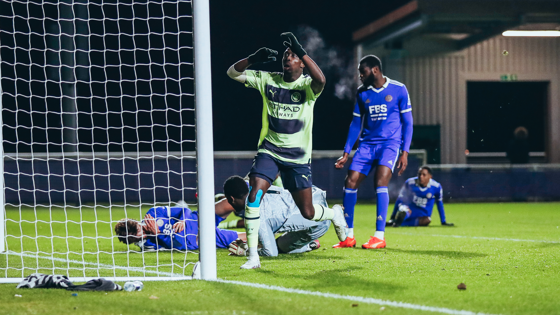 We continued to dominate throughout the rest of the second half, with van Sas called on very sparingly against the hosts.
Most of our chances came from the wide areas via the pacey pair of Mebude and Borges, but the final ball was proving to be our undoing as Leicester were able to get bodies across to clear away before reaching our onrushing strikers. 
In the end, it was a defiant display for the Foxes defence to hold out our attacking threat as the EDS had to settle for a single point to take back to Manchester. 
HOW WE LINED UP
In goal, van Sas continued his run in between the sticks behind Lakyle Samuel, with a returning Finley Burns, Jadel Katongo and Tomas Galvez also in defence. 
Shea Charles and Kian Breckin sat deep in the midfield with Robertson supporting the attack from the number ten position. 
Mebude lined-up on the right with Borges on the left and Bobb played down the centre. 
Manchester City EDS
Starting XI: van Sas, Samuel, Burns, Katongo, Galvez, Charles, Mebude, Breckin (Dickson 63'), Bobb, Robertson, Borges
Substitutes: Adam, McNamara, Agyemang, Smith
Leicester City U21
Starting XI: Odunze, Wormleighton, Appiah, Spencer-Adams, Hill (Lindsay 77'), Braybrooke (C) (Briggs 86'), Cover, Leshabela, K. Pennant, Maswanhise (T. Pennant 74'), Marcal-Madivadua (Godsmart-Ford 46').
Substitutes: Doherty
WHAT IT MEANS 
The draw sees us extend our lead to the top of the Premier League 2 to two points over Chelsea. 
We also increase our gap over Arsenal to two points, but the Gunners have a game in hand on us as we pass the half-way stage of the league calendar. 
UP NEXT
It is a ten-day wait until we see Brian Barry-Murphy's side in action again when we travel to Crystal Palace for a Premier League 2 clash. 
Kick-off in South London will be 19:00 GMT on Monday 30 January in a game that will be televised live on CITY+ and Recast.
News about Leicester v Man City