Joel Latibeaudiere believes the grounding that he received at City has been crucial in his career to date.
The Swansea defender captained our youngsters to an FA Youth Cup final and a Premier League Under-18 North title in 2017, but made a permanent switch to South Wales in October 2020.
It didn't take long for him to face his former teammates, with the Swans drawn against City in this season's FA Cup, but he has his sights firmly set on helping his current employers secure a return to the top flight via the Championship play-offs.
Nonetheless, the 21-year-old hopes we can overcome Fulham in Saturday's Under-18 Premier League National final, which kicks off at 13:00 (UK) at the Academy Stadium.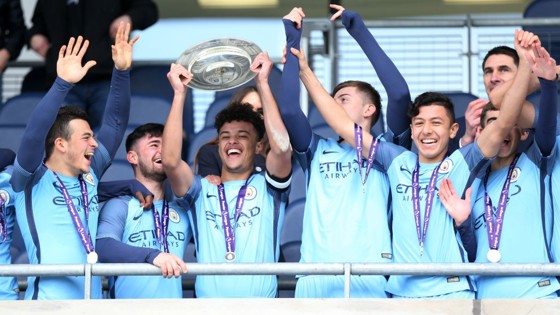 Regardless of the result, Latibeaudiere believes that Carlos Vicens' young charges are in the best possible place to hone and develop their skills.
"The facilities that Manchester City provide and the coaches, it's the best in the world," he declared.
"The way they train and the philosophy that they have, they've obviously made me into the footballer that I am today.
"It was really good that I got to be captain as well and have that role. I really enjoyed my time at City and going up through the age groups.
"We had a lot of success and it's good to see that the success is still carrying on."
Our attractive brand of possession-based, high intensity football has led to impressive achievements across all of our age groups this season.
At senior level, City have so far secured a fourth consecutive Carabao Cup and a third Premier title in four years, while Gareth Taylor's side have also retained the Women's FA Cup.
And that success has trickled down to our youth setup as well, with Enzo Maresca's Elite Development Squad securing a maiden Premier League 2 title to match our Under-18s' Premier League North crown.
A youth league winner himself at City, Latibeaudiere lifted the lid on some of the essential lessons that he picked up during his time with the club, and how they have benefited his career since.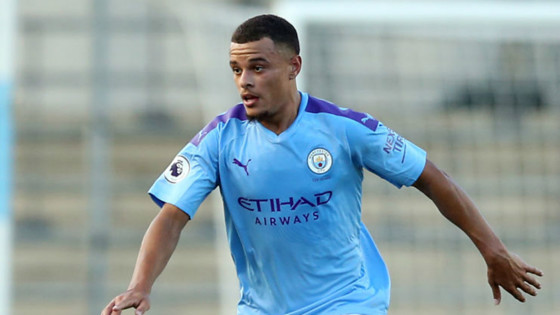 When asked to describe some of those key skills, his answer was immediate: "The bravery to play the way City play.
"For example, I'm a centre-back, at City you're getting on the ball, you're playing through the lines, playing dangerous passes but with a high reward.
"Just having the bravery to hit those sort of passes and staying comfortable on the ball I'd say are the biggest ones.
"And then defensively, keeping the high line, the six second press where, as soon as you lose it, you're getting the ball back straight away.
"I'd say they're the biggest messages that I took, and you can definitely see them when you watch me play.
"At Swansea, we want to keep the ball and break lines, possession based football so it was perfect for me coming here."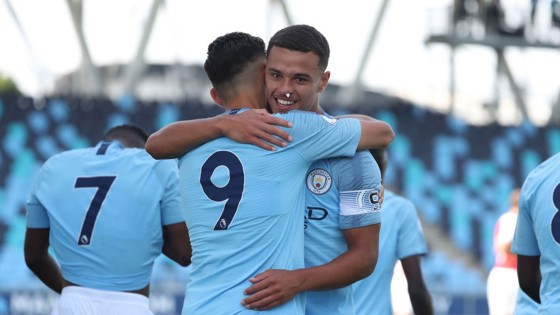 Our City starlets' success this season has been recognised by Pep Guardiola, with several of our EDS and Under-18 players now a common sight on the first team training pitch.
Cole Palmer and Liam Delap both made their senior debuts for the Club this season, with the latter getting on the scoresheet, while the likes of Felix Nmecha, Claudio Gomes and Adrian Bernabe have also earned further first team minutes.
Latibeaudiere regularly trained with Pep Guardiola's men during his time at City, and he had some words of wisdom for the current crop looking to forge a career in the game.
He also provided a small window into the extremely high standards that are set in a senior environment and believes that mentality provides a huge boost to any young player.
"It's massive, you get to train with the best players in the world so of course your quality is going to get better," he insisted.
"They don't treat you like a young boy as well which is good so when you go there and make a mistake they don't just think 'oh he's a young boy he's going to make a few mistakes'.
"They're onto you, they want you to be providing the same quality.
"You can get really mature really fast with the players, they're all good.
"But you've just got to enjoy it most of all, know you're good enough that the manager is calling you up to train with them.
"Just take every moment, don't take anything for granted, take it all in and soak it all up."
City's Under-18s lock horns with Fulham this Saturday in the Under-18 Premier League National Final.
The game kicks off at 13:00 (UK), and CITY+ subscribers will be able to watch all of the action live on all our digital channels.
To subscribe, visit HERE.