Carlos Vicens was pleased with the maturity shown by Manchester City's Under-18s in a hard-fought 2-0 win over Burnley.
City got off to the perfect start, as Oscar Bobb opened the scoring inside ten minutes.
CITY+ | SIGN UP TO ACCESS EXCLUSIVE CONTENT
However, we were then dealt a huge blow, as league top goalscorer Tai Sodje was sent off for a dangerous tackle just before the half-time whistle.
Despite the disadvantage, the youngsters reacted well, adding a second goal through Carlos Borges with 20 minutes left to play to cap off a courageous performance.
As a result, Under-18s boss Vicens praised his side's maturity and togetherness, after being reduced to ten-men. 
"It was a difficult game with the red card in the first half," he admitted. "We played a lot of minutes with a man down and it made it a challenge.
"I am pleased with the personality and togetherness we showed, and the level of maturity we showed as a team to face a challenge, and that is credit to the players."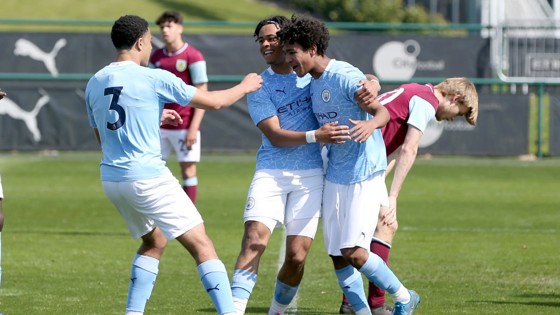 There is no doubt the City youngsters dominated the early stages of the game, and Vicens believes his side could have added to their single goal prior to Sodje's sending off.
"I felt to be honest that when we faced the red card situation, we should have had more goals on the scoreboard," he reflected.
"I am not talking about clear chances - shots on goal, making the keeper save - more situations with the wingers getting to the byline and maybe not being clinical enough in the last metres."
In spite of his side netting just the one first half goal, the Under-18s boss was still extremely pleased with City's reaction and performance throughout.
"I think with more patience and thinking of the mind, we could have added at least one goal but football is football," he continued.
"We were 1-0 up when we were dealt the red card and reacted well so I am pleased with that."
Throughout the campaign, Vicens team have demonstrated their ability to play free-flowing keep-ball, whatever the challenge faced, and even after going down to 10, the City boss felt it more important than ever to follow this philosophy.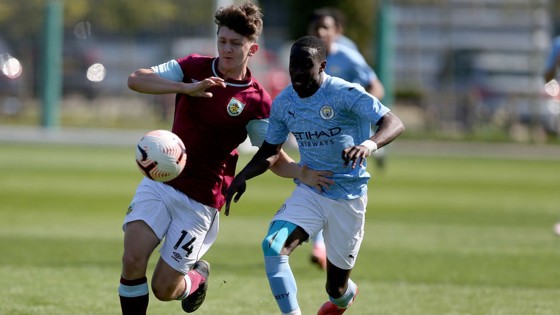 He explained: "I said: 'More than ever, now we keep the ball, more than ever we follow the process, more than ever we do not give the ball away.'
"The threat when you are man down is not obviously that you just leave space, but if you don't keep the ball and the opposition have it in long periods, you are going to suffer a lot.
"How you defend in this situation is with the ball. The process was to defend with the ball rather than without it."
The victory means City remain right in the league title hunt, as we sit two points behind Manchester United with a game in hand, and Vicens believes this tight title run in provides valuable experience for his young squad.
"I think it is a great experience as a 16, 17, 18 year-old," he declared. "I think it's great because it gets you close to what it might be if you one day play for the first-team facing a title race."
"You might be in a title race later on so having the experience there I think will bring loads to the players in terms learning, and obviously it is a great situation to be in."