City's Under-18s produced a superb away performance to beat Blackburn Rovers 5-0, seeing us go ten points clear at the top of the Under-18 Premier League North table.
Rovers frustrated Ben Wilkinson's side for the opening 30 minutes, but strikes from Ashton Muir and Isaiah Dada-Mascoll broke the resistance to give us a two-goal lead at the break. 
Further strikes from Justin Oboavwoduo, Alfie Harrison and Nico O'Reilly capped off a fine away display and gave the Under-18s successive five-goal victories in the league. 
WHAT HAPPENED
In contrast to the drizzly Lancashire weather, City started very brightly in Brockwell, immediately putting the home defence to work. 
Matty Whittingham almost produced a spectacular breakthrough with eight minutes played with a marauding run from left-back, making his way into the box before dragging his shot just wide. 
Oboavwoduo was sent through on goal via a well-placed ball over the top, placing him one-on-one against Blackburn keeper William Blease, who produced a fine save to palm away the winger's effort. 
Up against a well-organised Rovers back-five, we were well in control of the match, but unable to craft a large number of openings. 
It looked as though it could turn into a frustrating afternoon for Ben Wilkinson's side, but our pressure finally paid off eight minutes before half-time.  
A well-crafted, patient, passing move from City landed the ball at the feet of O'Reilly, who poked the ball towards Muir, setting the winger up to lash the ball into the top corner of the net, awarding us a deserved lead. 
However, the Under-18s barely gave onlookers a chance to admire the opening goal before we doubled our lead just seconds later. 
A delivery into the box was cleared only as far as midfielder Dada-Mascoll, and his following strike from outside the area found its way past Rovers keeper Blease via a fortunate deflection.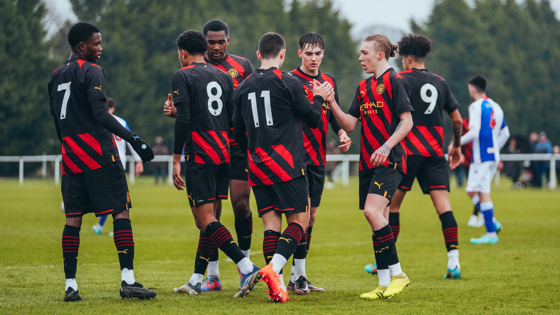 Taking that two-goal lead into the second half, our dominance was clear to see as we kept up the search for more goals. 
Our third came just after the hour mark as Harrison's cross bounced off a seemingly unknowing Oboavwoduo, nodding the ball past Blease, ensuring that the result of the game was beyond doubt. 
However, our relentless approach to the game rewarded us with a fourth thanks to an instant impact from substitute Farid Alfa-Ruprecht, the winger beating his defender on the wing before delivering a delicious cross for Harrison to stroke home from inside the area.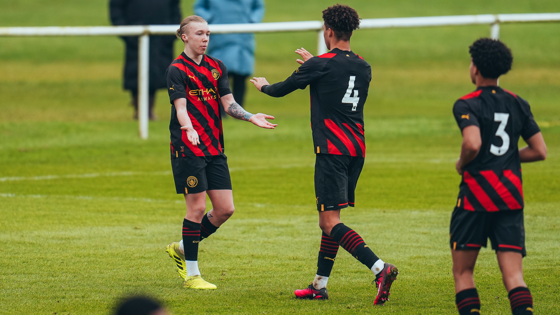 Four then became five thanks to a sublime run from Kane Taylor, the left-back picking the ball up from deep before bursting through the Rovers midfield and setting up O'Reilly, who beat his defender and finished into the bottom corner to put us well out of sight. 
With City's defence ensuring a clean sheet at the other end of the field, it capped off a perfect afternoon for Wilkinson's side, as we tightened our grip at the top of the table. 
HOW WE LINED UP
Ben Wilkinson made a change between the sticks with True Grant coming into the fold. 
He was selected behind a defence comprised of Jacob Wright, Jahmai Simpson-Pusey, Max Alleyne and Whittingham from the start. 
Dada-Mascoll sat deep in midfield against Blackburn, with Micahel Okeke and Alfie Harrison were chosen as the more attack-minded. 
Oboavwoduo filled in on the wing in the absence of Joel Ndala, with O'Reilly chosen up front with Muir on the left. 
Blackburn Rovers U18s
Starting XI: Blease, Duru, Powell, Doherty, Atcheson, Wilson, Murphy-Worrell, Caddick (Shorrocks 82',) Sangou, Thirkill (Farkas 46'), Edmondson.
Substitutes: Khan, Matthews, Houghton. 
Manchester City U18s
Starting XI: Grant, Wright, Simpson-Pusey, Alleyne, Whittingham (Taylor 46'), Dada-Mascoll (Naylor 72'), Oboavwoduo (Alfa-Ruprecht 63'), Okeke (Gray 72'), O'Reilly, Harrison, Muir. 
Substitutes: Murray-Jones. 
WHAT IT MEANS
The win over Blackburn has seen us go ten points clear at the top of the Under-18 Premier League North, as well as see us score 53 goals in just 15 league matches. 
Second placed Sunderland are ten points behind though with four games in hand while third placed Manchester United are in action against Wolves and could cut the gap to eight points if they win in the Midlands.
UP NEXT
Our attention turns back to cup action next week as we welcome Tottenham Hotspur in quarter-finals of the Premier League Under-18 Cup. 
Kick-off at the City Football Academy is 11:30am (UK) on Saturday 4 February. 
News about Rovers v Man City