City's Under-18s lead coach Ben Wilkinson says his players wanted to make a statement to the rest of the league in our opening day victory over Manchester United.
Our young blues began our defence of the U18 Premier League crown in style at the City Football Academy, with Joel Ndala's late strike adding to Luca Barrington and Rico Lewis' quickfire first half double to earn a 3-0 derby win.
It was just rewards for an eye-catching display from City, and one that left Wilkinson thoroughly pleased by what he'd seen.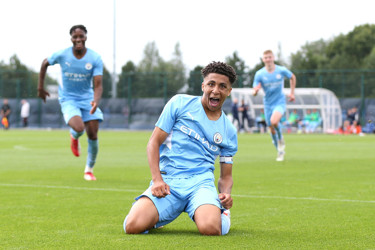 However, that level of performance comes as no surprise to our new lead coach who couldn't fault his players' attitude and professionalism ahead of facing our local rivals.
"A lot of these lads have been at the club for a long time, so they appreciate and understand the importance of the game," he reflected after picking up the three points.
"For us, I actually think it was important that we probably didn't overplay that it was Manchester United and just prepared for the game as any opposition.
"For them, it was just first game of the season and they really wanted to try and make a mark and send a message to the other teams in the league.
"But we also have to know it's the first game in a very long season and it's only three points. It was a pleasing start but there's plenty to work on."
City started the brighter of the two sides at the City Football Academy but, before the deadlock was broken, United had begun to grow into the tie as half-time approached.
With this in mind, Wilkinson believes Barrington and Lewis' quickfire strikes just after the half hour came at a crucial time to influence the sway of the match.
He admitted: "I felt we scored when United were probably having their best spell.
"It was important that we scored then when you go 'bang bang' and get two quick goals, it's hard for the opposition to come back mentally.
"It's a big setback and if you take that 2-0 into half time it's a nice position to go in.
"We felt it was going to be a really tough game, so we're really pleased with the performance."