Manchester City's Under-18s head coach Ben Wilkinson was disappointed to see his side concede a late equaliser in our 3-3 draw with Leeds United, but insisted there were positives to take from the performance.
Adedire Mebude slotted home to give City an early lead, but we were pegged back when Lui Bradbury equalised just a few minutes later. 
In a tight and fiercely competitive contest, we looked as though we had secured the win thanks to second-half goals from Josh Adam and Kian Breckin.
But a quick reply from Marley Wilson and an 87th-minute equaliser from Bradbury saw the points shared at the City Football Academy.
And while Wilkinson was ultimately frustrated that we weren't able to see out the win, he insisted that City will be richer for the experience against a tough opposition.
He said: "When you are 3-1 up with 20 minutes to go and you draw 3-3 you are disappointed.
"As a group of players and staff, we are disappointed that we didn't manage to win the game from a position of strength but it is something for us to look at moving forward.
"Leeds are a tough team to play against, they are very much like their first team the way they press.
"It is hard to play against, some of the quality we showed at times and the chances we created was pleasing so there was a lot of positives to take from that side.
"But the flip side of that is we can't expect to win games of football when you concede three goals. That is something for us to look at for sure."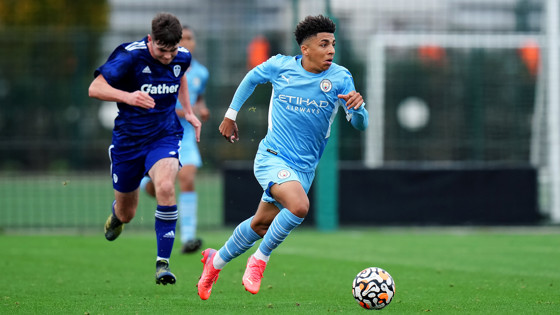 Looking forward, City will next face Liverpool in the U18 Premier League Cup, as we aim to secure qualification to the knockout stages. 
And Wilkinson hopes some of the lessons learned against Leeds United can be taken forward into the cup clash on Merseyside. 
"They are different opposition in terms of the way they play," he explained.
CITY+ | SUBSCRIBE TO ACCESS EXCLUSIVE CONTENT
"Similar to Leeds, they have an identity in terms of the way they play that runs throughout the whole club which brings with it its own problems.
"We'll look in the week and look at how we play against that, try and take some of the positives from today in terms of some of the quality we showed on the ball and the chances we created, and understand that we probably have to be more secure in the way we defend as a team."