Community News
1
CITC wins Wembley silverware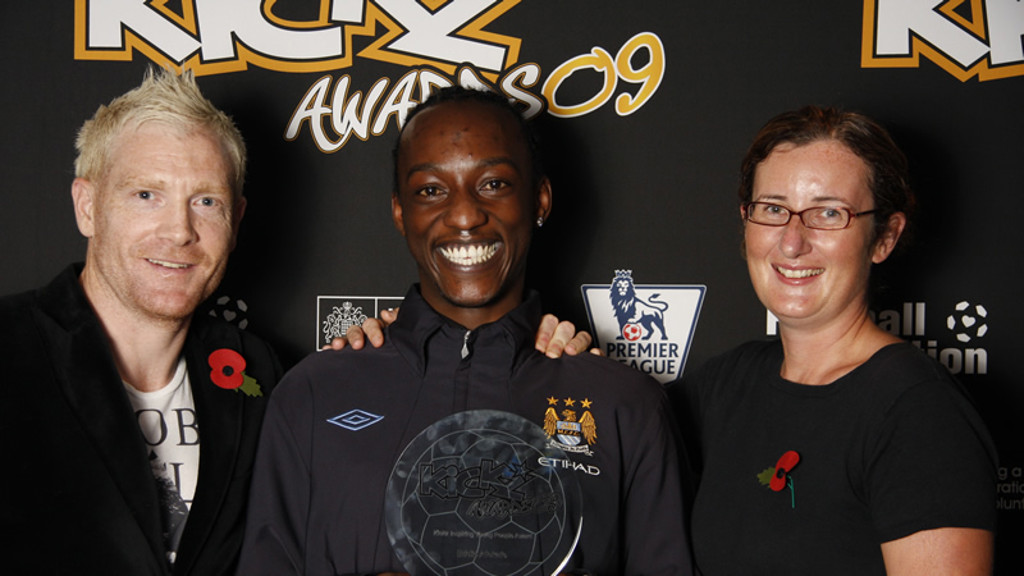 Eddie_Kickz award
Manchester City's Kickz project has picked up two national awards at a prestigious ceremony at Wembley Stadium.
Kickz is a national sports project that aims to use the power of football to create stronger, safer and more respectful communities.
City in the Community Adventure Co-ordinator Eddie Afekafe picked up the award for the Inspiring Young People and Stephanie North, who attends CITC's Kickz project, was named Young Achiever of the Year.
CITC's Inclusion Manager Dave Coppin said: "Both Eddie and Steph fully deserve their awards for all their hard work at Kickz, and its great for the club to be recognised again following the success last year when we were named club of the year."
As well as winning the awards, CITC was also shortlisted in the Club of the Year category and Claire Evans, who is Chief Executive of 4CT, one of the project's key partners, was shortlisted in the Partner of the Year award.
MCFC runs two projects on Thursday, Friday and Saturday evenings – one at the Platt Lane Leisure Complex in Fallowfield and one at the Sporting Edge Community Sports Centre in Openshaw.
Both projects are open to boys and girls between the ages of 12 to 18. Activities include football, health and fitness, street dance, MCing and DJing, boxing and educational workshops, with up to 150 young people taking part each night.
For more information please contact CITC on 0161 438 7711 or e-mail citc@mcfc.co.uk.
CITC's Executive Manager Alex Williams rounded of a fantastic night at Wembley for the scheme and the club when he was named in the 2009 Black List, which is supported by the FA, PFA, and Kick It Out and recognises achievement off the field of play from members of the African-Caribbean community in the UK.
In 2001 Alex was awarded an MBE for his work with City in the Community and his commitment to helping the people of Manchester.