Community News
1
Inspiring City meet their heroes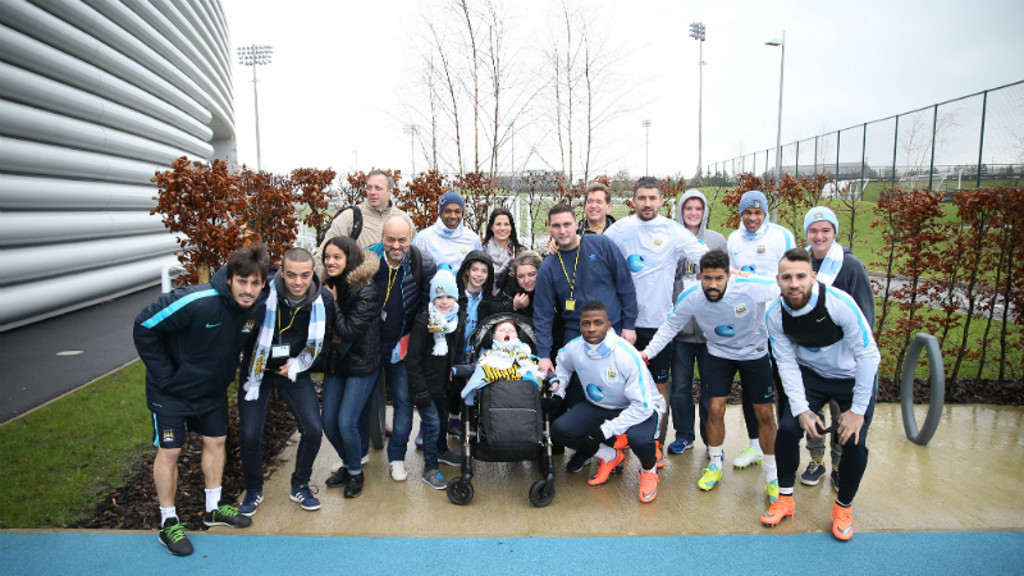 A group of inspirational City supporters have travelled from around the world to meet their heroes.
Fans journeyed from as far as the USA for a special trip to City Football Academy, where they could watch the Blues train and meet the likes of Sergio Aguero and Vincent Kompany.
The visit, which was arranged by MCFC and 'wish-granting' charities, saw four fans battling life-threatening illnesses go behind the scenes for a day with the first team. This included a pitch-side spot at training and tour by CityTV's Les "Chappy" Chapman.
Wish-makers included Brian Rands, age 17 from Salt Lake City, Sabri Bousetta, age 17 from Belgium, Charlie Stevens, age seven from Exeter and Danny Harris, age three from London – all living with a range a life-changing illnesses.
Thanks to charities 'Make a Wish' and 'Starlight Children's Foundation' the City mad group brought a variety of family members with them, with many arriving in style in limousines.
Brian lives with Cystic Fibrosis. His father, Don Rands, said: "We weren't sure if Brian would be able to do a wish, but we were thrilled to come to Manchester and see his dream come true.
"These children all have to go through a lot and are hospitalised often, Brian has treatments every day. Days like this are able to bring some happiness and joy into his life and to others. We're just so thankful to everyone who worked so hard to make this happen."
City skipper, Vincent Kompany, said: "We were delighted to welcome the families to the City Football Academy and are humbled to know that they travelled so far. We're very lucky to have such dedicated supporters and their positivity was an inspiration to the whole team."
The visit was arranged as part of the Club's on-going relationship with 'wish-granting' charities and commitment to supporting its fans.
Nicola Briggs, Make a Wish UK, said: "We grant magical wishes to enrich the lives of children and young people fighting life-threatening conditions.
"Days like this provide the children with time away from hospital treatment and, give them something to look forward to and for families. They're a chance to create precious memories together – whatever the future may hold."
For more information about Manchester City's community work, visit: www.mcfc.co.uk/community