Community News
1
City trio impressed with South Bronx Cityzens Giving project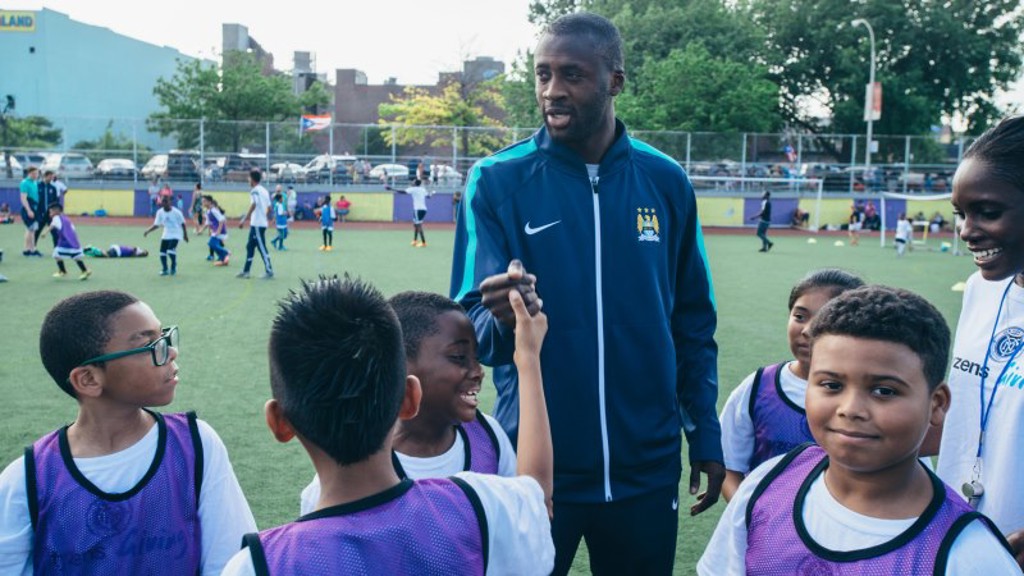 Yaya Toure, Eliaquim Mangala and Stevan Jovetic took time out of City's post-season tour of North America to take part in a community soccer session in South Bronx as part of the Club's Cityzens Giving programme.
The trio, plus eight of Patrick Vieira's Elite Development Squad, were impressed by the young leaders they met who set up and run weekly soccer initiatives designed to tackle obesity in the local area.
Led by 17-year-old Jeffrey Cordova, the players were put through their paces with 60 young people currently on the programme and practiced passes, free kicks and penalties.
Head of City in the Community, Mike Green said: "Community has always been at the heart of Manchester City Football Club and every day we see how soccer can play a pivotal role in improving lives and creating opportunities for young people.
"Today's event has been a great example of how the City family are playing a critical role in the development of grassroots soccer not only in Manchester but in New York, too."
Yaya Toure was impressive with the standard of football and inspired by the young leaders' commitment to the programme: "For me, this has been one of the highlights of the tour so far.
"The young leaders delivering the program are working really hard to make lives better for children growing up and have become role models in their community."
In March 2015, City Football Group, whose family of clubs include City, New York City FC and Melbourne City FC announced a $600,000 charitable investment as part of Cityzens Giving, an initiative that gave thousands of Manchester City Club members and New York City FC Season Ticket Holders the opportunity to pledge $8 to youth led charity football projects in six cities including Manchester, New York, Melbourne, Barranquilla, Cape Town and Kuala Lumpur.
In partnership with NYC FC, City in the Community soccer program (run by South Bronx United, BW Gottschee and Downtown United Soccer Club) are tackling obesity by giving young people the knowledge and confidence to improve their own fitness and healthy eating habits.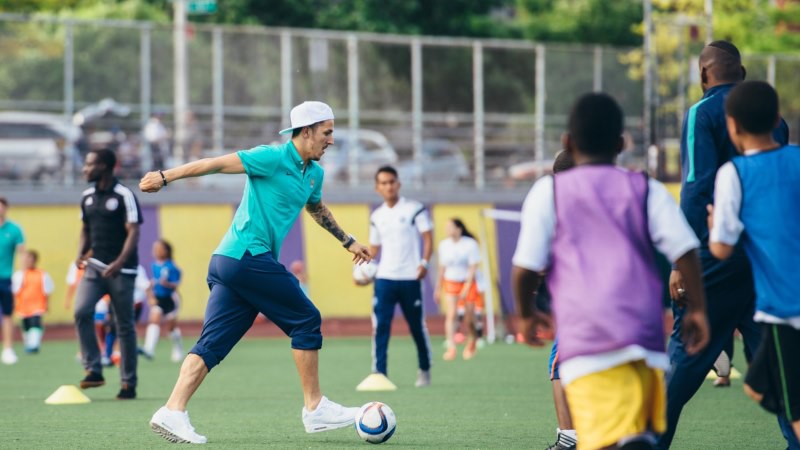 The program has already trained 18 young leaders, between the ages of 14 – 19, to deliver healthy lifestyle messages through soccer, reaching out to over 400 young people and their families across the city.
City has been delivering award-winning community work through City in the Community for more than 28 years, using football to address social problems across Manchester.
Now alongside Melbourne and New York City in the Community projects, more than 50,000 young people will benefit each year from initiatives that will boost health, employability, inclusion and education.