Community News
1
Youngsters represent City in regional and national tournaments
Budding female footballers from Failsworth School, representing Manchester City, won a regional tournament held in Liverpool, having beaten neighbours Manchester United on penalties in the final.
As part of City in the Community Foundation, Girls Football Programme funded by the Premier League and the Football Association, the youngsters were given the opportunity to participate in regional and national competitions, securing a trophy in one.
The lucky girls chosen to represent City regularly attend the weekly satellite session held at Failsworth School and were invited to two events - the first at Lucozade's five-a-side pitch opposite Wembley Stadium and the second in St Helens.
On Saturday 22 November, the girls travelled to London with their teammates and had the chance to experience an overnight stay in a local hotel ready for the early start on tournament day.
The girls came across some tough competition but managed to sail through the group stages without conceding a goal and despite the torrential rain.
They beat Brighton and Hove Albion 3-0, West Ham 2-0 and Burton Albion 2-0. As winners of their group, they came up against a very physical Sunderland team in the quarter-final stage and were unfortunately defeated.
This put the girls in the Shield competition and they finished eventual runners-up to a strong Peterborough side. The girls were a huge credit to both their school and Manchester City and can proudly boast they were within the top eight teams in the country.
After the tournament, the girls took their seats in Wembley Stadium to witness the first ever women's international match at the ground - England against Germany.
Despite the scoreline, the girls still had a brilliant time and are excited for next year's return trip.
The success of the Premier League National tournament inspired the girls to compete again and they gladly took up an invitation from the Liverpool Foundation to partipate in a regional competition.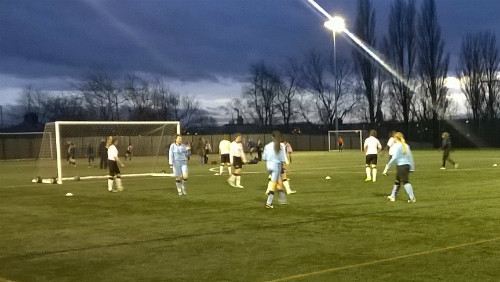 On Tuesday 9 December, Failsworth School represented Manchester City for the second time, facing Manchester United, Preston North End and Liverpool.
After a slow start, the girls were defeated 2-1 in the local derby but redeemed themselves, beating both Liverpool and Preston comfortably in their next games.
They sailed through into the final against Manchester United and were ready to seek revenge. Despite the bad weather and horrendous rain, the girls played on and managed to keep the scoreline at 0-0.
The referee took the game to penalties to decide the overall winner and after a tense shoot-out, the Blues were crowned the winners of the tournament!
Well done to the girls and all the teams that participated.
The girls involved were: Tia Jackson, Leah Winstanley, Hannah Barron, Allisha Marsh, Abigail Perry, Niamh Butterworth, Megan Heffernan, Holly Robinson and Katie Donegan.
---
If you are interested in playing football, we have girls and women's session which run on a weekly basis. Please see the session details below:
Play the Game Girls
CFA, Community pitch, Connell College entrance, Alan Turing Way, M11 3DS
Age: 6-14 years
Cost: £2 per session
Start date: Wednesday 14 January (every week during school term time)
Time: 4:30-5:30pm
Play the Game Girls
Medlock Sports Centre, Garedenfold Way, Droylsden, M43 7XU
Age: 6-14 years
Cost: £2 per session
Start date: Thursday 15 January (every week during school term time)
Time: 5:00-6:00pm
Women's Football
CFA, Community pitch, Connell College entrance, Alan Turing Way, M11 3DS
Age: 18 plus
Cost: FREE
Start date: Monday 15 December 2014
Time: 6:45pm-7:45pm
For further information please contact Hannah Steele on 0161 438 7844 or alternatively you can email hannah.steele@cityfootball.com