Manchester City fans can purchase discounted tickets for Ricky Hatton's exhibition fight on Saturday 12 November.
The fight will take place at Manchester's AO Arena giving City fans the chance to cheer on their fellow Blue after our Premier League fixture against Brentford at the Etihad Stadium earlier on in the day.
The former World Champion takes on Mexican Marco Antonio Barrera as he returns to the ring for the first time in 12 years, with the Hitman's bout forming part of BOXXER's bumper evening of boxing.
Thanks to a partnership between City and Hatton the price of a ticket has been cut significantly to get more Blues through the door on the evening.
The price, which comes in at £30.95 after Ticketmaster's fees, is more than half price of the cheapest tickets currently on sale, and you can purchase yours exclusively here.
Speaking ahead of fight and the importance of having City fans at the event, he said: "Fair play to the promoters. I was worried some of my true fans were being priced out and they've pulled off a sponsorship deal which makes them a lot more affordable.
"They've opened up a section aimed squarely at thousands of my biggest followers. It's going to be where the party's at - and they agreed to price them all at just over £30.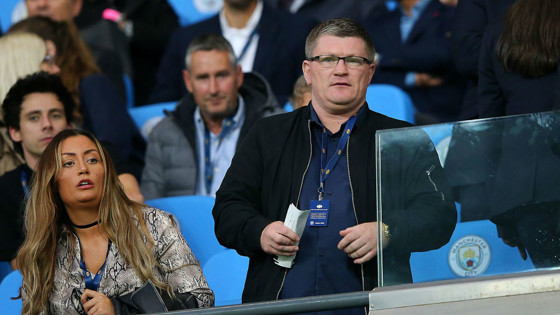 "It puts them on a par with a night out at the cinema – and we're going to have a lot, lot more fun with one of the best value boxing cards you could find for a very long time.
Tickets to the event will also give fans access to the packed night of boxing on Sky Sports.
It will include Natasha Jonas' world title unification with Maire-Eve Dicaire, the Dalton Smith vs Kaisee Benjamin British title fight, Brad Rea vs Tyler Denny and Frazer Clarke vs Kamil Sokolowski.
As well as fans' favourite Viddal Riley - who trains with YouTube star KSI - will also be stepping into the ring.
And Hatton is looking forward to showcasing his skills in front of his hometown fans, and says despite his age it is a dream to be fighting in Manchester once again.
"To be able to walk out in front of the fans again in Manchester is a dream for me.
"I know my days are numbered but it doesn't matter how old you are, you still have to keep setting yourself targets to get out of bed at four in the morning and train - and that's what I've been doing."