Manchester City will show its support for Manchester Pride, which takes place across the city this weekend, at Saturday's fixture against Arsenal.
Now in its 36th year, the festival is one of the largest Pride celebrations in the UK, attracting over 140,000 people each year as the city joins together to celebrate.
Although the parade itself has been cancelled for the second consecutive year due to the pandemic, Manchester City is fortunate enough to have a home game this weekend, providing us with an opportunity to celebrate Pride and the Club's support to our LGBTQ+ supporters in attendance and across the world.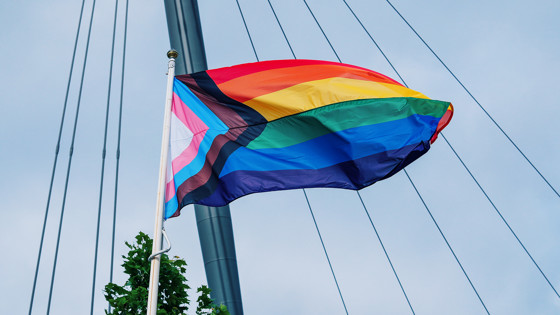 Earlier today ahead of the fixture, Danny Wilson, Managing Director – Manchester City Operations, Dave Alvarado, John Bridges, Carl Lane and Jordan Gregory from the Canal Street Blues Official Supporters Club (CSB) were joined by Sarah Bland, Jude Morris-King and Anita Chester from Manchester City Women's Official Supporters Club and Kevin Parker, Official Supporters Club representative to raise the progress pride flag outside the Etihad Stadium which will proudly be on show across the weekend.
Dave Alvarado, Chairman of Canal Street Blues, City's Official LGBTQ+ supporters' club branch said: "After a hiatus last year due to the Coronavirus pandemic, it's great to see the pride flag being once again raised at the Etihad Stadium ahead of Manchester Pride 2021.
"This is now a tradition after a number of years and really kicks off the Manchester Pride weekend for Canal Street Blues, as well as our families, friends and allies.
"It's looking like a sunny weekend is in story so hopefully we can raise lots of money for charity and reflect on the origins and meaning of the pride event.
"As we know, the main parade isn't happening this year and so we won't be flying the sky blue flag down along the streets of Manchester as we usually do.
"Regardless, on behalf of Canal Street Blues I'd like to wish any blues around the city this weekend who may be joining in the celebrations, an enjoyable and safe Manchester Pride 2021."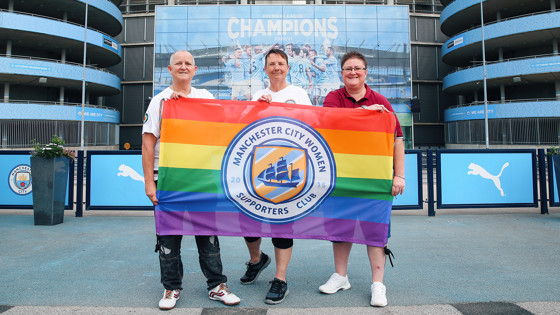 As part of wider activity taking place at the game this weekend to celebrate Manchester Pride, a special edition programme front cover will feature Phil Foden, Jack Grealish and Ferran Torres sporting our PUMA x MCFC limited edition Pride t-shirt, designed by competition winner Lily.
After selling out of its initial run, PUMA are re-releasing the shirt to join us in our celebration so make sure to check out our online Club shop.
All profits from sales will go to Football vs Homophobia, who work tirelessly to challenge discrimination based on sexual orientation, gender identity and expression at all levels in football
Inside this weekend's edition of the matchday programme, there is also a special interview with Dave Alvarado, who is the Chair of our Canal Street Blues Official LGBTQ+ Supporters Club.
Dave, alongside fellow CSB Supporters Club members John Bridges and Anita Clarke, will also be interviewed at half-time of the game on Saturday, with additional activity across the Club's digital channels throughout the weekend.
Earlier this week, a number of Manchester City staff also took part in the Manchester Pride Cup, organised by the Manchester FA as part of celebrations across the City.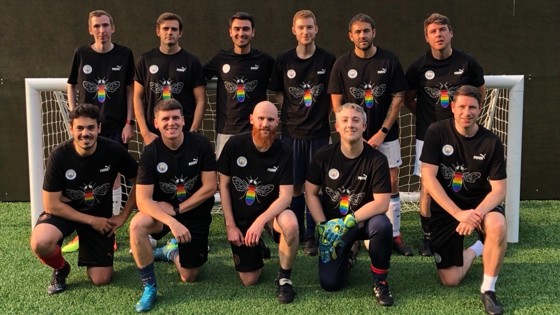 For further details on the Canal Street Blues Official Supporters Club visit: @CanalStBlues on Twitter.