Sometimes, the stars just align...
Imagine: It's the final day of the season. Manchester City have already secured promotion back to the Premier League, crowned Champions of Division One, following a truly sensational campaign glittered with glorious goals, fabulous flair and captivating craftsmanship.
Nicknamed 'the Entertainers', Kevin Keegan's swash-buckling side have raised eyebrows throughout the season - even from those looking down from the top flight - for our delightful attacking play, high-scoring triumphs and brilliant brand of beautiful football.
Following a disappointing relegation the previous year, new boss Keegan has lifted City to the promised land at the first attempt, instilling a style of football unseen at Maine Road for years.
CITYZENS AT HOME |  Fun & educational activities to do at home
This truly unforgettable season is to be completed happily on home soil with the visit of Portsmouth with a buzzing party atmosphere and the chance to finish in style, as the Champions seek to register new Club record highs of league points (99) in a single season*, number of seasonal wins (31) and home wins (19), and total number of goals scored in a single season (108).
With 105 bagged in all competitions, City need four goals to reach 109 and break our all-time Club record. Meanwhile, stepping out for the very last time before his retirement, hanging up his boots on an illustrious 20-year career, captain and England legend Stuart Pearce needs one goal to reach his century milestone.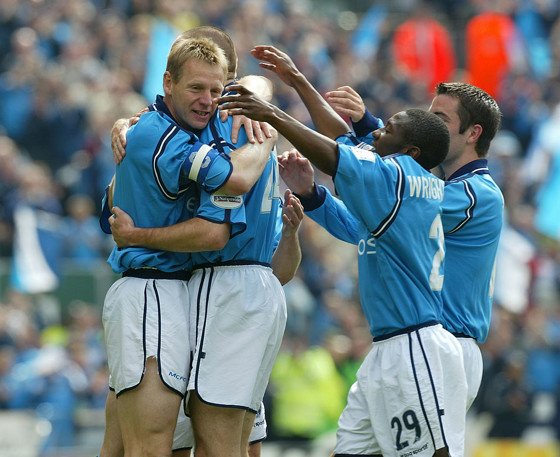 Showcasing the scintillating football Keegan's men have produced throughout - courtesy of a squad built on fire and flair, glittering with the creative talents of Ali Benarbia, Eyal Berkovic and Shaun Wright-Phillips et al - City storm into a 3-1 lead with Steve Howey flicking on Pearce's pinpoint delivery, Shaun Goater bagging his 32nd of the season and lifelong Blue Jon Macken living the dream.
Even Pompey shot-stopper Dave Beasant joins in the fun, completely missing Algerian genius Benarbia's clipped through-ball and allowing Goater to tuck home gratefully.
Desperate for a fairytale ending, the crowd urge left-back Pearce - signed over the summer and affectionately nicknamed 'Psycho' - to shoot at every opportunity. The former electrician had enjoyed a dream start to life in sky blue, scoring in his first two home games, including a rocket of a free-kick on his debut - and the fans sought the romantic ending.
But - having been thwarted by Beasant at the near post with his only chance of note - time is running out for Pearce...
As the game ticks into injury time, hope seems lost. That is until Benarbia breaks into the box and tries to lift the ball into the path of Kevin Horlock - only to be denied by the arm of a Portsmouth defender!
PENALTY!
RETRO COLLECTION | Buy your classic City shirt here
In the dying embers of the game, the referee points to the spot and set-piece specialist Pearce is handed the fantasy finale!
The award is greeted with an almighty roar from the City faithful; celebrated like a goal - not least from those who had placed bets on City breaking our scoring record *and* Pearce netting his 100th career goal!
It's all set up...
Pearce steps forward to collect the ball and in an amusing twist, even seems to tell Beasant which way he intends to place the spot-kick!
Up he steps - as he had done on so many occasions throughout his career for Club and country.
The crowd holds its breath as the defender takes aim, curling towards the top left-hand corner and the ball sails...
OVER THE BAR!
Wouldn't you just know it?! Pearce balloons the penalty high over the crossbar and misses the chance to make history, spurning the chance to break his own goalscoring record as well as City's!
Ever stoic however, the setback doesn't faze Pearce - he turns to his teammates, covers his mouth and laughs! You couldn't make it up...
"He (Dave Beasant) said he wasn't going to move and told me just to put it into the corner - and I go and miss the goal," he groaned at the time.
"It was a comical end to the game but typical of me. When I got a move to West Ham, I broke a leg twice and I took a penalty in a World Cup semi-final and missed it.
"There is always a sting in the tail when the Pearce does anything."
CITY+ | Free to Cityzens until football resumes
Despite the pre-penalty pow-wow, Beasant insisted: "I was going to try my hardest to stop it!"
As for the fans, well, they were used to it. File under: 'Typical City'. Pearce had in fact light-heartedly described the City supporters as 'manic depressives' in an interview that very season in reference to their gallows humour!
The day would end with glory for Pearce however, as he proudly lifted the Division One Championship trophy - a fitting end to his fine playing career.
Remaining at the Club in a coaching capacity, he would of course go on to manage City but similarly to that blazed penalty, perhaps the less said about it, the better...
* Since three points for a win was introduced into English football.