Hero: A person who is admired for their courage, outstanding achievements, or noble qualities.
A hero in footballing terms often describes a player who lifts league titles, scores the winner in a Cup Final or represents their Club or Country at international level.
There is one man who did not accomplish such achievements – but one who is beloved in City history and will live on forevermore as a true City hero.
Mr Paul Lake.
Technically gifted with an exceptional reading of the game and a deep love of the Club rooted down to his very core, 'Lakey' was cherished by the City faithful.
Tipped to become a future England star and one of the greatest players ever to don the sky blue shirt, aged just 21, the midfielder stood on the verge of reaching the peak of his career – only for his dreams to be cruelly snatched away.
Two games after he penned a five-year contract (despite interest from the top clubs around), the fan favourite ruptured his cruciate ligament – an injury which would tragically end his promising career.
The tragedy broke the hearts of all connected with the Club and marked the beginning of the most testing of battles for Lake – both physically and mentally – as he fought to revive his career, only to suffer setback after setback, before sadly hanging up his boots in 1996.
DONATE | Cityzens Giving for Recovery
Lakey was truly destined for greatness; instead, he was forced to grieve for a life he'd imagined. It is his sheer strength and determination to overcome such adversity which moulds him as a true hero – a hero that, despite his loss and terrible treatment, still holds the strongest of bonds for the football Club he fell in love with and has dedicated his life to utilising his experiences to help others.
Hailing from Haughton Green, Lake discovered his passion for the beautiful game at an early age and opted for the sky blue of City, accompanied on his visits to Maine Road by the local milkman!
His great-uncle George had represented City prior to World War One and unbeknownst to the starry-eyed youngster, Lake would follow in his footsteps, living every football fans' dream, progressing through the youth ranks to senior stardom. En route, having already scored a winning goal at Wembley with his school, he would help City to FA Youth Cup glory over neighbours United in 1986, bagging a penalty in the first leg to aid a 3-2 aggregate triumph – savouring every second!
Passionate and versatile (he played in every outfield position in the 1988/89 campaign) with the makings of a heroic leader, he quickly endeared himself to the City faithful with which he used to stand.
"It was like having one of your mates play for City," Oasis star and City fan Noel Gallagher hailed. "He would've captained England. No doubt about it. He was - and remains - one of us."
Indeed, he was. Lake's deep love of the Club was perhaps most evident in another memorable victory over United: the Maine Road Massacre – a 5-1 thrashing of the much-fancied Reds on home turf. A day Lakey will never forget – a performance he credits for the fact he "ate raw meat for breakfast."
"It was amazing growing up, knowing City, being fans, having seasontickets – being nurtured from being eight or nine and coming through the ranks at City as a young player, seeing the highs and lows and then being on the YTS (Youth Training Scheme), being close to the first-team and training with them now and again – playing in the same team as my friends…" Lakey recollected.
"I played for Manchester City when we beat Manchester United to give us that historic scoreline of 5-1.
"I recall driving to the stadium, stopping at traffic lights in Longsight. There was a guy with his son and he turned and recognised me in my car. He stood and put his hands in together in a prayer and said: 'Please, please.'
"That's a real sense of how much it means to us Blues. I was a Blue, I am a Blue and I will always be a Blue.
EL MAGO: 'A DECADE OF MAGIC' | David Silva tribute book now on sale
"That was the first time I can recollect a time when the young players were the voice in the changing room. Normally, it's the old heads who are calm and measured.
"We were ready. Tony Book really inspired us – we won every second ball, every header, every tackle – we knew our roles and responsibilities.
"If someone made a mistake, we covered for them. If there was a good shot, we patted them on the back and said: 'Well done'. If there was a mistake, we said: 'Unlucky, try again.
"There was that sense of togetherness. We were never going to be beaten that day.
"It's a wonderful memory that never goes away."
Lakey enjoyed fond memories of his time at Maine Road: from scoring on his home debut to the 10-1 triumph over Huddersfield and of course, the Maine Road Massacre, while there were also moments to forget, such as the day he almost lost his life by swallowing his tongue.
Worryingly, with the Club Doctor based in the Directors' Box, Lake was unable to receive instant treatment and as a result of the incident, the Football Association amended the rules to ensure Club Doctors remain pitchside.
The most poignant moment of Lake's career occurred twelve months after that Demolition Derby in September 1990.
City hosted Aston Villa at Maine Road with Lakey captaining the side – fresh from signing his new contract: a five-year deal with the midfielder set to become the Club's highest-paid player.
Challenging for the ball with Villa's Tony Cascarino, he fell awkwardly onto a waterlogged Maine Road pitch. Although there was no malice in the collision, Lake felt immediate pain and had to be stretchered off the field, to a roaring rendition of 'There's only one Paul Lake.'
Commentating on the game, Clive Tyldesley remarked that sometimes the most innocuous challenges proved to be the most serious – and devastatingly, he was right. Little did the City fans know that would be one of the last times they would see Lake in action.
Left in the changing room with an ice pack on his swollen knee, Lake's mind was reeling. The severity of the injury unknown at the early stage.
In the days that followed, promising news of a six-week lay-off eased fears but such opinions proved false when the midfielder was hospitalised again on his first day back in training.
Over the following years, Lake worked tirelessly in rehabilitation but was continuously met with disappointments, false promises and failures from medical experts and the Club. His mental health also suffered as a result.
Following a six-month recovery, he agonisingly re-ruptured his ligaments in pre-season training and endured another knee operation
The following season, he featured in the opening games of the 1992/93 campaign with manager Peter Reid hailing his return as "like being handed a new £3million player."
However, the respite was short-lived as Lake's ligament snapped in a game against Middlesbrough, sidelining him again. Seeking further help, he travelled to Los Angeles to see an expert but was disappointed with the Club's handling of his latest setback, as Chairman Peter Swales refused a flight ticket for Lake's partner and failed to accommodate for the increased leg room needed on the return flight to aid his recovery.
Aside from reserve team appearances, Lake did not play for City again and resigned himself to retirement from football in 1996, having exhausted all avenues to rebuild his football career for five years.
In October 1997, a testimonial was organised in his honour but for some, it was too much to bear.
"When I had to retire, I had some lovely letters and cards," Lake reflected.
"I was stopped in the street and I had people come up to me. I talk about it in my book: one guy said: 'Apologies, I'm sorry I didn't come to your testimonial.'
"I said: 'Don't worry, mate – it happens' and he said: 'I just couldn't bear to say goodbye to you.'
"It was incredible and I get emotional thinking about it."
Demonstrating incredible loyalty, despite Lake's difficulties, he still holds a powerful bond with the Club and is still very much involved to this day.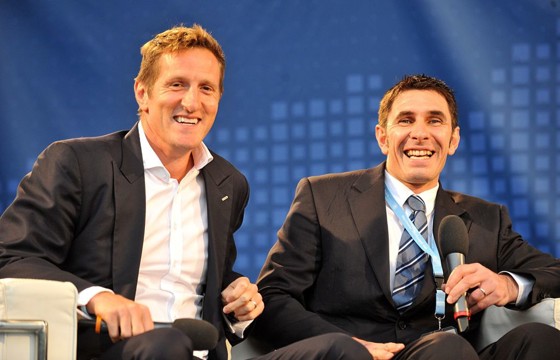 Having spent ten years as a physiotherapist in the game with Macclesfield and Bolton – an inspirational choice of career: helping others through similar experiences to his own – he returned to City as an Ambassador for City in the Community before joining the Premier League as a Club Support Manager, liaising with academies across the north. In addition, he also commentates on City games for BBC Radio Manchester.
In 2004, he was inducted into the Club's Hall of Fame and 12 years later, would share the story of his life with an autobiography entitled: I'm Not Really Here: A Life of Two Halves. His book shares in detail the tale of his journey, including his personal struggles, and is regarded as one of the most harrowing, gripping and inspirational football autobiographies ever written.
"I couldn't have worked any harder to get back fit," he explained. "People needed to know the reasons behind that.
"From that point on, I realised I had a story to tell, although it wasn't all fantastic in those days.
"I wanted to put the record straight."
Indeed, Paul Lake is truly one of the most kind-hearted, caring and friendly individuals you could ever have the pleasure to meet. While his senior career in sky blue will not be remembered for its glittering trophies or medals, those who witnessed him pursue his dream of stepping onto the Maine Road turf, donning the shirt of his beloved City, will never forget him.
He may not have achieved his goal of emulating Colin Bell's remarkable achievements… but there is no doubt he would have, had he been given the chance.
His story is one of sheer inspiration for anyone enduring adversity, portraying the incredible strength of a man to restart his life from scratch – "a life of two halves," as he describes it.
A dream in his heart; a love of his own.
---
The Premier League, Sky Sports and NOW TV have agreed to offer 2x NOW TV 'Day Pass' vouchers for free to every Premier League Seasoncard holder & Hospitality Seasonal member.