Academy News
1
The Graduates No.31: Alex Nimely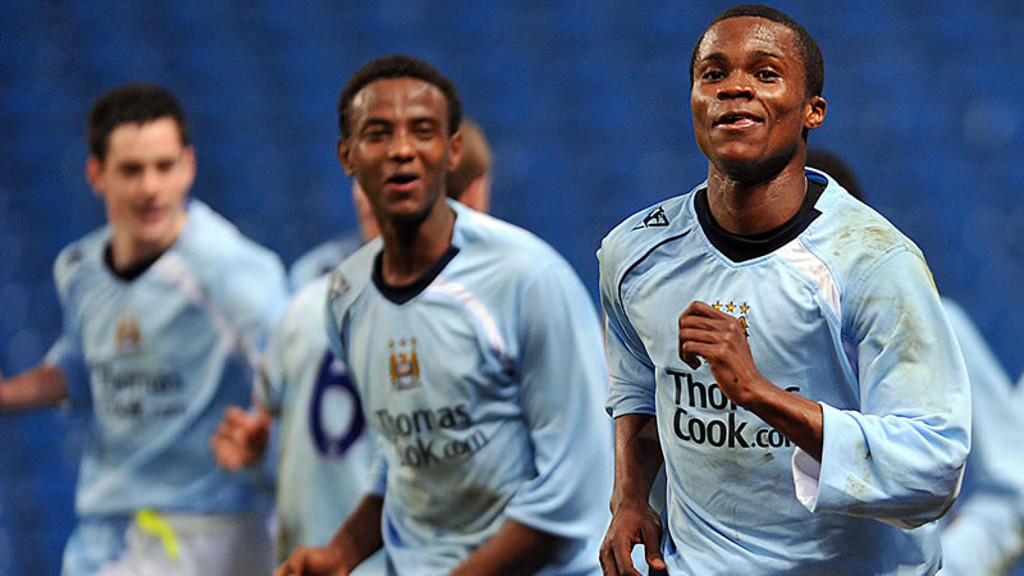 Alex Tchuimeni Nimely2
Liberian striker Alex Tchuimeni-Nimely made his debut as an Academy graduate as a substitute during City's memorable 6-1 Premier League victory against Burnley at Turf Moor in April 2010.
Born in Monrovia, Nimely came from a sporting background with his father having been a promising basketball player. After playing at both Mighty Barrolle and Cotonsport Garoua from an early age, he spent time in both France and England before settling over here and joining the Blues' renowned Academy in 2007. 
Alex shone during the 2008/09 season and scored over 30 goals before making the transition from Platt Lane to Carrington to join the Elite Development Squad. His form continued and he scored 10 goals in both league and cup competitions.
Nimely made his first-team bow under manager Roberto Mancini during a rampant performance by the Blues. The 18-year-old striker came on 82 minutes into the game at Burnley, a match that City had already wrapped up in a welter of goals. Days later, he signed a four-year contract with the Blues.
Nimely made his European debut in the 1-1 away draw against Juventus in Italy during City's Europa League campaign in December 2010. He continued to play for the EDS but in September 2010 joined Championship side Middlesbrough on a three-month loan.
He made his debut under manager Tony Mowbray in the Carling Cup tie against Crystal Palace, with his Championship debut coming just days later against Ipswich Town.
Nimely opted to play for England at international level and has featured for the Under 20s. He scored their only goal in the 2009 Under-20 World Cup, and was also a member of the Under-20 squad for the World Cup in Colombia this summer.