Academy News
1
Taylor: Young Blues can feed off first team spirit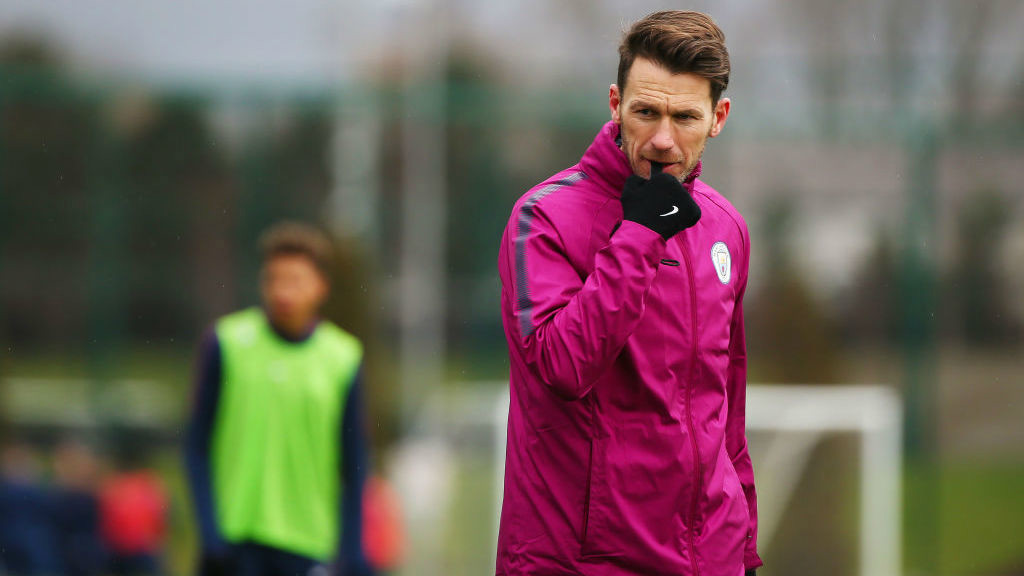 CUP MISSION: Manchester City Under-18s manager Gareth Taylor
Gareth Taylor wants Manchester City's Under-18s to take their cue from the Club's first team ahead of Tuesday night's FA Youth Cup quarter-final away at Bournemouth (7pm).
Having already booked a place in the Premier League Under-18s Cup final, where they will play Middlesbrough, the young Blues will head to the South Coast seeking more Cup success.
And after a memorable weekend which saw the men's first team secure the Carabao Cup along with Nick Cushing's women's side lifting the Continental Cup, Taylor wants his charges to feed off the spirit of their senior peers.
"If we needed an incentive, we have the best example in terms of the first team and the manager and what he has created," said the Under-18s boss.
READ: FA Youth Cup date confirmed
SHOP OUR CARABAO CUP WINNERS RANGE
"Doing what they did last season, doing what they are this season the strength of character within the group and the team spirit they have… we have the best example literally right under our noses.
"It's a fantastic tool to use for me to use for the players – they are the perfect example in terms of what they do.
"We have watched Bournemouth on several occasions, and know they are a good team. They play a similar type of system to Derby whom we beat in the last round and it's a really good challenge ahead of us.
"Going there it will be similar to Derby what with the travel and everything surrounding it. We will go completely respectful of Bournemouth but excepting to do a job."

As if City needed any extra incentive on Tuesday night, the young Blues know they will have a home semi-final against either Everton or West Brom to look forward to if we prevail at the Vitality Stadium.
And Taylor says the excitement engendered by City's run so far, which has seen us overcome Clevedon, Nottingham Forest and Derby, has proved infectious throughout the squad.
"They have earned the right to play in the quarter-finals but we don't want it to end. We want it to continue," Taylor added.
"We have the incentive of a home semi-final if we can win and then it will get really exciting. I've really enjoyed it. It's the first time I've looked after the FA Youth Cup squad, and it's been great.
"It's good for the lads to be excited about it. I'm looking forward to it and I think we've learned so much in the three games we have had previously.
"They have all been different challenges and situations but ones that hopefully the players have learnt a lot from and, as I say, we want that journey to continue."