City under-18s are HKFC Citibank Soccer Sevens Champions after coming from behind to beat Kitchee in the final of the Main Cup.
Two cracking second half goals from Brandon Barker, who was named Player of the Tournament, proved enough to triumph over their Hong-Kong based opponents, who fielded many of their first team squad against the young Blues.
City showed great quality and spirit to overcome talented opposition much older than themselves throughout the tournament, staging comebacks in every single knockout game to keep progressing.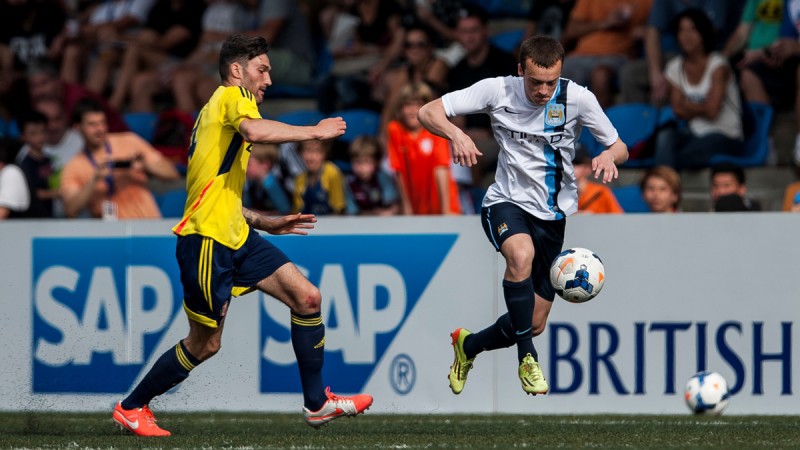 Barker said: "I just knew it was going to happen, to be honest. It's a great set of lads, and we've done it in the end. Like every other game, we've done it again.
"It was gutting losing the U18 final to Everton last week, but obviously we've won another piece of silverware, and that's two for the collection this season now so it's been a great year."
Coach Jason Wilcox added: "I thought it was fantastic and a fitting end to our season. They've worked really hard.
It's not the first time we've come back from being down, so I'm really pleased. They showed great character and I'm delighted for them.

...Jason Wilcox...
"It's a difficult competition and difficult conditions, but the lads have coped with it. It's been great to experience the culture, the supporters have been fantastic, so fantastic!"
Earlier in the day, City triumphed 3-1 over Hong Kong under-23s in the quarter finals, thanks to a brace from Thierry Ambrose and a Kean Bryan strike.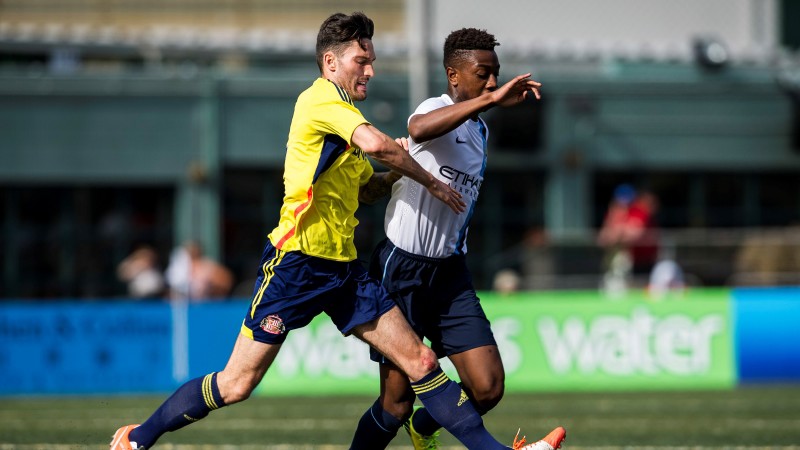 Their reward was a meeting with Sunderland, and City could have feared the worst when they were 2-1 down late on, but an equaliser from substitute Pablo Maffeo set up extra time.
The Spanish right back celebrated by sprinting 70 yards back towards Wilcox, who ended up on the floor doing a somersault – and admitted afterwards he had astro-turf burns!
City and Sunderland could only field four players each in extra time, which meant Angelino took over in goal for the Blues, but still managed to find the winner with a sensational long range shot to see off the Black Cats in thrilling fashion and book a place in the final.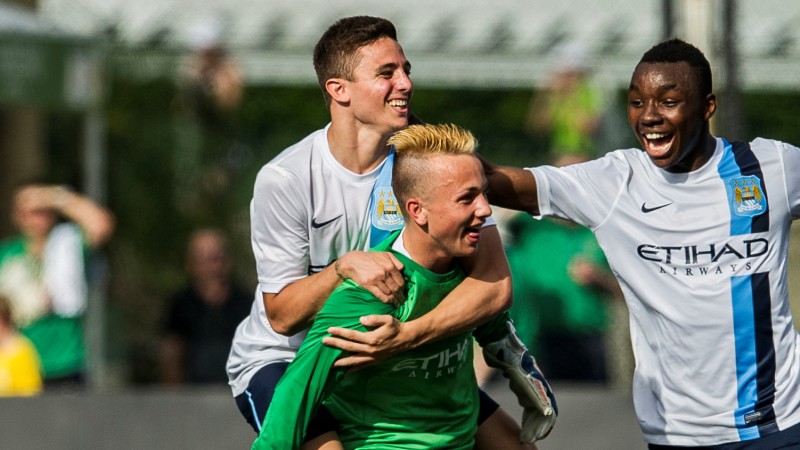 After the game, Wilcox revealed: "We said to them after watching the four v fours in extra time that we had to be patient and wait for the opportunity, and we don't take long range shots. So when he started winding it up I was fuming, but when it hit the back of the net I was delighted!"
The young squad, which also included Charlie Albinson, Ashley Smith-Brown, James Horsfield, Nathaniel Oseni and Denzeil Boadu were impressive throughout the two days of the tournament, putting on displays that belied their years, and certainly entertained the large contingent of City fans in the crowd.
Added Wilcox: "When we came last year we made sure we looked after the supporters, that's one of our ethos. The supporters make our football club, so we're delighted if we can continue to have this great support."