What are mobile tickets?
Mobile Tickets are digital passes that can be stored within Apple Wallet or Google Pay on your smartphone or smartwatch.
Mobile Tickets use NFC technology and can be used for contactless entry into both the Etihad Stadium and Academy Stadium by holding your device above the reader at the turnstile.
Models supported are; the original Apple Watch and later, all Face ID iPhones and all Touch ID iPhones except 5s.
Check here for further details on supported Apple devices. Find support for Android devices here.
How do Mobile Tickets work?
A mobile ticket is the safest, most convenient, and flexible way to receive your match ticket while increasing protection against fraud. It's our effort to make your Manchester City experience the very best.
Choose Mobile Tickets for:
Quick and easy entry to The Etihad Stadium or Academy Stadium using your mobile phone or a smart device
Reduced risk of lost, stolen, counterfeit, or forgotten tickets
An easy way to go green is by printing less paper
Contact Supporter Services
As long as your mobile device has an NFC chip you should be able to use it for mobile. If you use Google Pay or Apple Pay then you will have NFC.

Apple: All Face ID (facial unlocking) iPhones are supported. All Touch ID (fingerprint unlocking) iPhones are supported (with the exception of the iPhone 5). Mobile ticketing is also available on all Apple Watch models.
iPhones must be iOS 12 or above to download your mobile season ticket.
To check you have the most up-to-date operating system click here.
Android:  Phones must run the latest version of Android, where possible. Google Pay must be installed and up to date, and NFC must be enabled. Please check here for help updating your Android device if required. Mobile Season Tickets can be added to Android devices with NFC. Occasionally you will have a logo printed on the phone, or it will appear in your taskbar (when switched on). Otherwise, the best way to find if your phone has NFC is to find the settings for it on your phone.
Open Settings.
In the 'Search settings bar, type 'NFC'.
Tap and turn on NFC.
If you can't find NFC, your phone will not support Mobile Tickets.

Android: Most recent higher-end Android devices have NFC. Occasionally you will have a logo printed on the phone, or it will appear in your taskbar (when switched on):

Otherwise, the best way to find if your phone has NFC is to find the settings for it on your phone.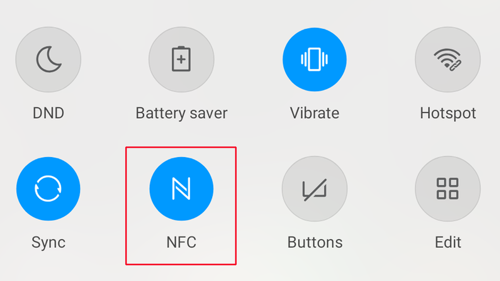 During the checkout process, you will be offered the option to receive a mobile ticket.
Once you have completed the checkout process you will then receive an email confirming your booking and a separate email that includes a link to add the mobile ticket to the Apple Wallet or Google Pay.
If you are buying multiple tickets for supporters who are linked to your friends & family each supporter will receive a separate email containing the unique link to their mobile ticket.
If a friend or family in your group does not have an email or NFC device, you can select your email in the delivery section of the purchase journey, and the link to download their ticket to your phone will be emailed to you.
If you purchase multiple fixtures at the same time and select mobile tickets, you will receive one email (per supporter) containing a link for each match
Match buyers can forward the ticket confirmation email containing the download buttons to the supporter that this was purchased for. They can then download the ticket to their device.
If no-one in your group has a phone with an NFC chip, please contact the Club to discuss options.
If you chose a mobile ticket but don't have a smartphone (iPhone, Apple Watch, Android Phone, or smartwatch), you can send the ticket to a friend or family member you are attending with who can download the ticket onto their phone and enter with you. If no one in your group has an NFC capable device, please contact the Club.
You can check to see if this process has been successful by scrolling through your live passes in Apple Wallet or the 'Passes' tab of Google Pay. 
Watch our 'How do mobile tickets work' video above to see exactly how a mobile ticket is used to access the stadium. 
Ideally, each supporter would have their own mobile device however we do understand not everyone has a personal mobile phone, particularly our younger supporters.
More than one ticket can be loaded to one phone (although each ticket itself can only be loaded once). If your child or anyone in your group does not have a mobile device with an NFC chip, we would recommend loading their ticket to your phone.
When accessing your tickets on your mobile device, you will be able to swipe left and right between different tickets to find the correct one to scan. When approaching the turnstile please have the child's ticket ready first. Scan that ticket and let them go through the turnstile before scanning and entering on your own ticket.
Newer Huawei smartphones do not support Apple Wallet or Google Pay therefore, supporters with this handset will not be able to use it to access the stadium. Any supporters with a newer Huawei device can request a Print at Home ticket or, collect a paper ticket from the stadium within 7 days of the game.
Your mobile device does not require WIFI connectivity or signal on matchday as long as your Mobile Season Ticket is already in your Apple Wallet/Google Pay app prior to attending. If you've not already downloaded your ticket and you have issues with your data connection, you can join our free wifi by selecting Man City Wifi and clicking join, no registration needed.
Please ensure that your default browser is set to Google Chrome on your mobile device before clicking the link in your email to download. 
If you are unsure how to check your default browser, please follow the steps below:
Settings
Select APPS
Select 3 dots and click 'default apps'
Check default browser. If not Google Chrome, change to Chrome
Now try download link again
Please note, the above steps are based on a Samsung Galazy S8 device and other devices may vary.
If you have followed these steps and are still unable to download your mobile ticket please contact the club.
No, a screenshot of your mobile ticket will not permit you entry to the stadium on a matchday. You can download your mobile ticket from the link in your email or directly from your online account.