Colin Bell
Player name in full: Colin Bell
To/from dates: 1966 - 1979
Number of appearances: 498
Goals scored: 153
Biography and City Career:
Colin Bell was born in Hesleden, County Durham on 26th February 1946.
He began his professional football career playing for Bury F.C between 1963 and 1966.  During that time he became team captain and made 82 appearances scoring 25 goals.
Colin Bell joined Manchester City from Bury F.C. in 1966 for £45,000 and made his debut versus Derby County away at The Baseball Ground on the 19th March in Division 2. He scored City's first goal in a 2-1 victory.
In November 1975 whilst playing in a League Cup match against Manchester United at Maine Road, Colin suffered a severe injury to his right knee. He was out of the game for over 2 years until making his comeback on Boxing Day 1977 at Maine Road against Newcastle United. Colin came on as a substitute for the second half with the score at 0-0 to a standing and emotional ovation from the whole crowd and City went on to win the game 4-0.
His final game was on the 15th May 1979 versus Aston Villa at Maine Road in Division 1 in a 2-3 defeat.
In total Colin made 498 appearances for Manchester City scoring a total of 153 goals.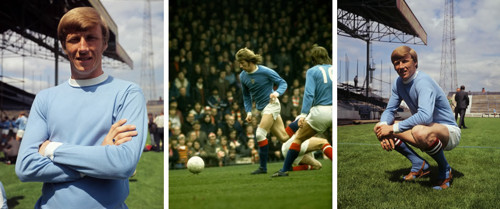 Notable facts/stories:
Colin Bell was inducted into the Manchester City Hall of Fame in 2004 and into the English Football Hall of Fame in 2005.  In 1998 he was selected as one of the Football League's 100 Legends.  In 2005 Colin was awarded an MBE for his charity work.
When Manchester City were looking at the possibility of signing him from Bury, Malcolm Allison, City's assistant manager, would go to watch him and would deliberately mislead other interested parties by saying out loud that he was not very good.
Colin is widely recognised by many longstanding Manchester City fans as being one of their greatest ever players. Over the years Colin acquired 2 nicknames, The King of the Kippax, after the famous terraced stand at Maine Road and Nijinsky, after the legendary racehorse known for his speed and stamina. Colin ranks fifth in the number of most appearances for the club and is the fourth all time highest scorer.
In 2003 Manchester City moved into their new home, the City of Manchester Stadium, later to be known as the Etihad Stadium. In 2004 the directors invited City fans to vote for the player they would like to have the West Stand named after, and by an overwhelming majority Colin Bell was the fan's choice. To this day this is still the only stand at the stadium named after a former player.
Non-City career:
Colin made 48 appearances for England between 1968 and 1975 scoring 9 goals.