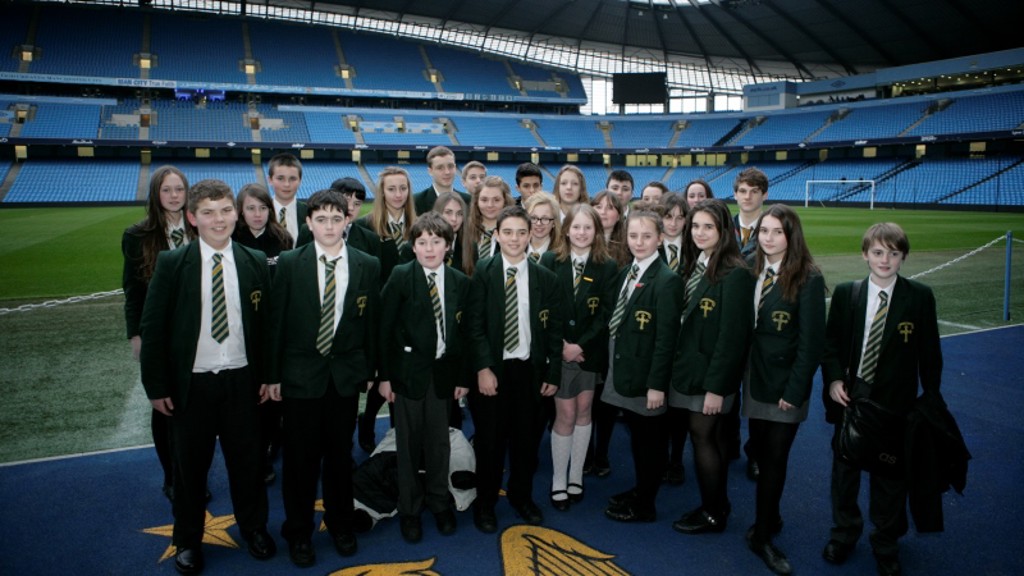 Schools and Educational Groups
The Educational Tours listed below have been altered slightly over the Summer due to construction works on site.
Please refer to the Summer Tours page to see the amends to the route. We will still be facilitating presentations over the Summer. To book, please call 0161 444 1894, Option 4, Option 2.
Visiting groups and schools are taken on an exciting 60 minutes journey through the depths of the MCFC Club and Stadium, past, present and future.
The press conference room
Player's Lounge
Warm-Up room
Changing room
Player's tunnel
Pitch side.
Each section is packed with exciting facts, educational topics and photo opportunities. For example, in the changing rooms aspects of nutrition and balanced diet are discussed and also the use of IT in the analysis of player performance.
At pitch side the factors important for photosynthesis and strong plant growth can be demonstrated. If there is time, pupils can take the crossbar challenge in the warm-up room.
All this with a huge reduction on the standard tour price. One member of staff is free for every 10 pupils/student.
After the tour, we offer additional specialist presentations for popular curricular areas. These include:
Urban regeneration in East Manchester (used frequently by geography teachers and adapted to suit the relevant age group from key stage 3 to university students)
Business studies and the Football Club (key stage 4 and sixth form)
Sports science (key stage 4 and 6th Form)
The cost is £50 per presentation, up to a maximum group size of 40 people.
They include English (report writing), maths (geometry and estimates), science (plant growth and photosynthesis, respiration and pulse rate, friction), geography (urban regeneration) and many more. Please ask your tour guide for more information.
We always aim to match educational objectives to the institutions requirements and to adjust the tour so that it is suitable for that particular age and ability.
To book any of our group packages, please call 0161 444 1894, Option 4, Option 2.
---
More information: