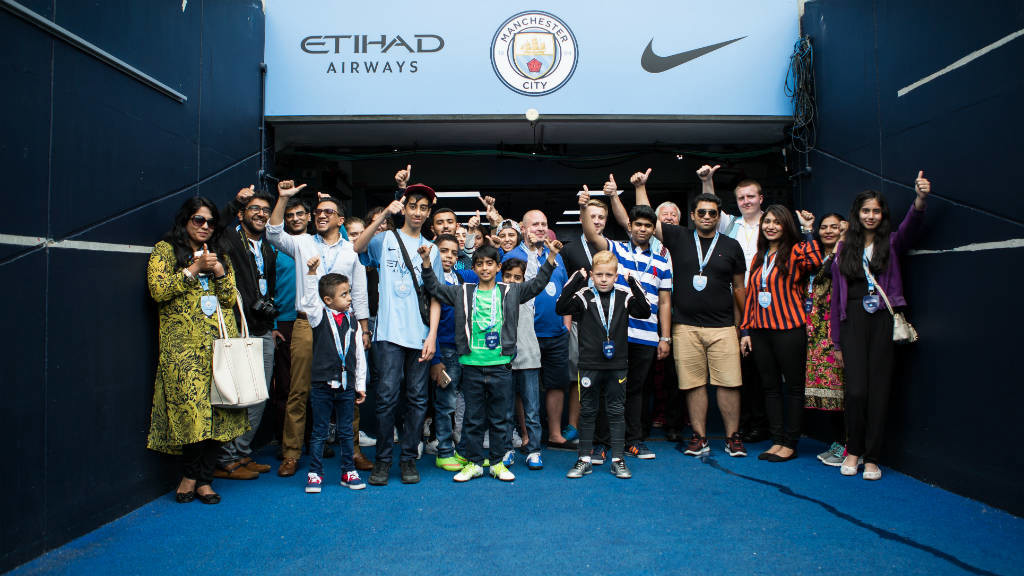 The main Group Tours listed below have been altered slightly over the Summer due to construction works on site.
Please refer to the Summer Tours page to see the amends to the route. To book, please call 0161 444 1894, Option 4, Option 2.
The Ultimate Football Day Out
This is an opportunity for adults and children alike to engage in a fun and interactive football experience that culminates with an unforgettable 90 minute behind the scenes tour of the Etihad Stadium.
The day kicks off in Manchester's City Centre with a trip to the National Football Museum, where visitors immerse themselves in the history of football and can take part in a range of entertaining games housed in their Football Plus+ Zone. It is then time to head off to the Etihad Stadium for an insight into Manchester City and what the matchday experience is really like for a player.
Afternoon Tea Package
The new Afternoon Tea package offers groups the chance to savour a delicious afternoon tea in one of the Club's premium hospitality areas after a professional guided tour of the Etihad Stadium. Enjoy a traditional spread of macaroons, scones, sandwiches and freshly brewed teas & coffee to satisfy every taste.
Special Guest Tours
From May, visitors will be able to enjoy a special guest's tour including an exclusive look inside specific areas of the business, from the Club photographer to the groundsman and sports psychologists. Tours will last 90 minutes and include a Q&A session with the special guest that month.
Designed for group bookings of 10 or more, these specialist tours give both the young and the young at heart the opportunity to immerse themselves in all aspects of Manchester City's past, present and future, making all three tours a must-visit excursion for anyone living in or visiting Manchester.
On all three tours, visitors will get a sneak peek at the team's matchday changing room and will also have the opportunity to sit in Pep Guardiola's official press conference seat, exactly as seen on TV.
They will then emerge pitch side through the players' tunnel before taking their seats in the dugout dreaming of the moment they're called upon to wear the famous sky blue jersey.
Women's Match Package
This includes a fascinating 90 minute guided experience around the home of Manchester City at the Etihad Stadium. Following your Tour, you will embark on a trip to the Academy Stadium at the City Football Academy to watch Manchester City Women play at their home stadium.
For all group tours, Manchester City are pleased to offer free coach parking at the Etihad Stadium, as well as a free space for the driver to join the Club Tour.
For full details of all our tours,
click here
to download the Group Tours Brochure.
To book your Group Stadium and Club Tour call +44 161 444 1984 (Option 4 Option 2.)
Kid's Birthday Parties
Every child remembers their favourite birthday party and Manchester City FC have designed a new kid's birthday party which promises to be an unforgettable experience.
Created for kids of all ages, the core City Kids Birthday Party package includes a fascinating private stadium tour with a host of amazing additional birthday-themed highlights and experiences, tailored for the special birthday boy or girl.
These can include treasure hunts, playing the role of the manager in the Press Conference Room and other fun birthday games for the little ones. The lucky boy or girl will get the chance to lead their group of friends out of the tunnel just like the matchday captains would. They can also be presented with a birthday cake in the home dressing room as a special treat.
The birthday boy or girl will also receive a signed birthday card (TBC) and free photo.
Price per head is £15
Minimum booking is 15 people (includes 2 free adults)
Optional extras:
- Hot party food in a 5 star Stadium Platinum Box £15 per head
- A Club Mascot to come on your Tour with you £75
- Souvenir photo for guests £8 per head
Birthday Parties are available throughout the week and at weekends.
---
More information: