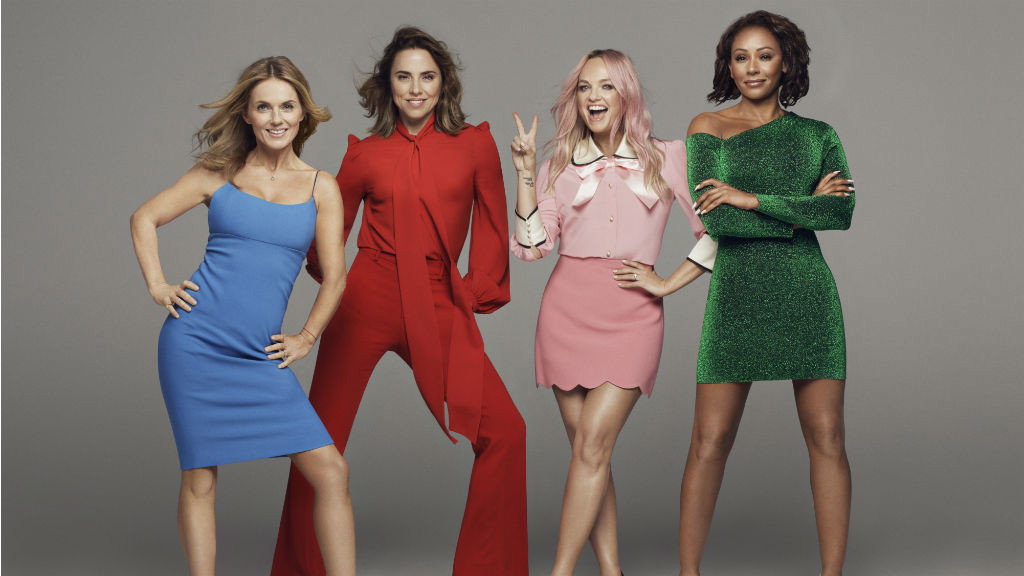 Spice Girls at the Etihad Stadium
Two decades after the Spice Girls revolutionised the 90's pop landscape - Emma, Mel B, Melanie C and Geri WANNABE back together on tour!
The era-defining, history-making, best-selling female group of all time are bringing girl power back in full force as they reunite on stage for the first time since the London 2012 Olympics, hitting stadiums across the UK.
The band will be appearing at the home of the Blues on Saturday, June 1.
Tickets go on sale on Saturday, November 10 at 10.30am and will be available from www.ticketmaster.co.uk and www.gigsandtours.com
After their iconic 1996 debut single 'Wannabe' topped the charts in 37 countries, Spice Girls' debut album 'Spice' went on to sell more than 31 million copies worldwide, becoming the best-selling album of all time by a female group.
The girls have gone on to sell more than 85 million records, releasing three studio albums and 13 singles and winning a host of awards including a BRIT Award for Outstanding Contribution to British Music.
Because of her business commitments Victoria won't be joining the girls on tour, but will always be one of the Spice Girls and remains aligned with Emma, Mel B, Melanie C and Geri in preserving their unique legacy.
Looking ahead to the tour, Emma said: "It's time to spice things up all over again!!!!! I can't wait to perform to our forever supporting fans and a whole new spice generation! Love you all!"

Mel B said: "I've said it sooo many times I'm beside myself it's actually happening yipppeeee. I'm now properly screaming it from every rooftop - me and my girls will see you all on stage!!" - Mel B

Melanie C said: "Reminiscing with the girls about how much fun we had, made me feel like it was the right time to do it all over again!"

Geri said: "I am so excited, together we celebrate girl power with our fans and the next generation and everyone is welcome! Hold tight it's gonna be fun xx."

Victoria added: "Being in the Spice Girls was a hugely important part of my life and I wish my girls so much love and fun as they go back on tour, I know they will put on an amazing show and the fantastic fans past and present are going to have a wonderful time!"

The much-anticipated UK tour dates will see Spice Girls, plus very special guest Jess Glynne, head to:
June 1, 2019: Manchester - Etihad Stadium
June 3, 2019: Coventry - Ricoh Stadium
June 6, 2019: Sunderland - Stadium Of Light
June 8, 2019: Edinburgh - BT Murrayfield Stadium
June 10, 2019: Bristol - Ashton Gate Stadium
June 15, 2019: London - Wembley Stadium connected by EE
Tickets on sale Saturday 10th November at 10.30am - no pre-sales
www.ticketmaster.co.uk | www.gigsandtours.com
Age restrictions - General Admission
The following age restrictions apply for this concert; a child aged under 14 may not enter the Stadium unless accompanied by an adult aged 18 or over, and that child must be in possession of a valid Ticket for the Event they are attending.
Children aged under 12 cannot enter the standing area for the Event and must have a valid Ticket for one of the seated areas and be accompanied by an adult (aged 18 or over). Children aged 14 to 17 may buy a Ticket without the need for an accompanying adult.
Only one Ticket for a child aged between 14 or 17 may be purchased in a single transaction unless at least one Ticket for a person aged 18 or over is also purchased in that transaction.
Please also note that in allowing entry in to the Event for children under the age of 18, the Club adopts the adult to child ratios* recommended in the NSPCC guidelines (located at www.nspcc.org.uk) which are: (i) 0-2 years - 1 adult to 3 children; (ii) 2-3 years - 1 adult to 4 children; (iii) 4-8 years - 1 adult to 6 children; (iv) 9-12 years - 1 adult to 8 children; and (v) 13-18 years - 1 adult to 10 children *subject to maximum ticket purchase allowed per person.
Disabled tickets – General admission
Wheelchair and walking ambulant tickets will be available from the venue and can be purchased when the sales window opens, subject to any qualifying criteria, by calling +44 (0)161 444 1894 (option 4). Please note age restrictions apply to pitch standing tickets.
Wheelchair platforms are located on all levels of the stadium, excluding the pitch. Further access information can be found at www.mancity.com/events.
Hospitality
Hospitality packages are available from Manchester City.
To discuss the different options, please contact the Etihad Stadium's hospitality team on +44 (0)161 385 2012.
Platinum Boxes - £480 per person inc VAT
• Three-course hand-crafted buffet
• Complimentary beer, wine & soft drinks
• Private balcony seats
• Sweet treats post-concert
• VIP parking
Premium Restaurant Package - £480 per person inc VAT
• Three-course seated dining
• Complimentary beer, wine & soft drinks
• Padded seats in prime location
• Souvenir lanyard pass
• VIP parking
Party Package - £420 per person inc VAT
• Three-course hand-crafted buffet
• Five complimentary drinks (includes beer, wine or soft drinks)
• In-suite DJ
• Prime located seats on Level 1
• Cash bar available
• VIP parking
Bar Package - £330 per person inc VAT
• Main meal with two complimentary drinks (includes beer, wine or soft drinks)
• Seats located on Level 2, opposite the stage
• Cash bar available
• VIP parking