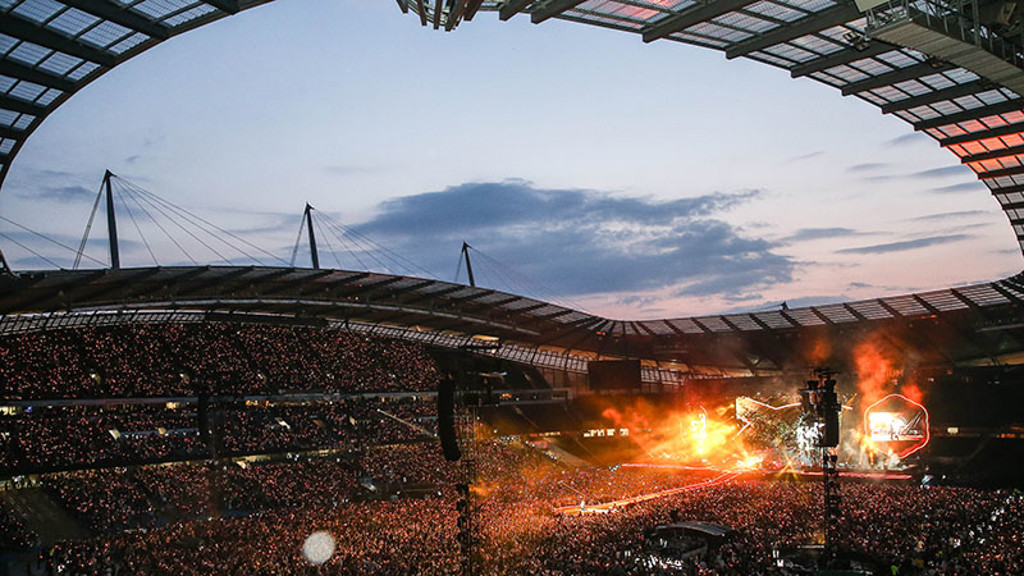 Access at concerts and events
Ticket sales
Subject to the event, sales criteria and availability, the Club will sell tickets for wheelchair and ambulant customers.
Access statement
The Manchester City Access Statement has further details about Access at the stadium, including travel, facilities and information to help plan your visit.
The Access Statement can be found here.
A text only version of the Access Statement can be found here.
Getting to the stadium
The Etihad Stadium is easily accessible using all modes of transport and is within easy walking distance from Manchester city centre. More information about getting to the Stadium can be found in the Access Statement or here.
Concert Information
Full concert information can be found here (PDF)
Accessible parking
Visitors who have purchased accessible tickets through the venue can also request to purchase parking. There are limited spaces available for each concert night and are sold on a first come first served basis.
Pay on the day car parking is available on site in the Blue Car Park'. These are accessed from Alan Turing Way (Gate 2).
View our car parking map here.
Please call our Access Team on +44 (0)161 444 1894 (option 1, 2, 2) to discuss further. You can find out more here.
Entrances
There are up to five accessible entrances at the Etihad Stadium: D, H, M1, S and W doors, all of which are clearly sign posted. For visitors located on Levels 2 and 3, a lift is available at these entrances.
Accessible toilets
There are 42 wheelchair accessible toilets within the Etihad Stadium; 16 toilets on Level One, 20 toilets on Level Two and 6 toilets on Level Three. All toilets are fitted with RADAR locks and keys which are available from nearby stewards.
Every concourse washroom has one compartment (cubicle) that is suitable for ambulant visitors.
There are accessible toilets located in City Square and around the stadium on the day of the concert.
Changing places
Our changing places room is located in the South Stand on Level One. This contains a hoist (loop slings only which must be provided by the visitors), a changing table, shower, toilet and height adjustable sink. The room can be accessed via a RADAR key.
Food and refreshments
Inside the stadium there are designated accessible counters, these are lowered and clearly signed.
Designated counters also have an allocated Portable Induction Loop, handheld menus and Drinking straws are available on request.
Customers with medical and dietary requirements
If you have any medical requirements, that may require you to bring medication, food or drink in to the stadium. Please contact the Access Team in advance of attending the event at the stadium on +44 (0)161 444 1894 (option 1,2,2).
For medical assistance or advice at the concert, please speak to a member of the stewarding staff for further assistance on event day.
Strobe lighting
Strobe lighting may be used by some artists during some performances for visual effect.
For more information please contact the Access Team.
Assistance dogs
Any visitors wishing to attend the Etihad Stadium with an assistance dog must contact the club on +44 (0)161 444 1894 (option 1, option 2, option 2) or email [email protected] so that we can ensure the appropriate tickets (subject to availability) are allocated and adequate arrangements have been made.