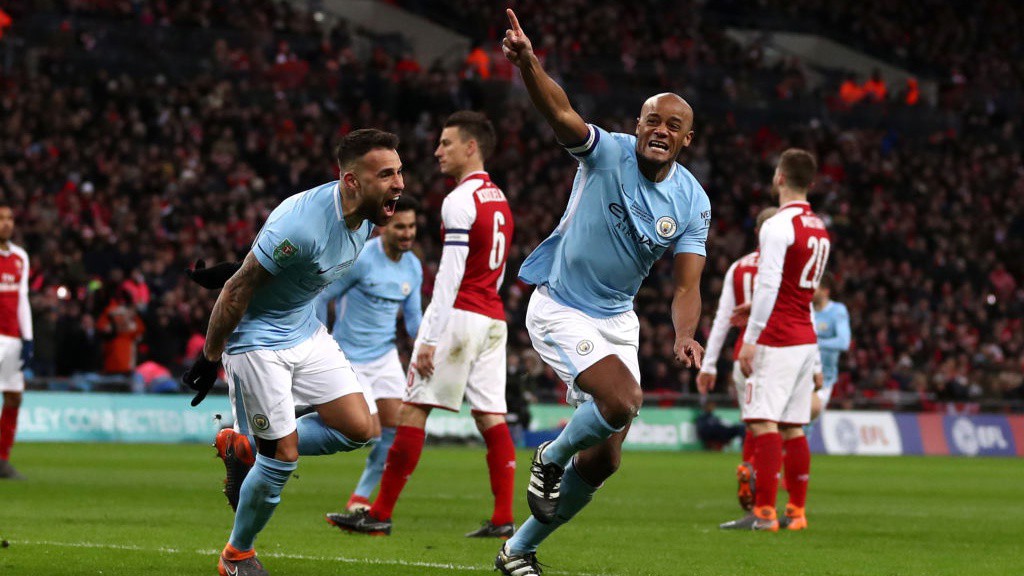 Joining the 18/19 Cup Schemes
Anything can happen in cup ties and we've recently had some special matches both at home and away.
Make sure you're there for those unmissable moments next season and sign up to the Cup Schemes.
Join online at tickets.mancity.com and follow these simple instructions:
To register on the Cup Schemes;
1. Click here to access your ticket account and log in. If you are already logged in on mancity.com you will automatically be logged into the new ticketing website.
2. Check your ALERTS on your welcome page or alternatively, select 'Ticket Schemes' from the menu
3. Select 'ADD' and complete the steps
4. For payment details, select the icon to add a credit/debit card.
To join the Cup Schemes, all Seasoncard holders must log into their individual accounts.
You can also join the Cup Schemes by calling +44 (0)161 444 1894 option 1.
Our Cup Schemes are designed to reward your loyalty and ensure you don't miss a second of thrilling cup action. Here's what you get:
Allocated Seat – we will automatically allocate you a seat for all home Cup matches in the respective Cup competition*
Cup Final Priority - Cup Scheme members are at the front of the queue when it comes to Cup final tickets
Ticket Points** - 100 ticket points are awarded per scheme joined, double for Platinum Seasoncard holders
Price Cap - A guaranteed price cap of £25 on all home games in domestic Cup competitions up to, but not including, the quarter finals
93:20 Seasoncard Holders
Please note that if you are a 93:20 Seasoncard holder, you will receive the first three (3) home domestic Cup matches as part of your benefits package. However, you must sign up to the domestic Cup Schemes if you want to attend all home domestic cup matches and take advantage of cup final priority.
Deadline to join all Cup Schemes is 5pm, Friday 30th August. For the avoidance of doubt, you were not able to join the schemes during the renewal of your 2018/19 Seasoncard. If you want to join any of the schemes for the coming season, you will need to register.
All Seasoncards are issued subject to the Terms and Conditions of Sale, available here
*Due to contractual obligations, your Seasoncard seat is not guaranteed
**Effective from the 2018/19 season, ticket points are no longer awarded at point of transaction or registration to Cup Scheme(s). Points awarded for joining the Cup Scheme(s) are added to your account when we no longer take part in the respective competition.
Don't miss any of the action! Click here to access your ticketing account and join the cup schemes today.