Barcelona's 2020/21 Women's Champions League-winning captain, Vicky Losada, has joined Manchester City ahead of the new 2021/22 season.
The Spanish midfielder signs on a two-year deal and is the third new addition to Gareth Taylor's side this summer, joining Ruby Mace and Khadija 'Bunny' Shaw through the door.
Here are ten things you might not know about our latest recruit, including the reason behind her shirt number and who at City was her first footballing idol...
1- Winning numbers
Losada has opted to wear the number 17 shirt ahead of her debut season for City.
She revealed that she chose that particular number so that she could emulate her counterpart in the men's team, PFA Player of the Year, Kevin De Bruyne.
A versatile, energetic and creative midfielder with an eye for a pass, there are certainly comparisons to be drawn between the two!
2- Terrific treble
City's two-legged defeat to Barcelona in last season's Women's Champions League quarter-final was a bitter pill to swallow, but our 2-1 second leg triumph proved that we could mix it with the best on the continent.
Not only would Barca, captained by Losada, go on to claim an historic treble, including the biggest prize in European football, they would do so having lost just two matches in all competitions.
Indeed, Blaugranes won 33 of their 34 Primera Division matches en route to the title, losing only to Atletico Madrid whilst scoring 167 goals and conceding just 15.
It was a season of utter dominance from Barcelona, culminating in a 4-0 Champions League final victory over WSL Champions, Chelsea.
Our slender aggregate defeat doesn't feel so bad anymore, does it?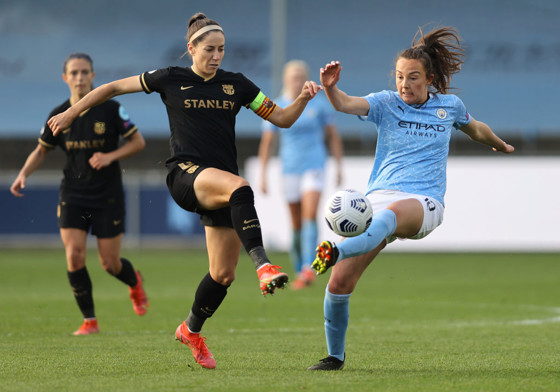 3- Tough opponents
While Barcelona ultimately came out on top in our UEFA Women's Champions League quarter-final, Losada believes Manchester City gave them their toughest test of the 2020/21 campaign.
She also feels that, of all those competing in the WSL, she can draw the most comparisons between her former employers and Gareth Taylor's side.
"In my opinion, City were the best team we played against last year," she revealed.
"In the Champions League, we had a very good game in the first leg but I think second, we (City) were better than them (Barcelona).
"In my experience, the hardest games were when teams used to play like us, and if I had to compare Barca with any team in England now, it would definitely be Manchester City."
4- Puppy Love
Losada's energy in the middle of the park will prove vital for City next season and, given she has to keep apace with two dogs in her spare time, it's clear to see where she gets it from!
"I have two dogs, and I love them," she beamed when asked about what she does in her spare time.
"They're so much work! I have a Shiba Inu and a border collie mixed with German Shepherd, that girl is the one who wakes me up every morning, rolling around with her!
"I really enjoy it with her, she has a lot of energy!"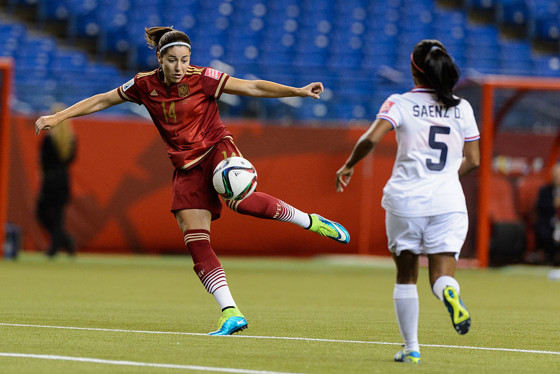 5- History maker
Losada broke new ground on an international front when she found the back of the net in the 2015 Women's World Cup against Costa Rica.
Although Spain would ultimately fail to qualify for the knockout rounds, that summer's World Cup represented their first appearance in the full competition.
As such, the midfielder's strike in La Roja's opening game means she holds the distinction of being her nation's first ever World Cup goalscorer.
Losada made another bright start two years later, grabbing Spain's first goal at Euro 2017 in a 2-0 victory over Portugal.
Here's hoping for a similarly bright start to her City career!
6- A long awaited return
Vicky has already plied her trade in England courtesy of a two-season stint at Arsenal between 2015 and 2016.
During a highly successful period with the Gunners, she claimed a Women's FA Cup and Women's League Cup title, but the WSL title ultimately eluded her and her teammates.
"I joined Arsenal when I was 24, so I think now after seven years feel more mature now and with more experience in my boots," she declared.
"That made me change the position and made me able to play in a more attacking or defensive role.
"I've learned how to play everywhere, and I think it's a very good thing to help the team.
"I'm so happy to be back in England."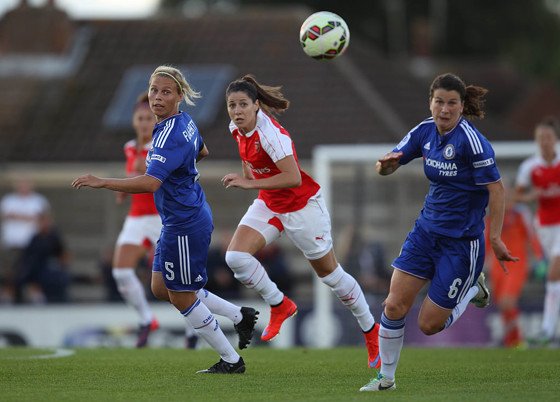 7- Home from home
While Barcelona will always be in her heart, Losada is delighted to return to a league where she feels she reached the peak of her powers.
The midfielder admitted that her decision to leave the WSL in 2016 was based on the advent of professionalism in Spain, and that the competitiveness of the English game has always been a massive draw for her.
She reflected: "I think my best time was in England, 100%.
"I miss the game, the competitiveness, the game in England is faster and you can lose or win against any team.
"I missed that kind of war feeling every weekend."
8- Pep talk
Growing up in Catalonia during the 1990s, Losada revealed that her first footballing idol was none other than current City boss, Pep Guardiola.
Given her position, it perhaps comes as no surprise that she gravitated towards one of the finest midfield operators of the mid-late 90s, before the emergence of two more La Masia legends piqued her interest following Pep's retirement.
"When I was younger I watched men's football," she recalled.
"My first player was Pep Guardiola, but I don't have many memories because I was very young!
"It then became Andres Iniesta and Xavi (who I followed)."
9- American Dream
The Spanish midfielder enjoyed a brief stint across the Atlantic ocean, swapping Barcelona for National Women's Soccer League outfit Western New York Flash in February 2014.
She immediately hit the ground running, grabbing two goals and an assist on her debut to be voted NWSL player of the week.
Losada would later rejoin Barcelona at the end of 2014 with her childhood club on the march towards a fourth successive domestic title.
10- The future's bright
A well-known saying reads that with great power comes great responsibility, and our new signing is eager to leave a positive impact on future generations looking to make it in the beautiful game.
The Women's game has grown exponentially in recent decades, and Vicky is hopeful that she can help that rapid ascent continue by inspiring young footballers across the world.
"I think it's very important to have role models in women's football," she pointed out.
"They can see themselves reflected in us, they can start when they're very young having dreams of winning the Champions League and being a professional footballer.
"It's something I never had (a female footballing role model), and I think it's a massive change that is going to make women's football even better."