Ellie Roebuck says she couldn't be prouder to have taken on the No.1 shirt worn for so many years by Karen Bardsley.
Bardsley – 'KB' – retired last May after eight wonderful years as City's custodian, with Roebuck gradually taking over as our regular keeper as the England international suffered a catalogue of injuries.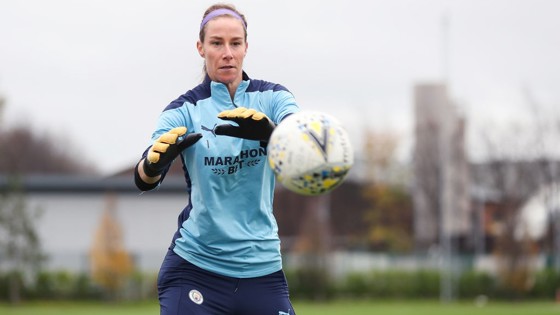 Roebuck was only 16 when she burst into the first team and has made more than 100 appearances for City over the past six years, as well as earning nine England caps.
Though she'd intended to keep her No.26 shirt throughout her career, the opportunity to take the coveted jersey worn by Bardsley was too good to turn down.
"To a point, it's just a number and 26 will always be my number because it was my first one as a professional," said Roebuck.
"It'll always be close to me, but I think the opportunity to be number one was too good to miss.
"I've worked really hard for the past however many seasons I've been here now. 
"It's just a number but you work hard for it, and I feel like I've earned it. I wouldn't have taken it if I didn't think that because KB's obviously left a huge legacy behind. 
"I'm really proud to continue that at this football Club. I always said I'd never take it because I always said 26 was my number, but when you then get the opportunity to do so for a club of this magnitude, it's a no-brainer really!"
It's easy to forget Roebuck is still so young in terms of her career, but does she consider herself as one of the City squad's more senior members now?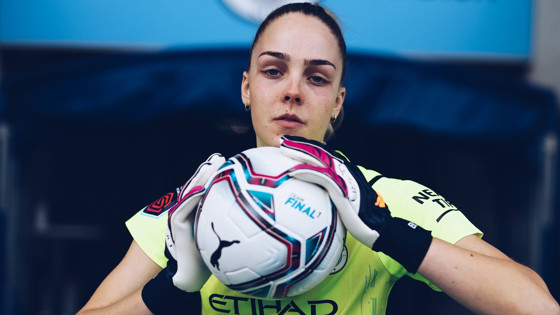 "Yes and no," she said. "I try not to think about it too much, I'm still only 22 myself!
"But Sandy (MacIver) has come in and has a wealth of experience, has played loads of games for Everton and been around the international setup and we know each other well so the relationship is great.
"I think with Khiara (Keating), I have so much time for her, so I really do try to help and push her as much as KB and Marie Hourihane did for me.
"I had those figures so if I can be that for Khiara and try and help her, it would be fantastic.
"She's got huge potential so if she gets her head down and works hard, which she is doing, I'm really excited to see where that goes and play a part in her journey as much as they did for me. 
"That's the only responsibility I feel and it's all positive." 
CITY+ AND RECAST
Exclusive Manchester City content is available to watch on CITY+ and Recast.
Available for just £2.99 per month across all our digital platforms, a CITY+ subscription provides supporters with unrivalled access to new and exclusive City content.
It will allow you to watch full-match replays of all Men's and Women's matches, selected broadcasts of Women's, Elite Development Squad and Academy matches and provides access to the full catalogue of City Studios documentaries.
The official Man City Recast channel offers fans flexible, pay-per-view live fixtures and on demand viewing options including match action from across the years, legend interviews, Best of Series, Man City Esports and City Studios documentaries.