Tickets and Travel
1
Brighton v City: Supporter screening information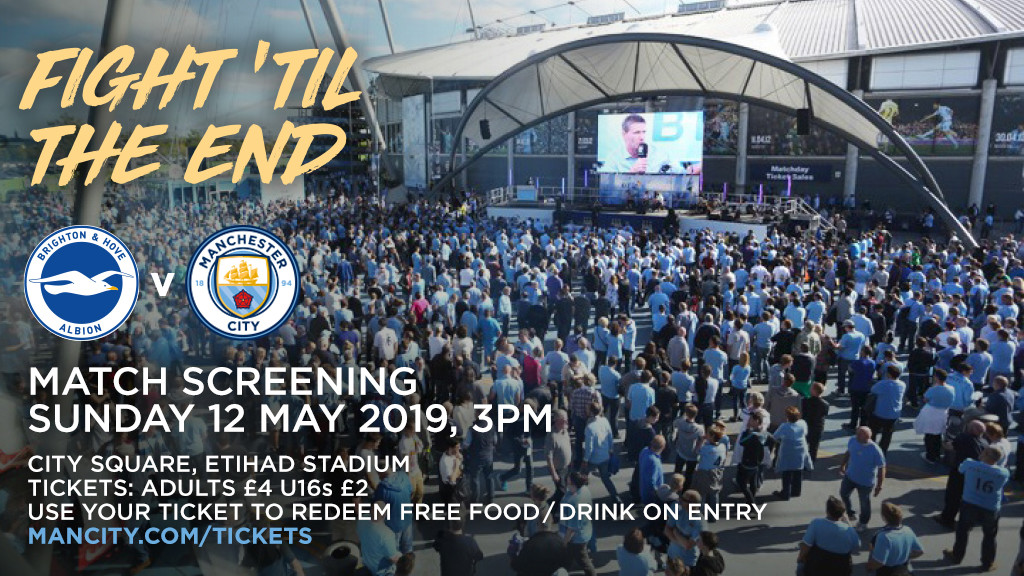 LIVE: City's final Premier League game of the season will be screened live at City Square
All the information you need to know ahead of the City Square screening of Brighton v Manchester City on Sunday, May 12th
Please do not bring any bags unless essential.
Security
 All bags will be searched and tagged prior to stadium entry into City Square. Please only carry what you feel is necessary as bags larger than 16.5 x 12 x 6.5 inches will not be allowed
 Arrive early, allowing time for security checks; access to City Square will be from 1.30pm
 Less bag searches will speed up entry to the event
With safety and security measures of paramount importance we ask supporters to:
 Be vigilant at all times and if you see anything suspicious, tell a steward right away
 If you see anything that could pose an immediate threat to safety, call 999
 In an emergency, listen to the Public-Address instructions and follow them
 If told to evacuate, do so immediately
 Do not place yourself in danger by filming events on mobile devices
 Move right away from the stadium as quickly as possible for your safety and to allow clear access for any emergency vehicles
 Once you are safe, follow the local police force on Twitter for news updates on the situation
Children under 14 must be accompanied by an adult (over 18) this event. We advise you carry photo ID to prevent any issues entering City Square.
Please click here to see our FAQs.
Traveling to the Stadium
Ensure you check travel conditions before setting out. For directions and stadium maps including walking routes, please click here.
Please note that, as the event is taking place on a Sunday, limited transport options are available. Please consider how you will travel home from the stadium before you travel to the event.
Car Parking
Car Parking will be available free of charge from our Blue Car Park (Gate 2)
Accessible car parking will be available from our Orange Car Park (Gate 3). Blue badge will need to be shown upon entry to the car park. This can be pre-booked by calling the Access Team on 0161 444 1894 (options 1,2,2)
Entry to the event
All supporters entering the event will be subject to standard security checks, any prohibited items including food and drink will not be allowed in to the event.
For supporters arriving from the Blue Car Park via Joe Mercer Way or the Etihad Campus Metrolink stop, please join the ticket check & security queues located at the top of Joe Mercer Way. Supporters arriving from the Orange car park or the East side of the Stadium, please join the queue located by C Tower and those from the West side of the Stadium can join the queue located by X Tower.
There will be a dedicated queue for wheelchair users and those with access requirements at each entrance point.
Ticket collection
The South Stand Box Office will be open from 11am until 3.30pm for any ticketing queries. For supporters entering the event from the Blue Car Park via Joe Mercer Way or the Etihad Campus Metrolink stop, you will be directed across the orange car park around the edge of the event to access the South end of the Stadium.
Food and drink
All supporters can redeem their food and/or drink voucher from bars and food kiosks in and around City Square as well as the North Stand Concourse.
Entry to the North Stand Concourse can be through Turnstile Y.
Your welfare
This is an outdoor event and will take place in the rain or sunshine so:
• Check the weather forecast before leaving to attend;
• Wear appropriate clothing;
• If it is sunny bring sun-cream, a hat and drink lot's of water;
• If it is raining bring wet weather clothing. Please note umbrellas are not allowed.
There will be welfare facilities on site and the Club's welfare team will be available throughout the event. Should you have any concerns during the event please speak to the nearest steward
Toilet facilities are located in City Square as well as on the North concourse, which is accessible via Turnstile Y.
Code of conduct: Respect the badge
If you ever witness crime, vandalism, violence, drugs, the use of smoke bombs and pyrotechnics or abusive behaviour, make contact with a steward as soon as you can and report your concerns.
The entire Etihad Campus, including roadways, car parks and concourses, is smoke free. Use of electronic cigarettes is also prohibited. We operate a strict, no re-admission policy and there will be no opportunity to leave and re-enter the event.
Supporter Services will be open from 11am until 3.30pm for this event. For queries, please call +44 (0)161 444 1894 (option 1). To keep up to date with all event information follow our official service Twitter account, @ManCityHelp.