Tickets and Travel
1
Schalke v City: Supporter information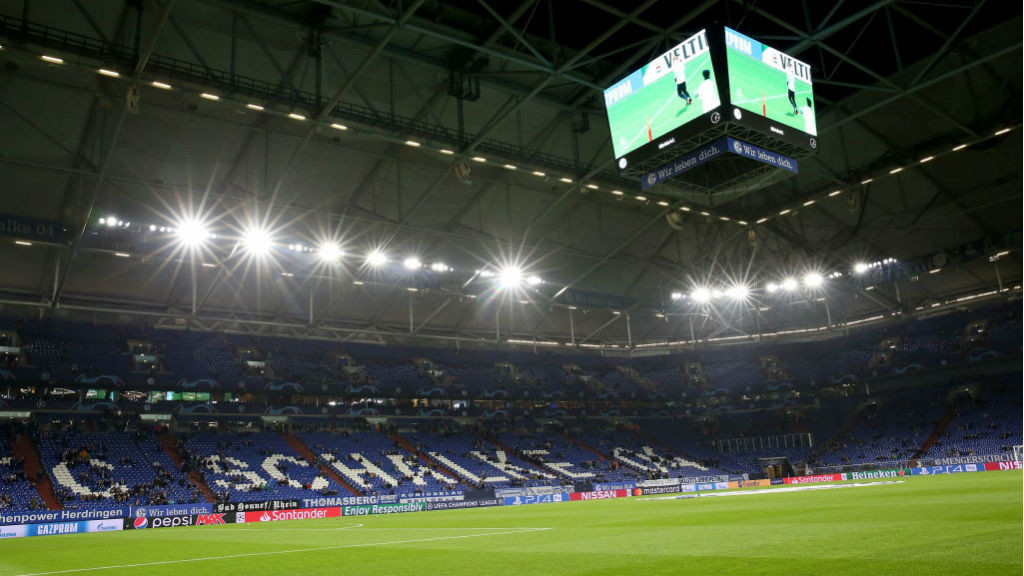 EURO DATE: The Veltins Arena will play host to City's Champions League last 16 first leg tie next month
Important service information ahead of our Champions League last 16 first leg away match against FC Schalke on Wednesday 20 February, kick-off 9pm (local time).
We ask you to arrive at least 1-hour prior to kick-off to allow for security checks and ensure there are no delays in entering the stadium.

Travel advice for this match can be found here but key information is called out below.
Getting to the stadium
The stadium is approximately 7km from the centre of Gelsenkirchen and the two nearest town areas are Buer to the north and Zentrum to the south.
Free shuttle buses will be provided from both the centre of Gelsenkirschen, outside the main train station and from close by in Buer. Post-match this service will only return to Gelsenkirchen. Supporters with match tickets are able to use public transport for free, on journeys to and from the stadium. This includes trains from Dusseldorf.
Accessing the stadium
Turnstiles open 2-hours prior to kick-off. Please find the correct turnstile printed on your matchday ticket. It is important that aisles are kept clear at all times. The Club accepts no liability for tickets purchased through unofficial channels.
Wheelchair supporters are located in the home area on a raised platform, adjacent to the away fans area. Lifts to this area are available.
The local police have advised that all supporters arrive at least 1-hour before kick-off as the security checks at the entrance may take some time. Anyone not in the stadium 15-minutes before kick-off may be delayed in entering the stadium. The final decision as to who enters the stadium lies with FC Schalke and the local police.
Ticket collections
Any supporter collecting tickets can do so from the Club's Supporter Liaison Officer. There is a ticket collection point available at the entry point for blocks V and W, which will open 2-hours before kick-off.
Food and drink
Can be purchased with a 'Knappenkarte' card pre-payment scheme. Kiosks sell prepayment cards.
Bags and luggage
Bags over A4 size are not permitted inside the stadium. Alongside the stadium entry point is the luggage store for oversized bags and the facility remains open after the final whistle. You can store bags and luggage here for free and they are located at the "Eingang Süd" (South entrance) or "Eingang Ost 2" (East entrance 2). You will be given a token that must be returned in order to get your bag back.
Code of conduct: Respect the badge
Manchester City Football Club does not condone the use of pyrotechnics, flares or smoke bombs under any circumstances. Any fan identified as using them will be subject to action by the Club. As well as the risk of a ban or conviction, the devices have a serious effect on others, particularly those with breathing difficulties and those who cannot easily get away from the smoke.
If you ever witness crime, vandalism, violence, drugs, the use of smoke bombs and pyrotechnics or abusive behaviour from home or away supporters, inside or outside the stadium, contact a steward as soon as you can and report your concerns. We also ask that you respect the stewards and staff of the opposing team.
Manchester City is proud to support the Kick It Out campaign. Download the KIO reporting app today.
#EqualGame. This campaign promotes diversity, inclusion and accessibility. The campaign aims to help to bring the football community closer together, while also ensuring that values such as inclusion, gender equality and the fight against discrimination remain at the forefront of UEFA's vision and beliefs. #EqualGame is about people and their football stories – for more information: www.equalgame.com
Should you require any information from Manchester City Supporter Services, the phone lines are open Monday to Friday, 9am to 5pm (closed Weekend's and Bank Holidays). For this fixture, the Supporter Services phone line will be open from 9am until kick-off. You can also follow @MANCITYHELP for the latest service information.