Tickets and Travel
1
Carabao Cup final: Supporter information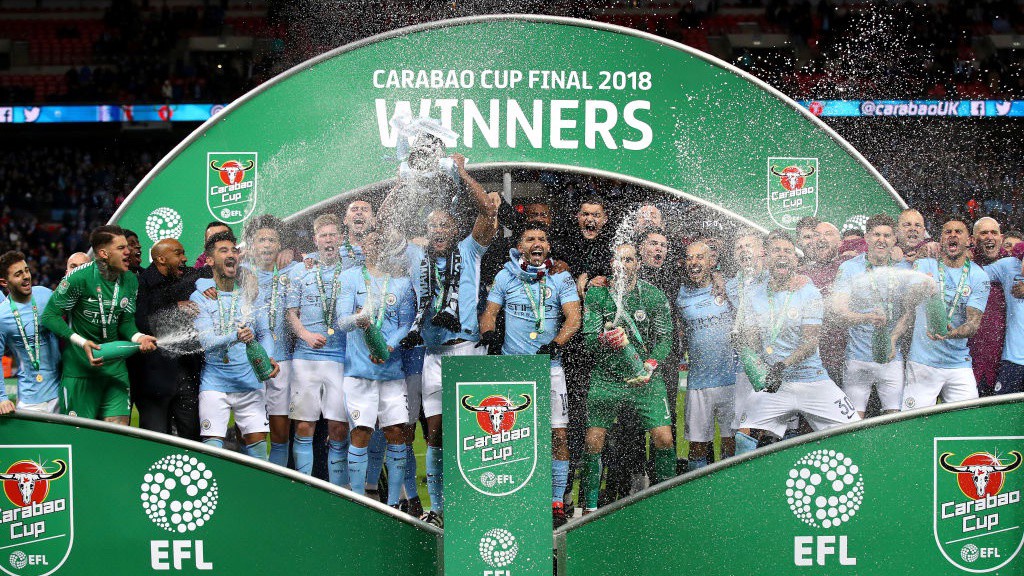 SCENES: Elation at Wembley!
The Carabao Cup Final Information ​
Chelsea v Manchester City
Sunday 24th February, kick-off 4.30pm
Comprehensive supporter advice for The Carabao Cup Final match at Wembley Stadium can be found here. For your convenience, key facts can be found below.
OFFICIAL MATCH TICKET
The purchase of match tickets via unauthorised channels is strictly prohibited. These tickets may be counterfeit, stolen or do not actually exist. If you see anyone offering tickets for sale in this manner, please report them to the local police who will look to take immediate action. Members of the Supporter Services team will be located in the West Ticket Office from 12.30pm until 4.45pm on matchday if you require assistance.
USE OF PUBLIC TRANSPORT
We ask that you respect the staff, your fellow travellers and act as ambassadors of Manchester City Football
Club at all times. We ask that you do not engage in any unacceptable behaviour travelling to and from Wembley Stadium both on public transport and within the ground itself. Examples of unacceptable behaviour include (but are not limited to) breaching the Ground Regulations and engaging in any behaviour or using language which is threatening, intimidating, racist, discriminatory, abusive, or offensive and/or which is likely to cause a nuisance or harassment to any other person or compromise public safety. This may include (but is not limited to) bringing hazardous or banned substances into the ground, using foul or abusive language, throwing objects, entry onto the playing area, chanting which is racially motivated and smoking including the use of electronic cigarettes, in the ground.
PUBLIC HOUSES
A list of police recommended pubs can be found within the guide. Please note that all pubs will close 1-hour before kick-off and will not re-open after the final whistle. There may also be restrictions enforced at Supermarkets and Off Licences in the vicinity of Wembley Stadium.
None of the pubs listed or those in the local area of Wembley Stadium will be showing the match. There is also a controlled drinking zone around Wembley Stadium which will be enforced.
Food and drink is available both inside and outside the stadium. No food, drink or alcohol is permitted to be brought in to the stadium.
ACCESSING WEMBLEY STADIUM
We are located in the West end of Wembley Stadium.
Turnstiles open at 2.30pm and we advise that all supporters are inside Wembley Stadium no later than 30-minutes before kick-off. Please arrive early as there are extensive security checks in place at the stadium, which may impact you entering the stadium in time for kick-off. To access the stadium, please proceed to the entrance stated on your match ticket.
Club Wembley opens at 1.30pm and City shirts and colours are allowed in seats located on Club Level.
Supporters are advised not to bring any bags unless essential. Bags larger than an A4 piece of paper will not be permitted on entry.
All bags will be searched, in accordance with Wembley's security measures. Wembley Stadium does not provide a left luggage or property service. Bags will be checked at an outer cordon and a bag gauge will be used for any dispute on size. All items will be carefully inspected upon entry to the stadium, which may include a personal wanding or pat down. Merchandise will be supplied in a clear plastic bag and will be admissible. Merchandise purchased from the outer concourse or the external stadium store, will be in a sealed bag. Please do not break the seal until you enter the venue.
If for any reason (medical) you require a bag that does not adhere to this policy, please contact us prior to match day. You will be issued with a certificate representing your right to take those items into the stadium. You will need to produce this certificate at the outer security cordon. Your bag will be searched and may be subject to an x-ray scan before entering the venue.
Further information on the restricted bag policy can be found here
Flags or banners are allowed however those more than 250cm in size at their widest or longest section will not be allowed.
Plastic poles greater than 1m in length are not allowed.
No professional camera equipment is allowed.
Prohibited items:
The stadium operates a no smoking policy.
Pushchairs and buggies are not allowed into the stadium.
It is an offence to be under the influence of drink and drugs.
Discretion lies with the Wembley Stadium stewards and local police as to who is deemed a safety risk, so please drink sensibly or you may face the possibility of not being allowed to enter the stadium.
The use of pyrotechnics, flares and smoke bombs is prohibited and anyone found in possession of or being associated to these items faces arrest.
Any Manchester City supporters in the Chelsea areas of Wembley Stadium face ejection and this may result in further sanctions being taken by Manchester City Football Club.
Thank you for your continued support and we look forward to seeing you at Wembley!