Tickets and Travel
1
Tottenham v City: Supporter Information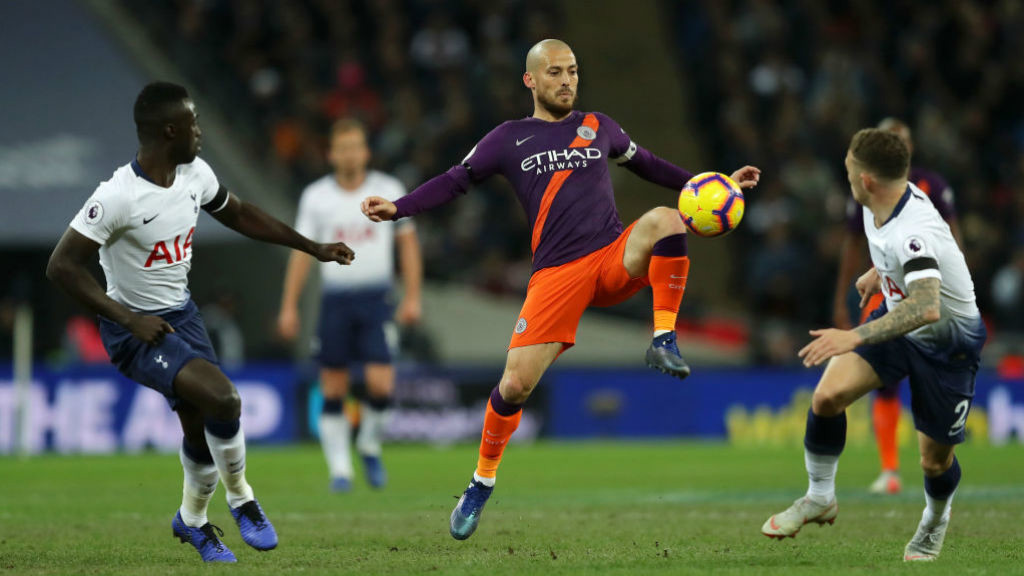 EL MAGO: Up in the air!
Below you will find important service information ahead of our away match against Tottenham Hotspur on Tuesday 9 April, kick-off 8pm.
Travel Advice for this match can be found here but key information is called out below.

ACCESSING THE STADIUM
Supporters are located in the North-East Corner of the stadium, Blocks 114-118. Turnstiles open at 6pm.

The Wheelchair bays are adjacent to the away end. There are accessible toilets and refreshments available
Nearby. Lift access is available from ground level and to the platform.

Supporters are advised to arrive at least 1-hour before kick-off as the security checks at the entrance may take some
time. Anyone not in the stadium 30-minutes before kick-off may be delayed in entering the stadium. Once inside the
stadium, it is important that aisles are kept clear at all times. The Club accepts no liability for tickets purchased
through unofficial channels.

SUPPORTER COACHES
Coach parking at the Tottenham Hotspur Stadium must be pre-booked in advance. All pre-booked details will need to be requested via the Supporter Services team [email protected] Details needed for all coach bookings are;

-Name/Company Name:
-Event day contact number:
-Email address:
-Vehicle registration number(s):
-Estimated time of arrival:
-Estimated number of passengers:

If any passengers are traveling in a wheelchair or require assistance, please indicate this at the time of booking
After your details have been received, your details will be registered on the Tottenham database. You will be sent an e-parking ticket to the email address provided. Coaches must arrive 2-3 hours before the start of the event to comply with local road closures You will be allocated a zone to park in, which will be highlighted on your e-ticket along with directions to your allocated parking zone. Coaches must leave 1-2 hours after the event.

BAGS AND LUGGAGE
There is a restricted bag policy in place, and you are strongly encouraged not to bring bags of any type, however the security policy permits that the following sized bags may be brought in to the Stadium, albeit after they have been searched:

-Personal bags of A4 size or smaller (21cm long x 30cm high).
-Clear plastic carrier bags with a maximum size of 30cm long x 30cm high.
-Sealable, Club branded, plastic or vinyl merchandise bags purchasable online or from Club outlets. Bag size is 30cm long x 6cm wide x 30cm high.

Please note that the policy has been developed to not only ensure a safe environment for all, it has also been adopted to significantly speed up access in to the Stadium for those coming empty-handed, whilst those choosing to bring a bag to the Stadium will be delayed, possibly by a significant length of time, whilst the bag is checked and tagged. There is no left luggage service available at the stadium.

TICKET COLLECTIONS
For anyone collecting tickets on the day, these will be available from the Supporter Liaison Officer who will be located outside the away end 2-hours prior to kick-off.

CASHLESS STADIUM
It is a fully cashless stadium. No cash will be accepted for any purchase made within the Stadium and its surrounding
campus, including the Tottenham Experience. For visiting fans, payments can be made using the following methods:
-All major contactless debit/credit cards, with chip and pin applying for purchases over £30.
-Mobile and wearable payment, including Apple Pay and Google Pay, this method supports high value payments.
-Tottenham Hotspur Stadium Prepaid Card — these are now available in Club shops or online — cards can either be ordered in advance and delivered by post or made available for collection in store within minutes for same day use via our 'click and collect' service.

CODE OF CONDUCT
If you ever witness crime, vandalism, violence, drugs, the use of smoke bombs and pyrotechnics or abusive behaviour from visiting or home supporters, inside or outside the stadium, contact a steward as soon as you can and report your concerns. We also ask that you respect the stewards and staff of the opposing team.

KICK IT OUT
Manchester City is also proud to support the Kick It Out campaign. Download the KIO reporting app today.

#EQUALGAME
In 2017 UEFA launched a new Respect campaign: #EqualGame. This campaign seeks to demonstrate and champion
the incredible and often inspiring diversity of football in Europe, and stars of the game from grassroots right up to
the elite level is giving crucial support. The #EqualGame campaign promotes diversity, inclusion and accessibility.
The campaign aims to help to bring the football community closer together, while also ensuring that values such as
inclusion, gender equality and the fight against discrimination remain at the forefront of UEFA's vision and beliefs.
#EqualGame is about people and their football stories – for more information: www.equalgame.com

Should you require any information from Manchester City Supporter Services, the phone lines are open Monday to Friday, 9am to 5pm (closed Weekend's and Bank Holidays). For this fixture, the Supporter Services phone line will be open from 9am until kick-off. You can also follow @MANCITYHELP for the latest service information.