Tickets for the 2019 FA Women's Cup Final can now be purchased via City Ticketing.
Nick Cushing's side face West Ham Women at Wembley Stadium on Saturday 4 May (5:30pm BST) and the Club have been given an allocation of tickets to sell online and over the phone.
READ: Cushing ecstatic for Wembley-bound City
WATCH: City v Chelsea | FA Women's Cup highlights
City will occupy the East side of Wembley Stadium and the available seats are located behind the goal. To purchase, visit tickets.mancity.com or call 0161 444 1894 (option 1, option 1).
Tickets are FREE for Under-16s* and £15 for Adults, while groups of ten or more receive 50% off Adult tickets.
*The 'U16s go FREE' offer applies to four U16s per group. U16s tickets are priced at £5 per child for five or more.
Spectator Information Guide
The attached guide contains all the important information guests and supporters may need for visiting Wembley Stadium.
Supporters should head for the turnstile stated on their match ticket. East and West Offices open at 1:00pm.
We strongly advise that all supporters arrive at the Stadium no later than one hour prior to kick-off.
Key timings
Hospitality Doors Open 3:30pm
Stadium Doors Open 4:00pm
Team Warm Ups 4:45-5:15pm
Kick-off 5:30pm
Scheduled match finish 7:15pm (after 90 minutes. Extra-time and penalties will be played in the event of a draw in normal time)
Visitors are advised not to bring food and drink to the Stadium as there will be sufficient provision inside for purchase.
Please note: persistent standing is not permitted within the Stadium bowl during the match. Wembley Stadium would kindly ask all supporters to abide by this rule and respond to the safety instructions from the stewarding team so that all guests can have an enjoyable experience.
Discriminatory abuse, chanting or harassment of any kind is strictly forbidden and will result in arrest and/or ejection from the ground. WNSL may impose a ban from the ground as a result. We thank all supporters for their cooperation and understanding.
Alcohol
No alcohol will be permitted entry if brought into the Stadium. Full concessions will be available inside the Stadium including alcohol to be purchased with the following management plan in place:
- No alcohol to be taken inside the bowl
- 4x drinks per person at time of service
- Challenge 25 will be in force. Please bring proof of ID to show you are over 18 in order to purchase alcohol
- All soft drinks brought to the Stadium will have tops removed
Fanzones
There will be 2 x external fan zones for both sets of supporters.
- Market Square Fan Zone
- Boxpark Fan Zone (Olympic Way)
Opening times: 1:00pm
Entry: Free for ticket holders
Entertainment: Music & Entertainment, street food & drinks options alongside activities to test your skills.
Flags and Banners
Supporters may bring a flag/banner into the ground WITHOUT permission from Wembley Stadium if:
- The flag/banner is smaller than 250cm in size at the widest or longest point.
- It does not have an attached flag pole
- In the case of an attached flag pole, it is made from wood and plastic only and is no longer than 1 metre in length and 1cm in diameter.
- There is no advertising or commercial message on the flag
- It does not contain any abusive or defamatory message
Please note that flag poles made of metal are not permitted inside the stadium, no matter what size or length the flag / pole is.
If a supporter arrives at Wembley Stadium and their flag/banner does not come under the above points, and they have not gained permission from Wembley Stadium, the flag may be confiscated at the turnstiles and refused entry.
Supporters will NEED permission from Wembley Stadium if any of the following applies:
- Flag/banner is larger than 250cm in size at the widest or longest point
- The supporter wishes to have a static flag/banner connected to seating (this is not possible for sold out games)
Supporters wish to have a moving flag / banner over supporters' heads, pre match (see below guidelines)
Upon seeking permission, you must supply the following:
• Submit an official request via help.wembleystadium.com
• A photo showing the whole of the flag
• A photo showing any flag pole connected
• The actual size of the flag
• A valid, in date fire certificate, in English with the appropriate stamps of authority (this is preferable but not mandatory)
If you arrive at Wembley Stadium and your flag differs in any way from the photographed or described flag, your flag may be confiscated at the turnstiles and refused entry into the Stadium. Wembley Stadium reserves the right to remove any flags if they are deemed to be causing an issue during the match.
Restricted Bag Policy
Wembley Stadium has a restricted bag policy in place and no bag larger than an A4 piece of paper will be permitted inside the venue.
Ticketholders and bags will be checked at an outer cordon before entering the Stadium.
If you need to bring certain items or equipment for medical reasons, please visit help.wembleystadium.com before the event to request a medical exemption certificate, which you will need to bring with you.
All event day merchandise purchased from the Wembley Stadium Store will be supplied in clear plastic bags and will still be admissible.
The new restricted bag policy has been introduced to further enhance public safety and to make accessibility on event days much more efficient. The new policy will enable fans to move through Stadium turnstiles much faster and benefit from enhanced safety inside and outside the Stadium.
Be aware of prohibited items. For a full list, visit Wembley Stadium's Ground Regulations.
For more information and to read our FAQs, visit Wembley Stadium's Restricted Bag Policy.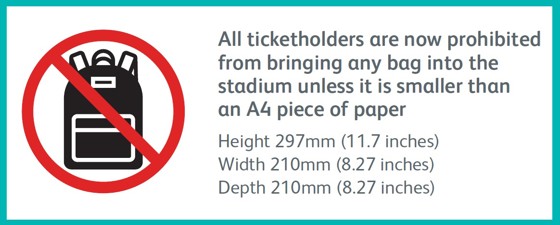 Guest services
Connectors
Connectors are the dedicated team to ensure all guests to Wembley Stadium have a positive and memorable experience. They will be conveniently located throughout the venue and at Wembley Park station wearing bright yellow. This team are in place to provide support and knowledge to enhance the experience of all guests and ensure they can locate their seat, gate or transport hub. If you seek advice or assistance on event day, please locate a Connector.
Accessible shuttle
There will be an accessible shuttle operating between Wembley Park Tube Station and Wembley Stadium that can be utilised by any high needs guests. Wheelchair users, families with young children or anyone with difficulty walking long distances are encouraged to utilise this service.

The shuttle will be operational from 3pm – Full Time + 90 minutes.

Young Person Wristbands
As a safeguarding service, Wembley Stadium provides 'Young Visitor Wristbands' to assist in the event of a lost child. To collect a young visitor wristband please visit your nearest information point.
Re-Entry
Should spectators leave the Stadium, they will not be allowed to re-enter, unless under exceptional circumstances such as on medical grounds. Please seek the support of a safety steward if this situation arises.
Travel
Please note Wembley Stadium is a public transport destination and is well catered for with public services, which is the recommended mode of transport to and from the stadium. Below is a list of transport options for supporters:
TRAIN AND TUBE
London Underground
1. Wembley Park Tube – 5 mins walk from stadium (Metropolitan Line direct to Baker Street / Jubilee Line direct to Baker Street and Bond Street)
2. Wembley Central Tube – 15 mins walk from stadium (Bakerloo Line direct to Marylebone, Baker Street and Oxford Circus)
London Overground
1. Wembley Stadium Station – 5 mins walk from stadium (Chiltern Railways direct to London Marylebone)
Please note there may be some minor disruptions across the London Underground and Overground on matchday. Please be sure to plan your journey in advance via tfl.gov.uk/plan-a-journey
COACH
National Express is the Official Coach Supplier for Wembley Stadium connected by EE and provides dedicated links for visitors to the stadium. Book your coach tickets for match day from over 55 locations across the UK by visiting National Express or by calling 08717 81 81 81.
CAR
For supporters wishing to drive please note there will be very limited spaces available at the stadium. Therefore we would strongly advise the use of public transport. If parking is required please book well in advance via Wembley Official Parking to guarantee your parking space. Blue badge parking is available to purchase via Wembley Official Parking .

Please be aware it is likely that Brent road closures will be in place for this event. We would advise you follow the below routes for allocated parking. Yellow/Orange or Orange overflow parking via the A406, off Great Central Way B4557 South bound or Drury Way B4557 Northbound. Red / York House parking via the Harrow Road A404 North or Southbound via the A406.
BUS
Local buses to the Stadium include 18, 83, 92 and 224. Please note that London buses no longer accept cash, therefore any supporters travelling by bus will need to pay for the fare using an Oyster card or contact less payment card. A single adult fare is £1.50.
For London tube, road, bus and other services please visit tfl.gov.uk. Find train times and fares at nationalrail.co.uk