Tickets and Travel
1
City v Bristol City: Tickets, travel and parking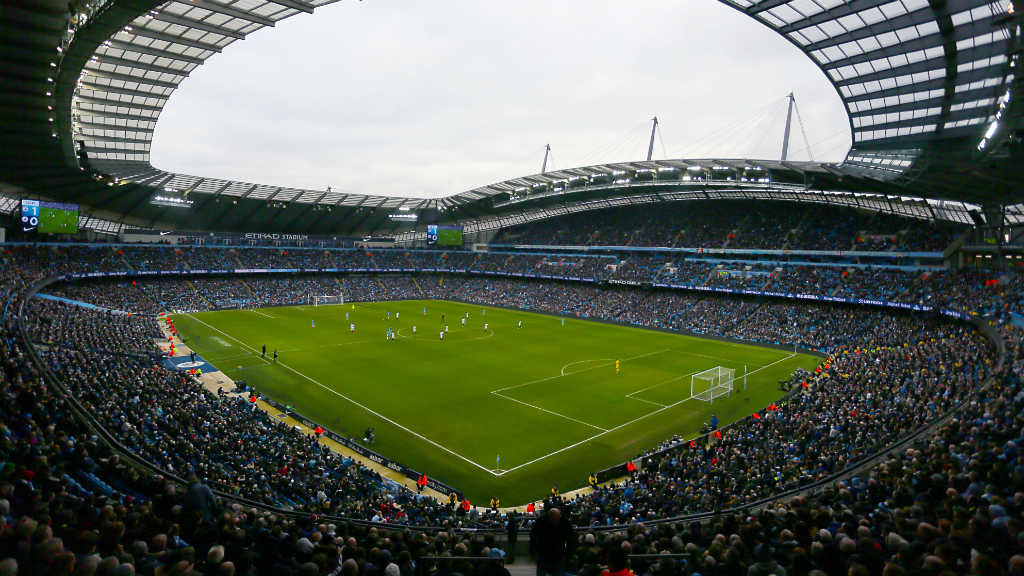 MATCHDAY: City in action at the Etihad Stadium.
Important information for supporters attending our Carabao Cup semi-final tie against Bristol City.
The game kicks off at 7.45pm on Tuesday 9 January and we ask you to arrive early to ensure that there are no delays in entering the stadium.
South Stand access
Due to the increased capacity of the visiting supporters, access to the South end of the stadium will be restricted.
Home supporters will not be able to walk immediately in front of the South Stand, you will be directed on to Ashton New Road should you wish to move from one side of the stadium to the other.
Colin Bell Stand Entrance - Supporters who use Entrances

P, R, S

or

T

will not be able to access the campus from Sir Howard Bernstein Way. Supporters will be redirected onto Ashton New Road and will enter the site at Gate 10, opposite entrance

P

.
East Stand Entrance - Supporters who use entrances

K, J, H

and

G

will not be able to access the campus from the West (City Centre). Supporters will be redirected along Ashton New Road and will enter the site at Gate 6 from Sir Howard Bernstein Way, opposite Entrance

J

.
Seat relocations
For this fixture, Bristol have been allocated South Stand Level 2 and South Stand Level 3.
It is important that any supporter that has been relocated sits in their new seat. Failure to do so may cause issues on the night and result in you missing the start of the match.
Supporters with Seasoncards or Cityzens cards will have their card activated for the new seat or will have been advised to use their paper ticket, which has been posted or remember to print out your Print@Home ticket.
Security
We would like to inform supporters of the following security information:
All bags will be subject to searches prior to stadium entry. Please only carry what you feel is necessary as bags larger than 16.5 x 12 x 6.5 inches will not be permitted.
Arrive early, allowing more time for security checks
Minimise what you carry, fewer bag searches will speed up entry to the ground
For supporter safety Gate 7, located on Ashton New Road will now be closed as a standard for all matches at the Etihad Stadium.
With safety and security measures of paramount importance we ask supporters to:
Be vigilant at all times and if you see anything suspicious, tell a steward right away
If you see anything that could pose an immediate threat to safety, call 999
In an emergency, listen to the Public Address instructions and follow them
If told to evacuate, do so immediately
Do not place yourself in danger by filming events on mobile devices
Move right away from the stadium as quickly as possible for your safety and to allow clear access for any emergency vehicles
Once you are safe, follow the local police force on Twitter for news updates on the situation
Pre-match access to the City Store and Ticket Office
To access the campus during the day, supporters should park in the Blue Car Park off Alan Turing Way. A charge of £10 will be applied upon entry but will be refunded upon exit*. The shuttle service will be available for supporters that require assistance to reach the top of Joe Mercer Way.
Disabled supporters who use a wheelchair can access the parking adjacent to the City Store via the main Entrance at Rowsley Street (Gate 11) until 4.45pm.
You will be required to show your Blue Badge at the gate. For access after 4.45pm, disabled supporters will be required to show their matchday car park pass if they have one, and if not they will be required to park in the Blue Car Park.
*Vehicles that accessed the City Store and remain on-site after 6.30pm will not receive a refund.
Travelling to the Stadium
Ensure you check travel conditions before setting out. Highways England provides live traffic information via its website, local and national radio travel bulletins and electronic road signs. Information is also available from Twitter via @highwaysNWEST.
For directions and stadium maps including walking routes, please click here.
Ticket collections
All home supporters who are collecting pre-purchased paper tickets may do so from the stadium Ticket Office located in City Square, behind the stage. For this match, we are open from 9am until 8.00pm.
Supporters are strongly advised to collect their tickets at least 60-minutes before kick-off. If you have a Print@Home Ticket you are reminded to print your ticket(s) on white A4 plain paper prior to leaving for the match.
Official match ticket
All tickets are located in the home area for the use of Man City supporters only. The Club does not have a neutral area and visiting supporters identified in the home areas will face ejection.
It is important that you have purchased, and are in possession of, the correct ticket and that it is activated to allow you access into the stadium.
The Club accepts no liability for tickets purchased through unofficial channels.
Children under 14 must be accompanied by an adult (over 18) for all matches played at the Etihad Stadium. We advise you carry photo ID to prevent any issues entering the stadium.
Supporters are required to upgrade concessionary tickets for this match. A supporter in another age band can use a concessionary ticket but must ensure they have paid the applicable upgrade fee in advance of entering the stadium.
If a disabled supporter can no longer attend and the carer wishes to upgrade, please contact the Access team on +44 (0) 161 444 1894 option 1, 1 then 1 to upgrade your ticket. The Club's access statement along with further information can be found here.
The singing section is located in the South Stand within block 111, part of block 114 and blocks 115-119. Supporters that sit outside of this section are not part of the singing section.
All supporters are reminded that persistent standing is not allowed. Failure to adhere to this may result in an ejection or a stadium ban.
Code of Conduct: Respect the Badge
If you ever witness crime, vandalism, violence, drugs, the use of smoke bombs and pyrotechnics or abusive behaviour from home or visiting supporters, inside or outside the Etihad Stadium, make contact with a steward as soon as you can and report your concerns.
Man City is proud to support the Kick It Out campaign. Download the KIO reporting app today.
In 2008, the Justin Campaign was formed to tackle homophobia, biphobia and transphobia in football, and two years later the initiative FvH began. Find out how you can take action here.
The entire Etihad Campus, including roadways, car parks and concourses, is smoke free. Use of electronic cigarettes is also prohibited. We operate a strict, no re-admission policy and there will be no opportunity to leave and re-enter the stadium.
The Ticket Office is open Monday to Friday 9am to 5.30pm. Supporter Services is open Monday to Friday, 9am to 5pm. Both facilities will open at 10am on Thursday and are closed on Weekends & Bank Holidays, except where there is a First Team home match.
We will be open from 9am until 8.00pm for this match. For queries, please call +44 (0)161 444 1894 (option 1, option 3).
To keep up to date with all the current ticketing information follow official Twitter account,@ManCityHelp