Tickets and Travel
1
US Tour: City v Liverpool supporter info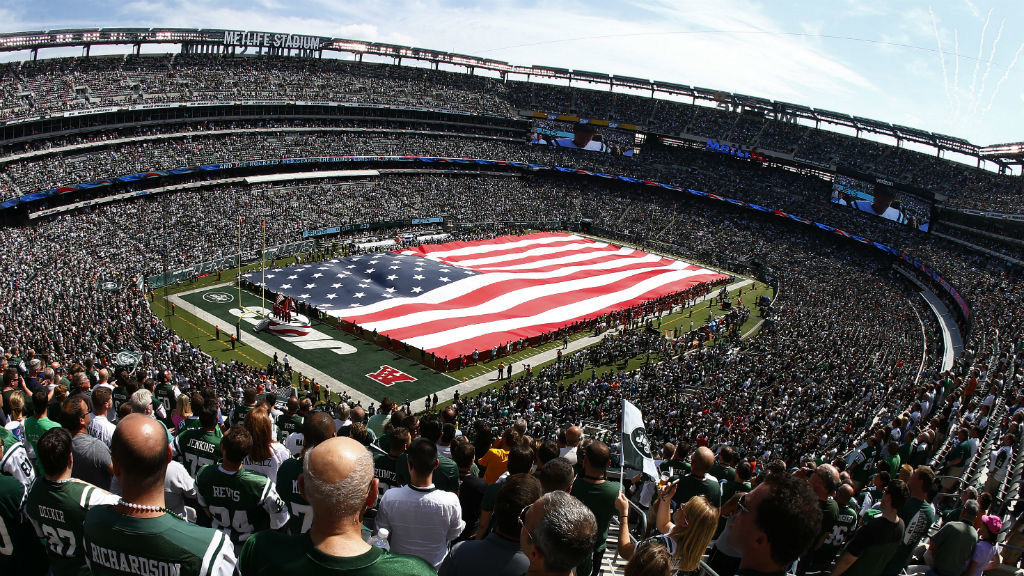 New York's MetLife Stadium
Supporter information ahead of Man City's US Tour match against Liverpool in New York.
Manchester City v Liverpool
MetLife Stadium, New York
Wednesday 25 July, kick-off 8:05pm (EST)
Fan event
Join us at the Amity Hall – Downtown, between 2:30pm and 5:30pm on matchday to get together with fellow City fans to start creating an amazing atmosphere, to take into the stadium together! You'll also be able to take part in a Q&A with a City Legend, have your picture taken with the Manchester City mascots; Moonchester and Moonbeam. There will be City giveaways and special drinks offers for City fans. For more information about the venue, click here. See you there!
METLIFE STADIUM
MetLife Stadium, home to the New York Jets and New York Football Giants, is the number one stadium in the world. This 82,500-seat stadium, one of the largest in the National Football League, sets the standard for venue excellence with state-of-the-art technology, comfort and amenities. The only active venue to serve as the home stadium for two NFL teams, MetLife Stadium hosts 20 NFL games per season, more than any other Stadium.
Click here for stadium seating plan.
GETTING THERE
MetLife Stadium address is 1 MetLife Stadium Dr, East Rutherford, NJ 07073, USA
Public Transport
Fans can enjoy efficient regional public transportation to the Stadium via NJ Transit's rail line, which is connected to Amtrak's Northern Corridor. Guests originating from New York's Penn Station are dropped off at the front door of the Stadium in just under 20 minutes. The addition of the rail line, coupled with newly configured parking lots, provides easier access routes and improved traffic patterns to and from the stadium. For further information, click here.
ACCESS INFORMATION
MetLife Stadium is ADA compliant and features accessible seating on all levels as well as accessible restrooms and concessions stands.
Public ramps are available in MetLife Stadium. These ramps are located at the north and south end-zones. Public escalators are located at the Bud Light, SAP, Verizon, MetLife and Pepsi entrances.
Click here for more information.
OPENING TIMES
The stadium gates open at 6pm for general admission, hospitality and suites. There is no dress code within the stadium. There will be security checks prior to entering the stadium. Please ensure you keep your ticket safe at all times as there are strict deadlines in place for requesting duplicate tickets.
FOOD AND DRINK
Food and drink is not allowed to be brought in to the stadium. Alcohol and illegal drugs are strictly prohibited from being carried into the MetLife Stadium and around the stadium. Beer will be sold at designated concession stands within the stadium and will also be served by vendors in the seating bowl area. Alcohol policies are posted at every concession stand and you must be Over 21 to consume alcohol.
Further stadium information can be found here.
BAG POLICY
The clear bag policy affects the type and size of the bags permitted into the stadium — not the items (keys, makeup, combs, phones, wallets, and credit cards) that you would normally bring to a game. Supporters can still carry these items in their pockets and will also be allowed to carry a blanket or jackets into the stadium, though they will be subject to search.
For the fastest way to enter the stadium, we strongly encourage supporters to not bring any type of bags, but if you must, outlined below are the specific types of bags that will be allowed inside the venue:
:: One bag that is clear plastic, vinyl or PVC and does not exceed 12" by 6" by 12" or
:: A one-gallon clear plastic storage bag (Ziploc bag or similar).
:: In addition to one of the clear bags noted above, guests may also carry in a small clutch bag or purse approximately the size of a hand, with or without a handle or strap.
:: An exception will be made for medically necessary items after proper inspection.
Prohibited items include but are not limited to: purses larger than a clutch bag, coolers, briefcases, backpacks, fanny packs, cinch bags, seat cushions, luggage of any kind, computer bags and camera bags or any bag larger than the permissible size.
CODE OF CONDUCT
The team at MetLife Stadium is committed to providing a memorable event day experience for all guests. With that goal in mind, we have developed a Guest Code of Conduct which all guests are expected to follow. They ask guests to assist in creating an enjoyable and safe environment by:
:: Respecting each other as well as our team members
:: Consuming alcoholic beverages in a responsible manner
:: Refraining from fighting, throwing items or using foul/abusive language or gestures
:: Not displaying indecent messages on clothing
:: Not creating a disruption to the progress of the event by their actions
:: Showing their ticket when requested and only sitting in their ticketed seat
:: Following instructions from team members regarding stadium operations/emergency procedures
Allowing each other to be free to support their team or entertainer while remaining respectful and courteous to their fellow patrons, referees, opposing team fans and players
Keeping MetLife Stadium SMOKE-FREE
Stadium team members have been trained and instructed to take necessary actions to ensure the above expectations are enforced. Guests are encouraged to report any inappropriate behaviour to the nearest Guest or Safety Services Representative, any Guest Services Booth or through our text messaging service.
Guests who choose not to follow the Guest Code of Conduct will be subject to ejection, possible arrest and loss of PSL. Those who are ejected for a violation of the Code of Conduct or a stadium policy are prohibited from returning to MetLife Stadium.
FLAGS AND BANNERS
Flags that can reasonably be hand-held by a single person and do not obstruct the view of other guests are permitted in the stadium. No sticks or poles are permitted. No flag or banner may cover the stadium ribbon, signage or advertising boards.
FAN ZONES
Join us in LOT F at the Metlife Stadium between 4pm and 7:30pm on matchday where you can sign up for free to be a Cityzen, enter competitions and grab some giveaways. There will be a unique photo opportunity with the Premier League trophy and Carabao Cup as well as the chance to test your passing and kicking skills against fellow Cityzens.
CONTACT US
If you have any questions, contact the Club's Supporter Liaison Officer on +1 (0)7827 997817 or by email on [email protected] They will also be at the stadium on matchday. You can also tweet our official service Twitter account, @ManCityHelp